Las Vegas police shoot, kill man suspected in robberies, carjacking
October 13, 2016 - 7:21 pm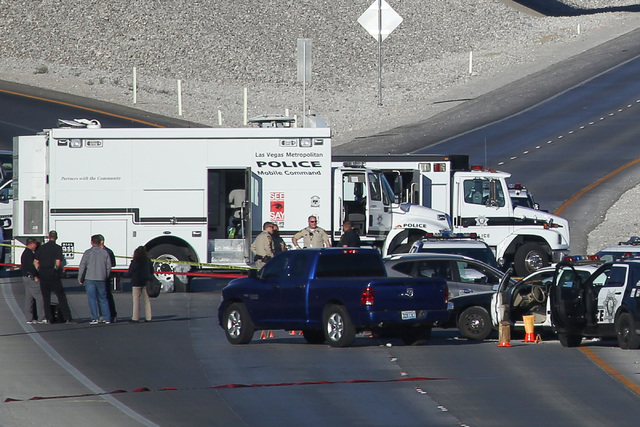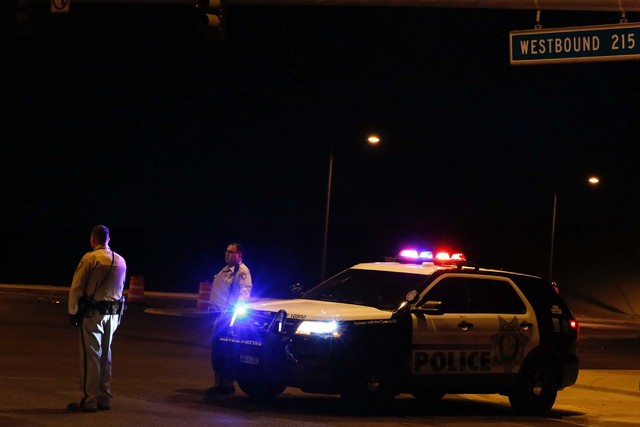 Metropolitan Police Department officers shot and killed a man Wednesday night on the 215 Beltway in northwest Las Vegas after a car chase.
Police believe the person killed was a suspect in a recent string of robberies and a Henderson carjacking. Henderson police sent out a news release this week asking for the public's help in finding a suspect.
Las Vegas police said officers saw the suspect driving near the Stratosphere about 11:15 p.m. They attempted to stop his vehicle near Wyoming Avenue and Commerce Street. The man did not stop, and the pursuit began.
Sgt. Jeff Clark said officers chased the suspect in a car they identified by its license plates. The pursuit continued several miles through the valley before ending on the 215 Beltway near North Hualapai Way.
Capt. Shawn Anderson with Metro's office of internal oversight and constitutional policing spoke with news media about 4:30 a.m. Thursday.
He said officers attempted to stop the unidentified man, who appeared to be in his 40s, at an intersection near Sahara Avenue and Las Vegas Boulevard South.
Officers connected the suspect to at least 14 robberies.
Anderson said officers tried to make an arrest before firing at the man.
He said it was too early in the investigation to confirm many details, such as whether the man pointed a gun or fired at officers.
Anderson said he was not aware of how many officers shot at the suspect or how many shots were fired.
As to why officers shot the man, Anderson said, "He displayed a handgun and presented a threat."
Officers used stop sticks to slow down the car, which Anderson said matched a previous description of the suspect's car.
He said the car was damaged by the end of the chase, but he could not say what caused the damage.
Earlier Wednesday, Henderson police were investigating reports of a man carjacking a woman's car at gunpoint in her driveway late Monday.
Police believe he was the same man who robbed a Dairy Queen at 1660 W. Warm Springs Road on Saturday, Sweet Addiction at 2291 N. Green Valley Parkway on Friday, and Walgreens at 1701 N. Green Valley Parkway on Friday.
The carjacking Monday happened about 7:30 p.m. while a woman was parked in her driveway in the 1900 block of Spode Avenue, near Warm Springs Road and North Valle Verde Drive, Henderson police spokeswoman Michelle French said.
The man pointed a gun at the woman as she was sitting in her car and demanded she get out. After a brief scuffle, he drove away in her gray 2012 Nissan Rogue, Nevada license plate 733YVV. Her purse was still in the car.
Another Dairy Queen robbery happened about 1:45 p.m. on Tuesday at the 2607 Windmill Parkway store. The man ordered an ice cream cone, then showed an employee a gun in his waistband. He made off with cash from the register, and no one was injured.
Contact Mike Shoro at mshoro@reviewjournal.com. Follow @mike_shoro on Twitter.