Las Vegas Valley homicides keep pace with 2016 numbers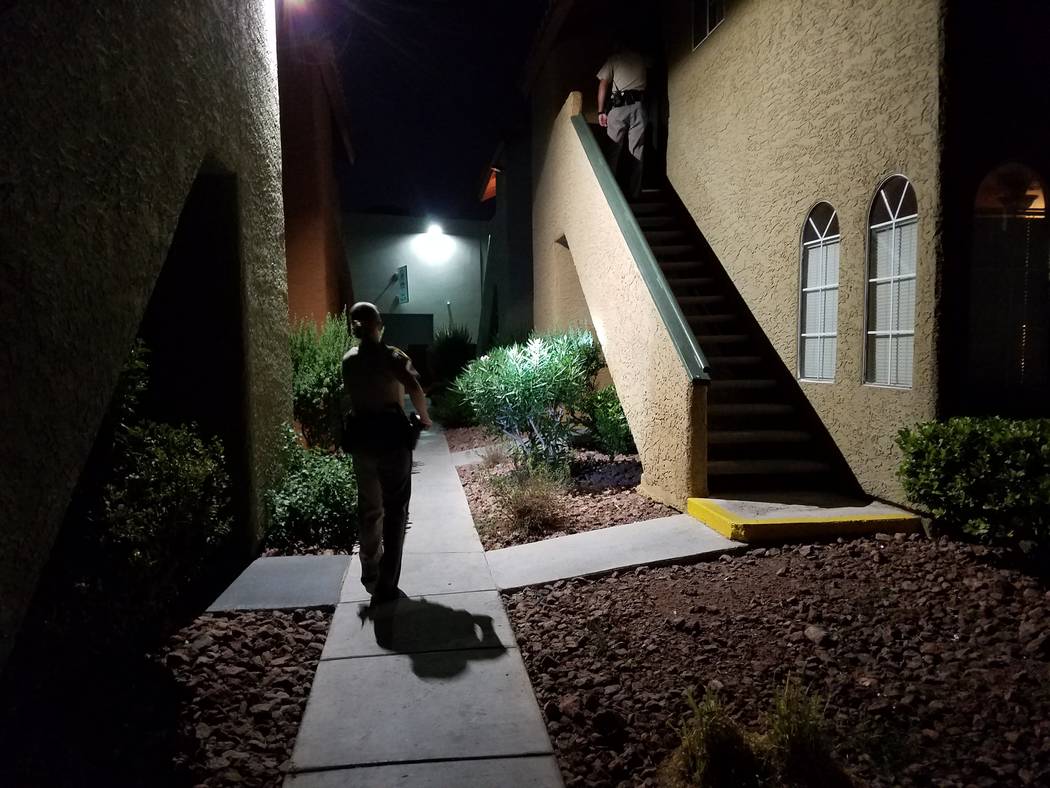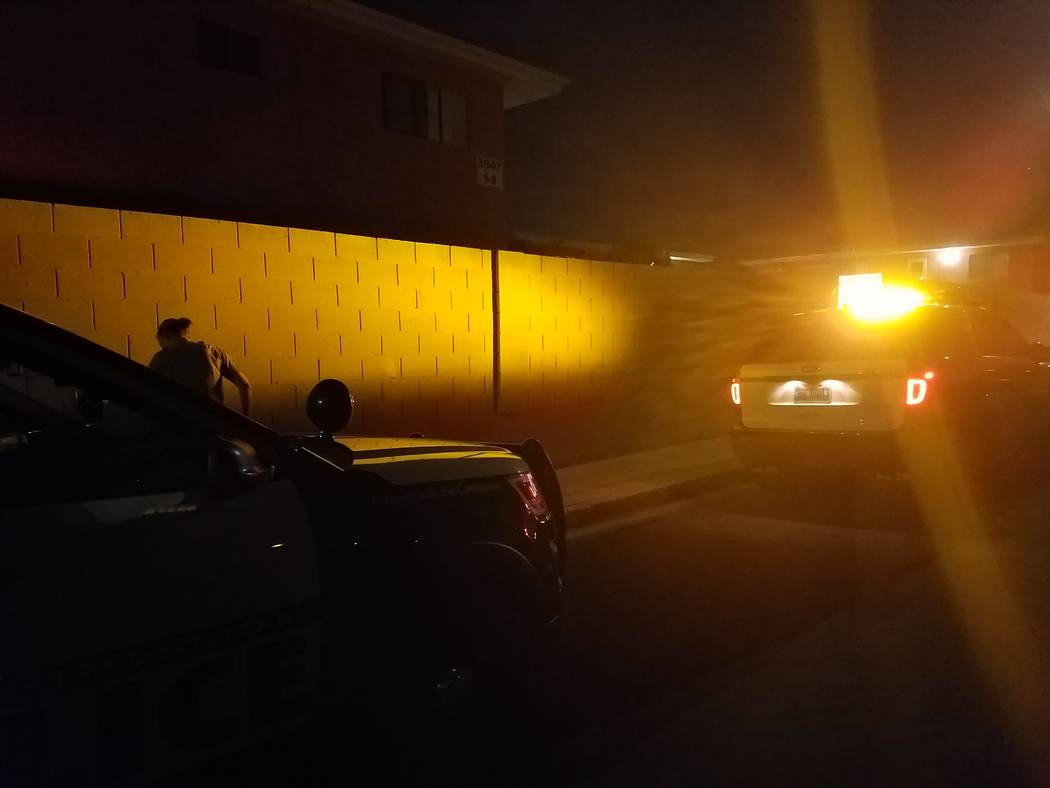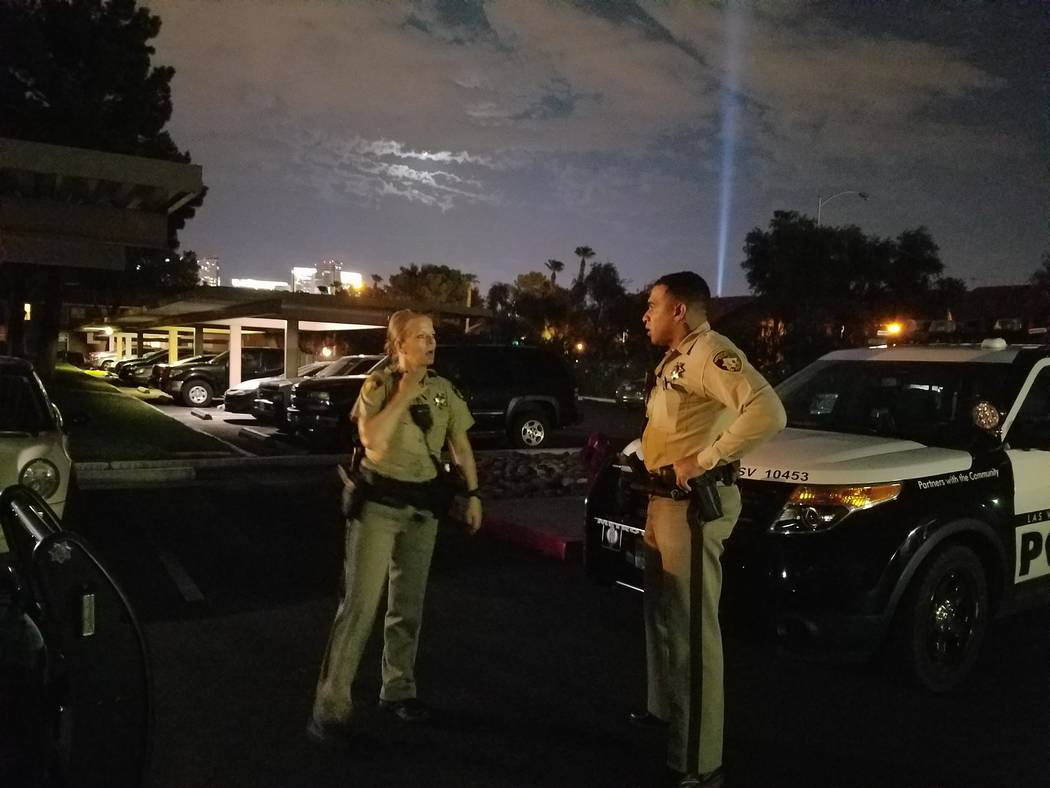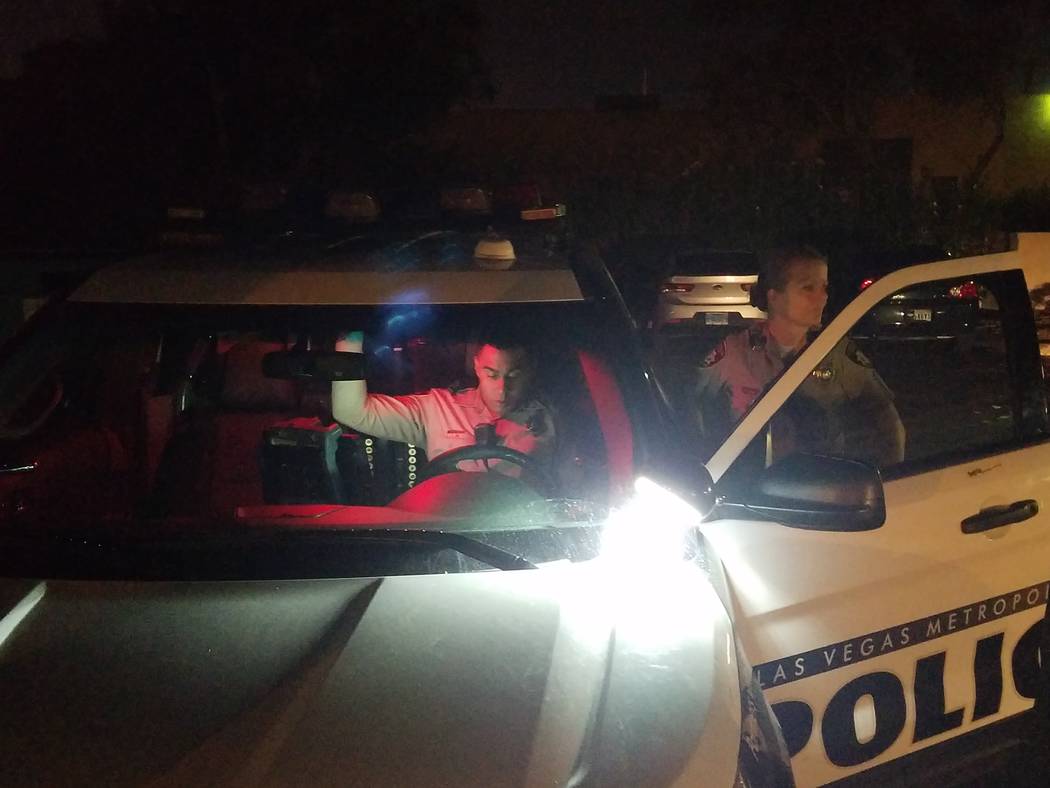 The nights blend together in Las Vegas police officer Andrea Simon's memory, but driving past a house can trigger a flashback to specific people or crimes.
Driving her patrol car west on Sahara Avenue early Thursday, Simon remembered a homicide from when she was new on patrol. Suddenly it's fresh in her mind again: The smell of iron, the body and the spouse covered in blood.
"These are the things that really make you want to catch these people," Simon said.
At 12:30 a.m., she responded to a separate domestic disturbance call. She said calls may involve similar circumstances — even the same address or people — but each is different.
"There's no such thing as routine," Simon said.
She pulled up to the call address and, with help from her partner, worked to restore calm and resolve the family issue. The household had guns, as well as a history of domestic problems, she learned. A family's access to guns always changes her approach.
Many homicides stem from domestic violence, where emotions run high, Simon said. Domestic disputes often escalate to shootings, stabbings or strangulations.
Las Vegas Review-Journal records show that homicides this year are on pace with 2016, which was a record-setting year for slayings across the valley. Las Vegas Valley police departments investigated 109 reported homicides during the first half of 2017, including officer-involved shootings and noncriminal homicides such as accidental shootings or cases of self-defense.
During the same period in 2016, there were 107 homicides valleywide. The year ended with 222 homicides.
Review-Journal records for this year show that domestic violence was identified as a factor in at least 14 percent of Clark County homicides through June. A fight or dispute preceded 26 percent of those deaths.
High-crime area
The specific Spring Valley patrol area, to which Simon is assigned, was created in August in the midst of a spike in violent crime that continues this year.
Statistics provided by the Metropolitan Police Department show that the west-valley patrol area — bordered by West Charleston Boulevard, Interstate 15, West Flamingo Road and the mountains to the west — was seeing a 9 percent rise in violent crime and a 1.5 percent rise in property crime as of the end of May.
"This is one of our problem areas," Simon said as she drove by an apartment complex on Silver Dollar Avenue, near Pennwood Avenue and Valley View Boulevard. The street has been the setting for at least three homicides this year.
Police identified Ericka Winn, 25, as the suspect in the Feb. 16 shooting death of Larenzo Ivan Hardison. The 18-year-old victim was shot in the head after a fight at a party. Winn's trial is scheduled to begin in December.
On June 13, four people were in a rental car on Silver Dollar when a man in the back seat shot the other three occupants. Tory Barnett, 31, and Jason Harvey, 36, were killed. A back-seat passenger was hospitalized with a gunshot wound to the face but survived.
Four days later, police arrested Delon Holston, 29, in Inglewood, California, and identified him as a suspect in the shooting.
Breakdown by jurisdiction
Las Vegas police have investigated the bulk of the valley's total homicide cases so far this year, but the department reported it has seen about a 16 percent decrease in homicide investigations compared with this time last year.
Metro also reported a slight dip in all violent crime through May of this year.
Both Henderson and North Las Vegas have seen homicide increases.
In Henderson, violent crime as a whole had increased 5 percent as of the end of April, according to preliminary statistics provided by the department, and the city acted as a backdrop for five homicides by the midyear mark — one more than the same period last year.
North Las Vegas police investigated 12 homicides by the end of June. The department had nine homicides during the same period last year.
Although different parts of the valley may have more homicides than others, Simon differentiated geography from population.
"Intersections can't cause crimes," she said. It's the people who live near them.
National problem
The spike in violent crime — not just in Southern Nevada but across the nation — came up often during remarks U.S. Attorney General Jeff Sessions made in Las Vegas on Wednesday.
"Too many in our communities have to live in constant fear of violence breaking out in a park, or in their own neighborhoods," he said.
Sessions added that the nationwide murder rate surged by 10 percent in just one year, the largest increase since 1968.
One local case, in particular, was on his mind.
"Right now, Las Vegas is mourning the death of 18-year-old Eric Brooks, a football star who just graduated from Spring Mountain High School," the attorney general told a law enforcement crowd. "He had a promising life ahead of him, a life we will never get to see. Witnesses say that he was sitting on a park bench just before he was shot and bled to death in the street."
Brooks, who attended high school at a youth camp for teen offenders, was far from the only young victim: Thirty-four people killed in the first half of the year were 25 or younger — about 31 percent. Five of those victims were young children, with ages ranging from 25 days to 3 years.
Sessions said crime rates reached record lows beginning in the '90s because of advances in policing techniques. Further innovations are needed to address the current crime rates, he said.
Improving communication
Clark County Sheriff Joseph Lombardo told the Las Vegas Review-Journal this week that the department implemented a new central intelligence unit in May to better respond to violent crime.
That unit's main responsibility is to cross-check Metro's many disparate databases so detectives can more easily find links between multiple crimes and suspects.
"It's trying to get everybody to talk to each other," Lombardo said. The unit took more than a year to create.
Another change came earlier in the year, when Lombardo announced he was again reforming the department's gang and vice units — basically recentralizing the units more than a year after Lombardo had decentralized them.
Though the gang and vice units have undergone much change in the last three years, the current setup allows for more communication between officers in the field and detectives at headquarters, said Cary Underwood, manager of the new central intelligence unit.
Part of the units' changes have been a response to changes in gangs themselves.
"Most people still see gangs as a geographic turf, and I don't believe that's what they are now," Underwood said.
On patrol
In Spring Valley late Wednesday, before the start of Simon's shift, Sgt. Peter Quinn warned her and other patrol officers about pulling over members of a specific gang. He also warned them to look out for one suspected gang member.
"Get in front of this before it becomes the next 415a," Quinn said, referencing Metro's radio code for a shooting — the cause of about 70 percent of homicides so far this year.
The information was an example of how often patrol officers and gang investigators talk with each other now, since gang activity and violent crime go hand in hand.
"It's a very good asset that we have," Simon said of the gang unit.
Simon, who is nearing four years as a Metro officer, said she has considered making it a goal to work with the homicide unit. She's interested in what drives a person to kill another. Homicide work might give her that psychological insight.
But she wasn't sure about the physical and emotional impact it may have on her.
"Until you do it, you just have no idea what it's really like," Simon said.
Contact Mike Shoro at mshoro@reviewjournal.com. Contact Wesley Juhl at wjuhl@reviewjournal.com or 702-383-0391. Follow @mike_shoro and @WesJuhl on Twitter. Contact Rachel Crosby at rcrosby@reviewjournal.com or 702-387-5290. Follow @rachelacrosby on Twitter.