Lawyer says Dozier 'disappointed' execution not carried out
Updated July 11, 2018 - 8:37 pm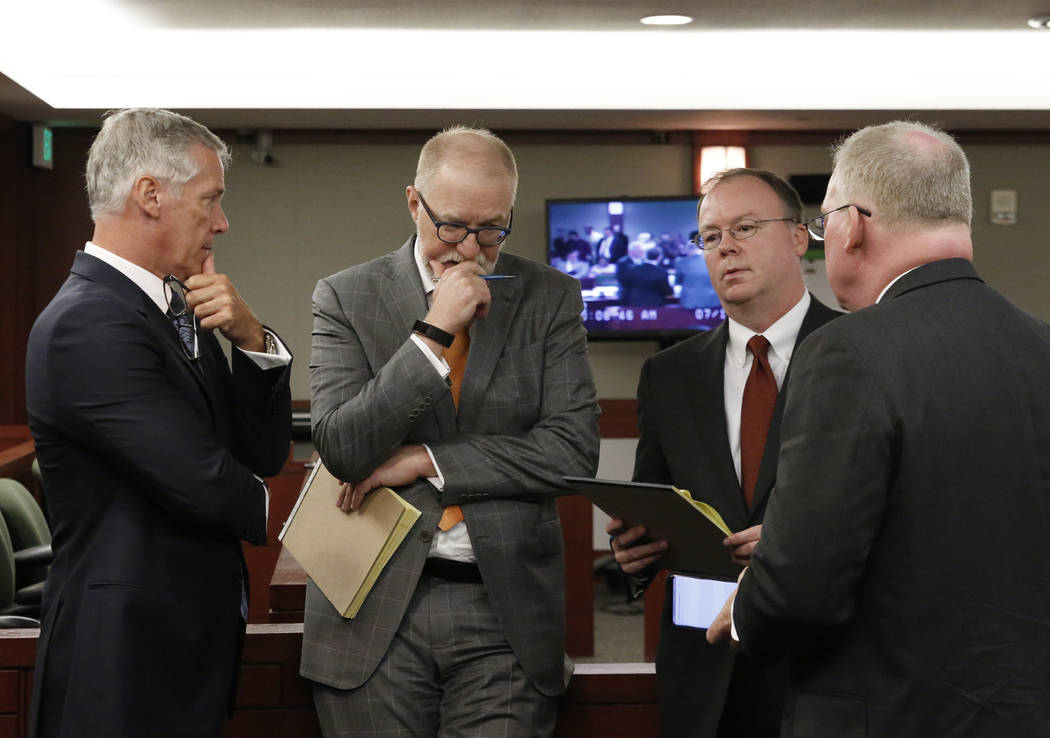 Scott Dozier was "very disappointed" that he did not die on Wednesday, his lawyer said.
The condemned man's lawyer, Tom Ericsson, spent about an hour with him at Ely State Prison after the execution was halted for the second time.
This time, a drug company's lawyers had successfully argued that the Nevada Department of Corrections should be blocked from using the sedative planned for the 8 p.m. execution.
Dozier knew of the complaint from Alvogen Inc., which makes midazolam, one of three drugs in the state's untested lethal injection cocktail.
"He's very disappointed that the execution is not going forward," Ericsson said Wednesday. "By the time I saw him this afternoon, he was somewhat prepared for the possibility."
Dozier's family also had traveled to Ely to visit with him. But about nine hours from the time the first needle was set to be injected, District Judge Elizabeth Gonzalez barred prison officials from using midazolam in the execution.
"They had come out for their final goodbyes," Ericsson said. "They had attempted as best they could to make peace with this. Now there's another reprieve."
A different drug had been barred from use at Dozier's execution when it was set for November. But by the time the Nevada Supreme Court reversed that decision, the prison system's supply had expired.
As was the case in November, Dozier was immediately placed on suicide watch, but "not necessarily because of anything he has said or done," Corrections Department spokeswoman Brooke Santina said. "It's a precaution we have to take."
He would be moved to a special location in the prison where he could not harm himself, she said, and would be evaluated by a mental health professional before returning to his regular cell.
Dozier, 47, told the Las Vegas Review-Journal this weekend that he started discussing his death wish with family as early as 2011.
Ericsson referred to Dozier's relatives as "a strong family," adding that the state's first execution in more than 12 years was "clearly an incredibly emotional, stressful situation for everyone involved."
Dozier, who had a prior murder conviction in Arizona, was sentenced to die for the murder of Jeremiah Miller.
Miller's torso was found on April 25, 2002, in a suitcase that had been dumped in a trash bin at the Copper Sands apartment complex in the 8100 block of West Flamingo Road.
Dozier was convicted of second-degree murder in the Arizona slaying of Jasen "Griffin" Greene and was sentenced to 22 years in prison in 2005, before he was brought to Nevada to face charges in Miller's death. Dozier was convicted of first-degree murder and robbery charges in the Nevada case.
At 2:16 p.m. Wednesday, District Judge Jennifer Togliatti, who oversaw Dozier's 2007 trial in which a jury sentenced him to death, signed a stay of execution.
Ericsson said that even though Dozier has repeatedly stated publicly since late 2016 that he wanted his sentence carried out, he still has the right to appeal his case.
"He needs to decide if he's going to direct an attorney to work on post-conviction relief," the defense lawyer said. "Everything has happened so quickly."
Execution protocol called for Dozier's last meal to be served at 3 p.m. on Wednesday. Santina would not say what he had requested.
"It's not relevant at this point," the spokeswoman said. "So it's not a last meal."
Contact David Ferrara at dferrara@reviewjournal.com or 702-380-1039. Follow @randompoker on Twitter.