Man found shot to death in northeast Las Vegas street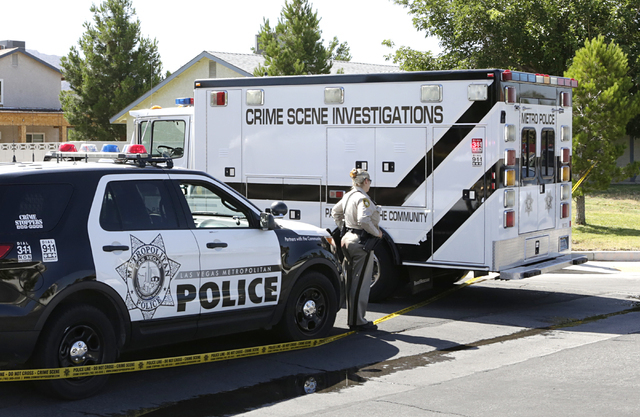 A man was found fatally shot Monday morning in front of a home in a northeast valley neighborhood.
Lt. Dan McGrath, with the Metropolitan Police Department's homicide unit, said a mother driving with her child saw the man's body just after 8 a.m. and called police.
The man, described as Hispanic and about 30 years old, was covered in blood and lying in front of the home on Jackie Drive, near Nellis and Lake Mead boulevards. He had been shot in the head and died on the scene, McGrath said.
Two men were taken into custody at a nearby apartment complex shortly afterward. They had been caught on home surveillance video near the scene about 8 a.m.
"We have not interviewed them yet," McGrath said about 11 a.m. "There was a firearm recovered."
McGrath said the men were all drinking in front of the home the previous night. Witnesses reported the drinking about 1:30 a.m., and beer bottles were all over the scene.
"We'll see what comes out if they decide to cooperate," McGrath said.
It was not immediately clear what led to the shooting, but McGrath said it was likely some kind of dispute.
Neighbor Christine Brooks said she heard loud bangs about 9:30 Sunday night while she was watching TV, but she could not tell whether the sounds came from gunshots or fireworks.
"It's kind of creepy," she said of the homicide investigation near her home. "Nothing really happens in this neighborhood. It's all families."
Another neighbor thought she heard two gunshots about 3 a.m. Donna Gunther lives a couple blocks away but said her guard dogs were "going crazy."
"My dogs were going nuts for half an hour," she said. "They're not barking dogs. They've been trained. If they're barking, it means something is going on."
She said she looked out her window and saw a strange man with a flashlight looking into the cars next door.
McGrath said it was still early in the investigation, and he did not know whether those events were connected to the homicide. He said the victim probably was shot Monday morning, because the men were seen drinking in front of the Jackie Drive home into the early morning hours.
But possible gunshots should be reported to the police so they can be documented, he said.
Investigators still had to execute search warrants on the home and the men's vehicles early Monday. The Clark County coroner's office will release the name of the man who was killed and his cause of death after his family has been notified.
Contact Lawren Linehan at llinehan@reviewjournal.com or at 702-383-0381. Find @lawrenlinehan on Twitter. Contact Wesley Juhl at wjuhl@reviewjournal.com and 702-383-0391. Find @WesJuhl on Twitter.