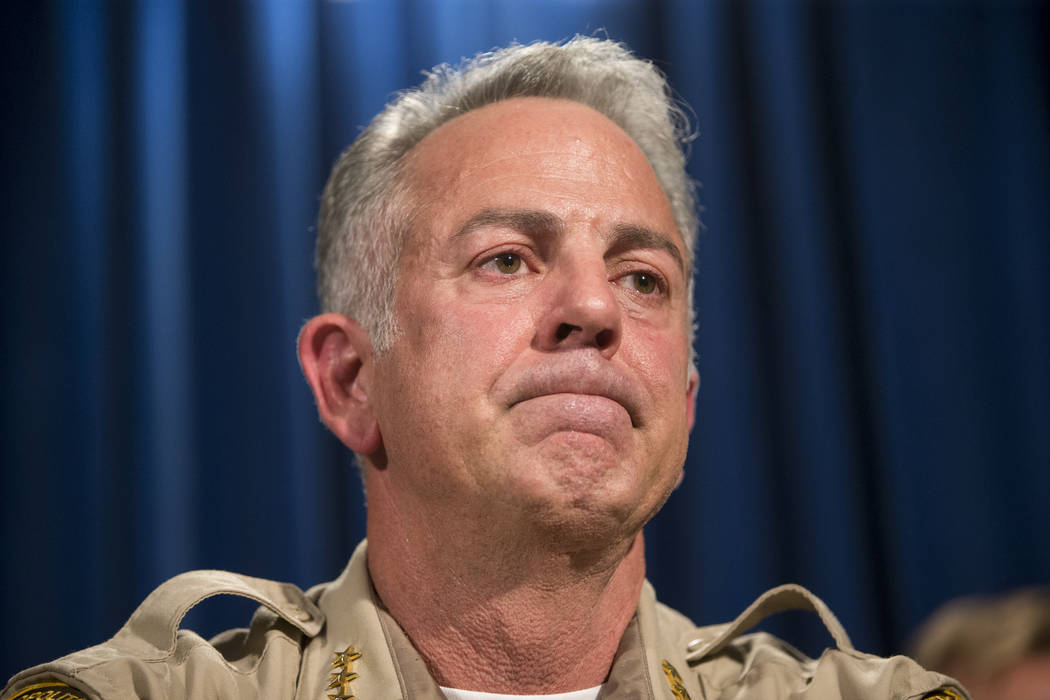 MGM Resorts International on Thursday released a new timeline of the events leading up to the Oct. 1 Las Vegas Strip massacre, further challenging the sheriff's latest account ahead of a planned Friday police briefing.
Police declined to comment on the new timeline, which suggested Mandalay Bay had no time to warn authorities and prevent the mass shooting. A gunman carried out the attack from his 32nd-floor suite at the Strip resort, killing 58 people and injuring hundreds of others at a country music festival.
"Although we prefer not to comment on the details of the investigation, we are issuing this statement to correct some of the misinformation that has been reported," MGM Resorts, which owns Mandalay Bay, said in the statement released Thursday afternoon.
Clark County Sheriff Joe Lombardo on Monday said a hotel security guard was shot by the killer six minutes before gunfire was unleashed on the festival, a gap that calls into question the response of both the hotel and police.
The timeline is critical to MGM because it could determine the company's liability as victims and their families consider legal action.
MGM first disputed the timeline on Tuesday but did not provide specifics as to why.
Unanswered questions
On Monday, Lombardo announced that Mandalay Bay security guard Jesus Campos was shot at 9:59 p.m. on Oct. 1, about six minutes before the gunman turned his weapons on the Route 91 Harvest festival crowd.
Lombardo said the unarmed guard then radioed the Mandalay Bay security department, which later contacted police. The sheriff did not provide a specific time as to when police were notified of the gunman's location or that the guard had been shot. He also did not specify whether security called police, radioed them or notified them in person.
As of late Thursday, the Metropolitan Police Department had not announced a time for the sheriff's planned Friday briefing.
Lombardo said he expects to release the total amount of rounds fired at the festival crowd. He previously said the gunman fired about 200 rounds at Campos.
The killer's motive remains a key unanswered question in the investigation. Other questions also remain unanswered.
While the sheriff said the gunman had 23 different firearms stashed in his corner suite, it remains unclear what type of guns he had, how many of those ended up jamming or when he killed himself.
The sheriff said an examination of the gunman's brain revealed no abnormalities, but autopsy results have not been released.
Officials also have not said where the gunman's first room was located. The hotel rented him that room free of charge between Sept. 25 and Sept. 28, when he switched to the corner suite, which he paid for himself.
Fluid timeline
Last week, the sheriff said Campos was shot well after the gunman began firing into the festival crowd. But in an interview Tuesday with the Las Vegas Review-Journal, the sheriff stood by his new 9:59 p.m. timestamp, while adding the caveat that "it could change even more."
MGM specifically addressed that detail in its new statement Thursday.
"The 9:59 p.m. PDT time was derived from a Mandalay Bay report manually created after the fact without the benefit of information we now have," the statement reads, without explaining what that new information was. "We are now confident that the time stated in this report is not accurate."
The statement went on to clarify the timeframe in which the guard reported he was shot, saying, "We know that shots were being fired at the festival lot at the same time as, or within 40 seconds after, the time Jesus Campos first reported that shots were fired over the radio."
According to the new MGM statement, "Metro officers were together with armed Mandalay Bay security officers in the building when Campos first reported that shots were fired over the radio. These Metro officers and armed Mandalay Bay security officers immediately responded to the 32nd floor. We will continue to work with law enforcement as we have from the first moments of this tragedy as they work toward developing an accurate timeline."
Question of liability
On the question of the gaming company's liability, Larry Harris, the Fred V. Keenan Chair in Finance at the Marshall School of Business at the University of Southern California, said MGM shareholders would not be happy with management if officials decided to settle court claims with a large payment.
But Harris, who acknowledged he's not a legal expert, said he has a hard time believing MGM could be found liable.
"MGM is a very, very large company and it's essentially inconceivable, at least to me, that they could be held liable for 58 deaths and all those other injuries," Harris said. "To be held liable, they would have to have a responsibility and they have to have done something wrong. Unless there's some kind of liability that when people start shooting guns outside your hotel it's your responsibility — and I've never heard of anything like that — it's hard to see what their responsibility is."
He said squaring the timeline is part of determining that responsibility.
"If the responsibility was to report immediately that one of their officers was shot, then there'd be a debate into what 'immediate' was and they may very well have done the report," Harris said. "This was a time when there was a massive amount of confusion and one presumes that as soon as the shooting started, there were probably more than a hundred calls to 911."
Harris said MGM — Nevada's largest employer and taxpayer — just wants the story to go away.
"There's nothing sinister about doing that," he said.
Contact Rachel Crosby at rcrosby@reviewjournal.com or 702-380-8135. Follow @rachelacrosby. Contact Richard N. Velotta at rvelotta@reviewjournal.com or 702-477-3893. Follow @RickVelotta on Twitter.