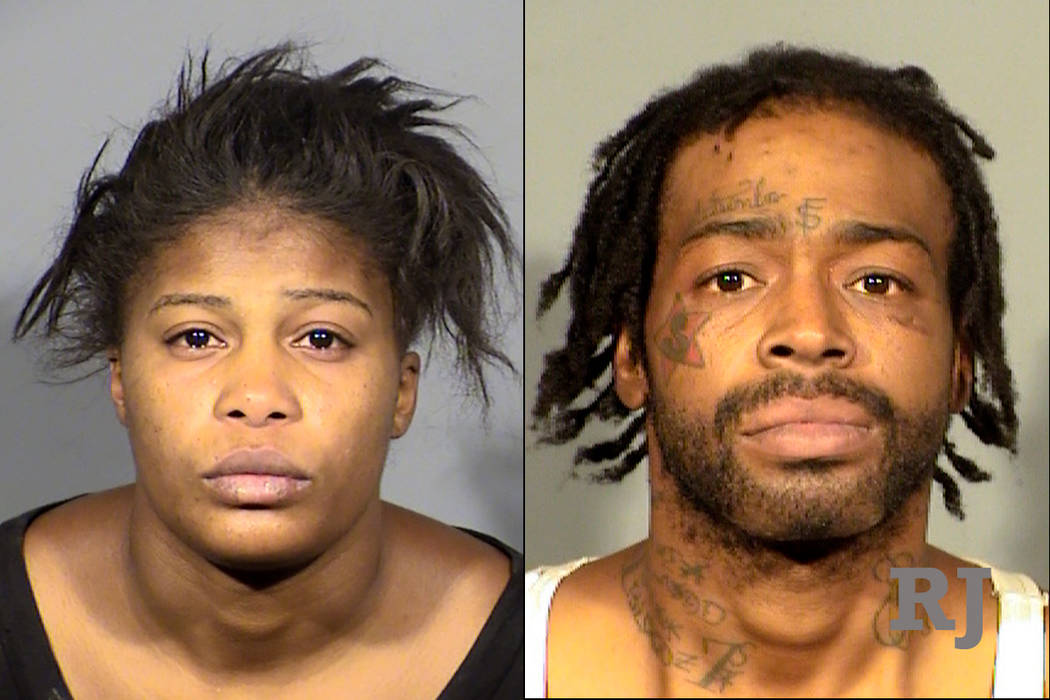 The mother of a 3-year-old girl whose body was found in a duffel bag admitted to hitting, kicking and biting her daughter the day she died, a Las Vegas police arrest report shows.
The Metropolitan Police Department report also detailed 15 counts of child abuse resulting in substantial bodily or mental harm to Aisha Yvonne Thomas' 8-month-old twin girls, who were taken into protective custody and hospitalized along with Thomas' 2-year-old son on Aug. 23, the day police discovered the body of Dejah Hunt.
While the 2-year-old boy was not in "acute distress," the twins exhibited multiple injuries and were malnourished and dehydrated, weighing 8 and 6 pounds, respectively, according to the report.
Thomas told police she had been feeding the twin girls milk diluted with water and mixed with cereal about three to four times daily because baby formula was "too expensive," according to the report.
Thomas, 29, first reported her daughter missing on Aug. 23 near the intersection of Lake Mead and Hollywood boulevards, saying she vanished during a trip to the grocery store. After discovering discrepancies in her initial story, police found Dejah's body in a duffel bag wrapped in trash bags in Thomas' apartment.
The mother admitted to officers that she had hit the girl "on the left side of the head," after Dejah wet herself, according to an earlier report. After an autopsy revealed multiple injuries consistent with blunt force trauma, Thomas told police she hit the girl twice on the head, causing Dejah to fall and hit her head again on "the toilet or side of the sink area," according to the report.
Thomas then said she kicked Dejah in the abdomen and back about three times and bit her on the stomach, the report said.
She also told police Dejah would not call her "mommy" and wouldn't listen to her, which made her "very frustrated."
The young twins and the boy were hospitalized at Sunrise Hospital and Medical Center, and the twins were in "very bad shape," Metro spokeswoman Laura Meltzer said Aug. 13.
Both twins were born prematurely, and one underwent heart surgery after birth, but hadn't seen a doctor since Thomas and the children's father, 30-year-old Don Edward Hunt Jr., moved to Nevada in May 2018.
The twin who only weighed 6 pounds was diagnosed with a brain hemorrhage, and hospital staff feared the child may have "brain death due to malnutrition," according to the report.
Thomas is also accused of screaming "uncontrollably" at the twins. She told police she "flings" the children across the room and "pops" them with her hand when they cry. She admitted to shaking one infant for about a minute three days before she reported Dejah missing, the report said.
Thomas said she "feels no connection with any of the three female children," including Dejah, because she was unable to breastfeed them. The twins were hospitalized after being born about 13 weeks early, and Dejah was taken at birth by California authorities to be raised by someone else, the arrest report said.
Dejah was returned to her mother's care in December 2017, about seven months before she died. The report did not say why California authorities removed Dejah from her mother's care at birth.
Thomas faces a murder charge in Dejah's death. Hunt also faces five counts of child abuse resulting in substantial bodily or mental harm in relation to the twin girls for failing to stop Thomas from hurting the children or provide them with medical care, according to the report.
Hunt claimed he would leave the home when Thomas screamed at the children because he didn't want her "anger directed at him," according to the report. He denied seeing Thomas physically hit the children and said the twins were fed 8 ounces of baby formula mixed with cereal, baby food, mashed potatoes and cream of wheat about six times a day.
The Clark County Division of Family Services received a previous report alleging abuse or neglect regarding the family on June 12, 2017. The division failed to reach the family or find enough evidence to support the claim and determined the allegations were unsubstantiated.
The parents are jailed without bail at the Clark County Detention Center. A preliminary hearing for the child abuse case is scheduled Thursday, court records show.
Contact Katelyn Newberg at knewberg@reviewjournal.com or 702-383-0240. Follow @k_newberg on Twitter.