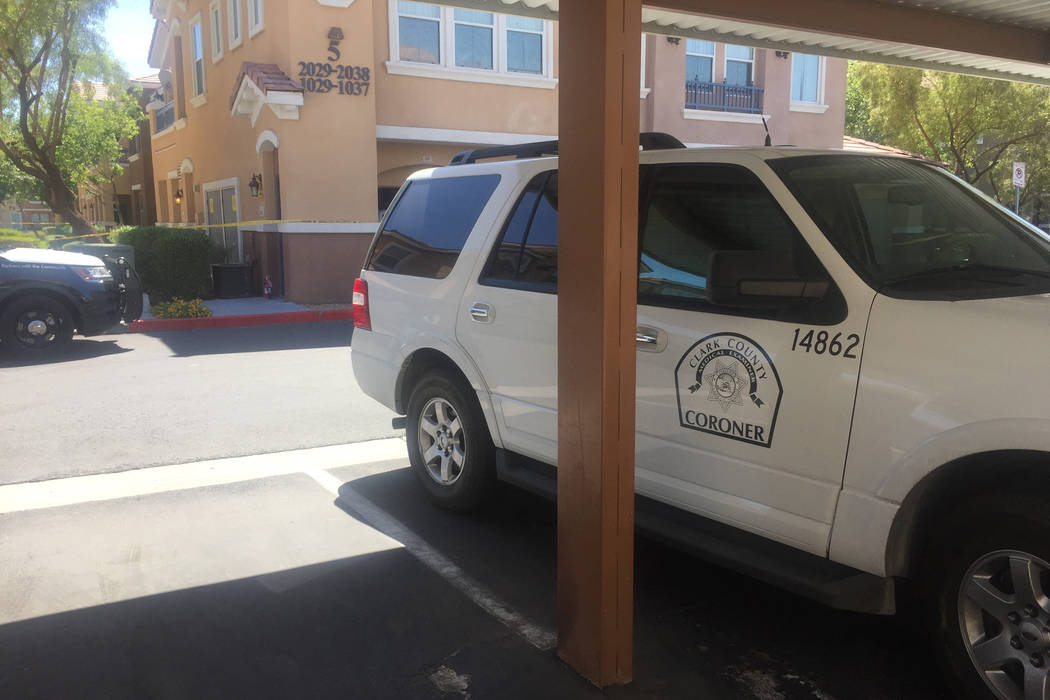 A man and woman were found dead from gunshot wounds in a murder-suicide at a northwest Las Vegas apartment complex Wednesday morning after one of them called police to the scene.
The man called 911 about 3:15 a.m. to report a suicide at the Tivoli Apartments, 4650 N. Rainbow Blvd., near West Lone Mountain Road, Metropolitan Police Department Lt. Dan McGrath said. The man gave police the apartment number and told them he left the door unlocked.
Officers were concerned that the man could be armed inside and "took their time formulating the plan," McGrath said.
When police eventually entered the apartment, they found the man dead in the living room and the woman dead in the bedroom, McGrath said.
Police believe the two were married and in their 50s.
A neighbor told police that she heard two gunshots — one apparently before the 911 call and another after. That suggests the man shot the woman, called 911 and then killed himself, McGrath said.
"There's a note there, so there's nothing really suspicious at all," he said.
Torn police tape was still wrapped around a porch light near a neighbor's front door Wednesday afternoon. Stickers warning potential intruders to keep away were stuck to the front door and garage door of the apartment where the couple died.
Karen Winn lives in the building where the incident occurred and said the couple was reserved but seemed cheerful. She said she never saw anything suspicious about them.
"They enjoyed a glass of wine and their cat," she said.
She saw them once or twice a week, she said, but did not know their names.
Kuuipo Morton also lives in the building. She said she had never seen the woman but would occasionally see the man on his balcony smoking cigarettes.
Other neighbors said they did not know the couple.
The incident occurred in a quiet, gated apartment complex. Morton said this was only the third time she had seen police on the property since she moved in about a year ago.
There were no signs of a struggle as the woman was in bed when she was shot.
"It's really sad when we have to deal with domestic violence," McGrath said. "She is a victim of this."
Review-Journal writer Blake Apgar contributed to this report. Contact Mike Shoro at mshoro@reviewjournal.com. Follow @mike_shoro on Twitter. Contact Lawren Linehan at llinehan@reviewjournal.com or 702-383-0381. Follow @lawrenlinehan on Twitter.