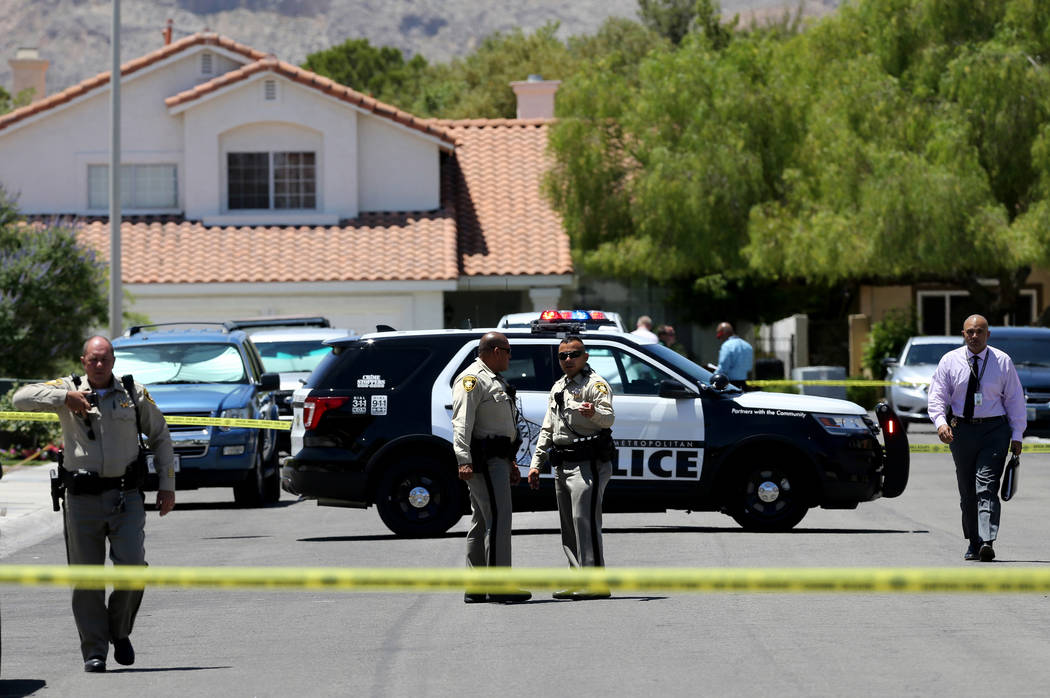 A Las Vegas man watched from an upstairs window as a teenager fled after a deadly shootout unfolded in a normally peaceful west valley neighborhood Thursday morning.
Thursday's shooting involving the teen and his parents came as a shock to Fred Bentley, 79, who moved onto Barrier Reef Drive in 1989. He said Warren and Michele Spielmann lived with their two sons three houses away, in the home where the shooting occurred, for much of that time.
"I've lived in a lot of neighborhoods," Bentley said Friday afternoon, adding that he moved to Nevada from New Mexico in 1960. "This one is very quiet."
Clark County property records indicate that the house where the shooting occurred is owned by the couple.
Las Vegas police said a 15-year-old boy fatally shot his father and wounded his mother Thursday morning in the home. Police said the boy shot his father in the head, leaving him dead inside the garage, then went inside and shot his mother, who obtained another gun and returned fire.
Both the teen and his mother were hospitalized and are expected to survive, police said.
Although the Metropolitan Police Department has not released the boy's name, Bentley identified the suspect as Noah Spielmann.
Officers were called just after 10:45 a.m. to the street, near West Sahara Avenue and South Hualapai Way, on what was the last day of school for Clark County School District students. A district spokesman said he could neither confirm nor deny that a student named Noah Spielmann was enrolled in school.
'That was a gun'
Bentley said he heard what sounded like a car backfiring Thursday morning but thought, "No, that's too sharp. That was a gun."
He said he looked out his back window and saw the older Spielmann boy, Noah, jumping over the family's backyard wall. He said he believed Michele Spielmann had followed the boy out of the house and shot him as he ran toward the wall.
"He was bleeding pretty bad," Bentley said.
Bentley watched him stumble and fall in the grass area between the back wall and the street, and saw another man stop his car to help. He said he heard only one gunshot.
About 10 minutes passed before police arrived and started taping off the block, Bentley said. He watched as police left the scene about 11 p.m.
Bentley said he only talked to Warren Spielmann years ago after the man's car was stolen, but he seemed friendly. He talked more often with Michele Spielmann, whom he described as "a little hyper."
"She used to get in shouting matches with the woman who lived next door, like, 'Don't come at my boys,'" Bentley, a retired electrical engineer, said.
He said the neighbor with whom Michele Spielmann quarreled would throw her weeds onto other residents' driveways and shout at the children playing in the neighborhood.
"Michele was not one to sit back and take it," he said. "She was not laid-back, but she wasn't crazy or anything."
Bentley described the couple's two sons as undisciplined. Michele Spielmann would often drive down the street, shouting out her window at the boys to get home.
"They were a little mischievous," Bentley said.
The boys used to ride their bikes on his driveway and bump into his garage door, but Bentley had not seen them for months prior to the shooting and had thought they might have moved in with relatives. He had not spoken with Michele Spielmann, other than to wave or say hello, for about a year.
Bentley said that aside from an armed robbery that happened in his own house several years ago, the neighborhood has not seen much criminal activity.
"There are a lot of retired people in this neighborhood. There aren't too many kids anymore," Bentley said. "A lot of very stable people."
'A big shock to us all'
Antonio Reyes, 37, has lived next door to the Spielmann family with his wife and three children for two years.
"They were probably the first neighbors I met," Reyes said of the family.
The project manager was at work when the shooting happened. At 10:30 a.m. his security cameras showed a delivery driver dropping off a package. Just after 11 a.m., the cameras were triggered by seven or eight police officers crossing his driveway with their guns drawn, he said.
Reyes said Noah Spielman had "ding-dong-ditched" his family a couple of times. Once, when Reyes went outside to turn his car alarm off one night, the older Spielmann boy had shouted an expletive out his window. Reyes told the boy's parents, who said they would send their son next door to apologize.
"I let it go," Reyes said. "I can't be on him too hard because I used to do the same stuff when I was a teenager. I was just a punk kid."
Noah Spielmann and his younger brother attended Fertitta Middle School with the Reyes' twin 13-year-old daughters last year, Reyes' wife, Liberty Reyes, 38, said. The younger Spielmann boy was in seventh grade, the same as her daughters, she said.
The Reyeses did not know whether Noah was enrolled in school this year.
"I always saw his brother walking to school, but he was always home," Antonio Reyes said.
The parents, who own an online jewelry store, also rarely left the house, he said. Warren Spielmann was always in the garage.
"That was his spot," Antonio Reyes said. "He would sit outside and smoke cigarettes because I guess he didn't like to smoke in the house."
When police let him through the police barrier to get to his home Thursday afternoon, Antonio Reyes said, Warren Spielmann's body was still in the chair.
The Spielmanns were known to blast '80s music from their backyard, and Michele Spielmann was often overheard shouting at her sons, he said.
"But just like a normal mom yells at her kids," Antonio Reyes said, adding he never heard any loud arguments coming from the home.
"I didn't see any of this coming," he said. "It's a big shock to us all. We're kind of shaken."
Contact Kimber Laux at klaux@reviewjournal.com or at 702-383-0283. Follow @lauxkimber on Twitter.