Nevada inmate's DNA links him to Colorado killings, authorities say
Updated August 10, 2018 - 8:02 pm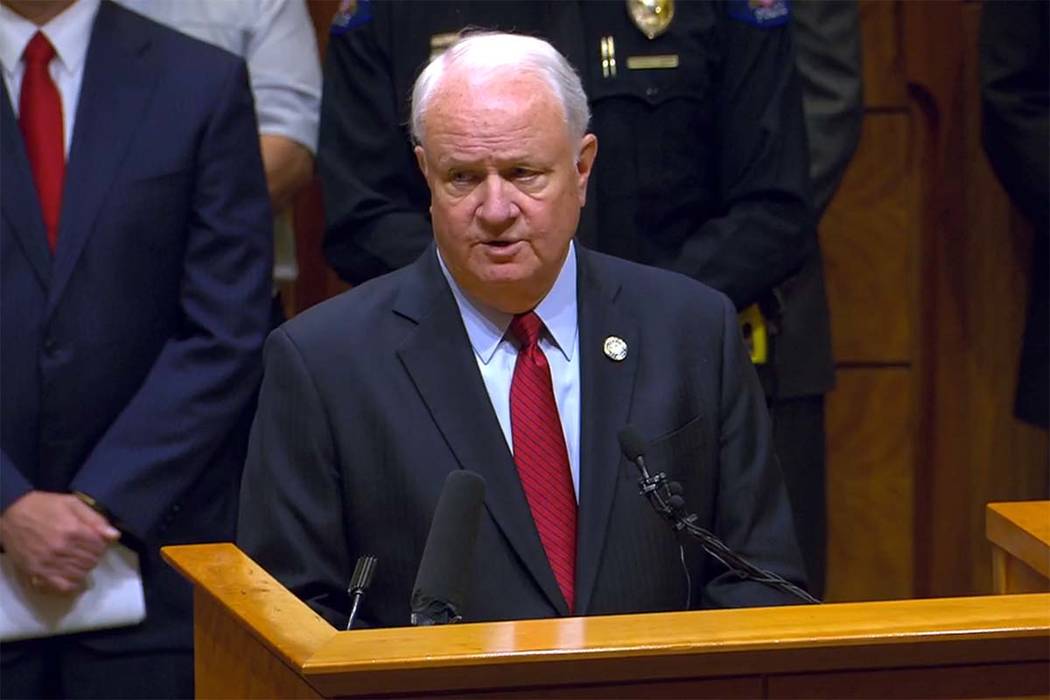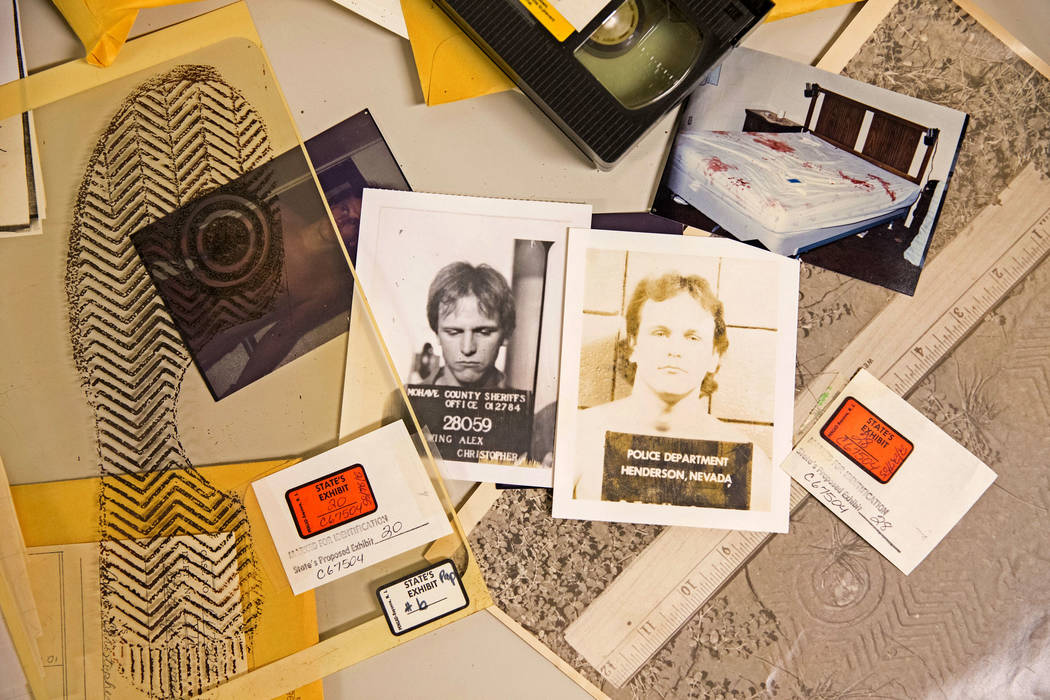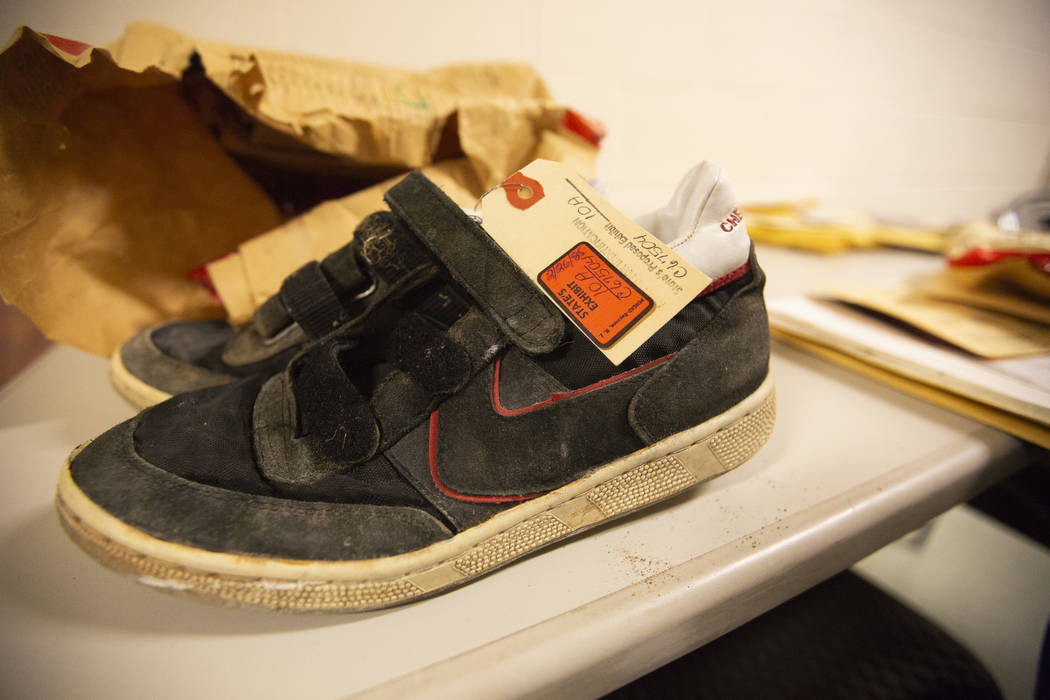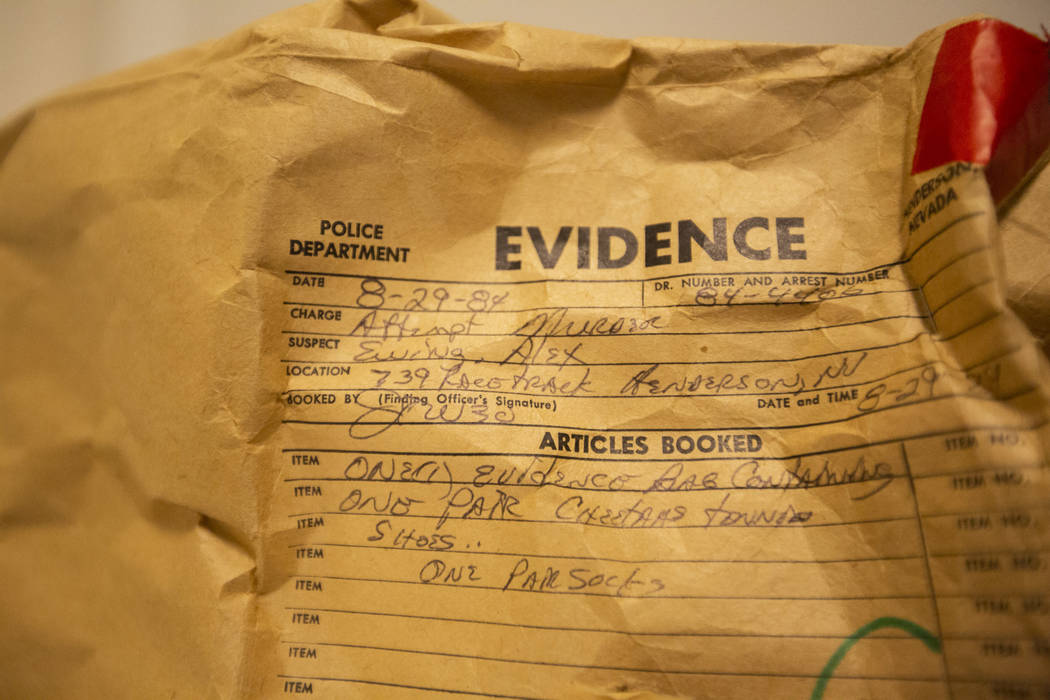 A Nevada inmate who has spent more than three decades behind bars for attacking a Henderson couple with an ax handle is now facing murder charges in Colorado.
Months before the August 1984 assault, two hammer attacks in Colorado claimed the lives of four people, including a 7-year-old girl. For 34 years, their murder suspect eluded arrest.
But new DNA evidence suggests he may have been locked up in Nevada all along. The revelation was announced early Friday at a news conference in Aurora, Colorado.
"Nothing can ever undo this terrible tragedy, but hopefully we begin a sense of peace, a sense of healing and a sense of justice," said Dan McCasky, chief of police in Lakewood, Colorado.
Alex Christopher Ewing, 57, is serving time in Carson City for the Henderson attack. It happened the same day Ewing escaped from a Mohave County, Arizona, van that was transporting him for a separate crime, prompting a manhunt.
"It caused our lives to be turned upside down," victim Christopher Barry said the following year at Ewing's sentencing for the attempted murders.
Evidence from the Henderson case is tucked away in a box at the Regional Justice Center. It contains a pair of red jogging shorts, Ewing's mug shot, crime scene photos and a cassette tape with a series of 911 calls.
In one call, a woman describes a shirtless man running through her neighborhood in red trunks.
In another, Nancy Barry can be heard crying and whispering her address into the phone.
"Hurry," she says. "We're dying here. … Hurry. It's an emergency. We're dying. We're dying."
Colorado killings
Colorado authorities now suspect Ewing fatally beat 50-year-old grandmother Patricia Smith in January of that year in her Lakewood home. Her daughter, who called the police, found her body inside Smith's front door next to a hammer, partially covered with a blanket.
Smith's clothes and several buttons were strewn about nearby. Blood stained the linoleum floor.
"Thirty-four years of mystery, sadness, grief and fear has finally come to a point of a foreseeable and hopeful conclusion for my family and me," Smith's grandson, Joe Reese, said in a statement Friday.
He described his grandmother as a "beacon of life" and a "vibrant inspiration of love and laughter to everyone she met."
"It is difficult to imagine how much more fulfilling our lives would have been if Patricia Smith's life had not been taken from us," Reese's statement continued. "It's more difficult to imagine her death remaining a mystery. There is some relief."
Six days after Smith's death, a similar attack killed Aurora couple Bruce and Debra Bennett and their 7-year-old daughter, Melissa. It happened one day after the girl's birthday party, police Chief Nick Metz said at the Friday news conference. Evidence suggested the girl had been sexually assaulted.
The child's grandmother found the family, as well as the couple's 3-year-old daughter, Vanessa, who survived the attack with serious injuries.
"This is a case that shocked the conscience of our community," Metz said.
DNA timeline
Though investigators collected physical evidence from the murder cases in 1984, no DNA was logged for a potential suspect in the Aurora family's killing until 2001. Nine years later, DNA was logged from Smith's case, which allowed the Colorado Bureau of Investigation to link the murders.
Fast-forward to July of this year: A forensic scientist in Washoe County entering Nevada inmate DNA into CODIS, a national forensic database, logged Ewing's cheek swab. The next morning, Colorado authorities were alerted to the potential match.
"When I received the call," Metz said, "it sent a chill through my spine."
Arapahoe County District Attorney George Brauchler, who has jurisdiction over the Aurora case, said authorities are working on Ewing's extradition paperwork. It may take anywhere from a few weeks to a couple of months for Ewing to land in Colorado, he said.
Facing charges
In Aurora, Ewing was charged with 18 counts, including murder and sexual assault, Brauchler said. Prosecutors for the Lakewood case are expected to file charges next week.
"This individual is presumed innocent and must be presumed innocent until such time as he may be convicted beyond a reasonable doubt," Brauchler said.
The triple murder could warrant the death penalty, he added.
Marty Keach, who prosecuted Ewing in the Henderson case, told the Las Vegas Review-Journal on Friday that Ewing's wanton violence stood out to him even after years of working criminal cases.
Initially, authorities suspected a motive of theft, but Keach said the Barrys were unfortunate victims of a senseless home invasion.
"He just went in their house and beat the living crap out of them for no reason," the attorney said, adding that "they were just nice, normal people. Nothing out of the ordinary. Nothing that would have drawn them to him."
Keach remembered asking District Judge Myron Leavitt, who since has died, for the maximum sentence.
At the news briefing, Brauchler credited Nevada Attorney General Adam Laxalt for his role in the DNA match. Laxalt in 2016 issued an opinion that enforced a 2013 state law requiring the Nevada Department of Corrections to log inmate DNA samples into CODIS, regardless of conviction date.
A spokesman for the Washoe County Sheriff's Office, which logged Ewing's DNA into the database, called the Colorado match a "big win."
"It illustrates the importance of these DNA programs and going back and doing this retroactive work," spokesman Bob Harmon said. "You don't know what you're going to find, and in this case, it was very significant."
Contact Rachel Crosby at rcrosby@reviewjournal.com or 702-477-3801. Follow @rachelacrosby on Twitter. Review-Journal reporter David Ferrara contributed to this story.