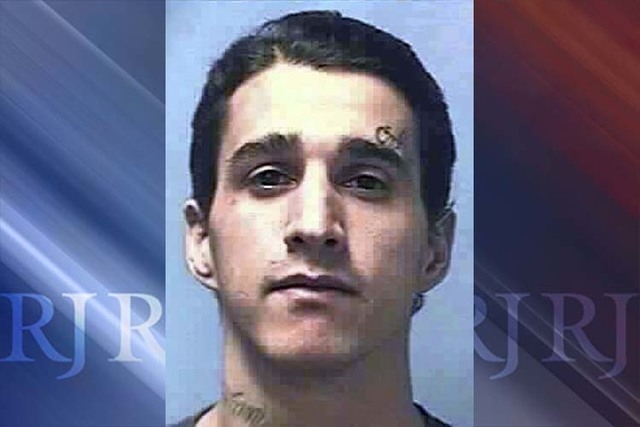 CARSON CITY — Nevada prison personnel implicated in the shooting death of a handcuffed inmate pointed the finger at another restrained prisoner who was wounded in the gunfire just hours after the 2014 incident unfolded, according to documents obtained by the Review-Journal.
Administrative charges of murder, assault and battery were leveled against Andrew Arevalo less than seven hours after a correctional officer trainee opened fire on Arevalo and Carlos Perez.
Arevalo's lawyer, Alexis Plunkett, maintains the administrative charges were trumped up to try to hide what really happened.
"There was no question that Andrew had not committed any kind of murder," Plunkett said. "There was certainly zero evidence to show that Andrew had killed anyone.
"They knew exactly what happened and they knew what they were trying to cover up."
Arevalo, 25, was wounded when Raynaldo-John Ramos fired a shotgun four times after a fight broke out in a segregation unit hallway at High Desert State Prison, about 40 miles north of Las Vegas near Indian Springs on Nov. 12, 2014, according to court documents.
Perez, 28, was killed, though the fact he was shot was not revealed until four months later when the Clark County coroner's office ruled his death a homicide.
The shooting happened in an area known as "the hole," where inmates are to be kept separated for security or their own protection. The inmates, wearing boxers and handcuffed behind their backs, were being returned to their cells from a shower.
Arevalo claims he was attacked from behind when both were let out into a hallway at the same time. The two brawled on the floor, kicking at each other.
Las Vegas attorney Cal Potter, in a Perez suit, said the officers created a "gladiator-style scenario" and didn't intervene to stop them.
Court documents unsealed this week in the federal wrongful death lawsuit filed by Perez's family put much of the blame for the death on former correctional officers Jeff Castro and Isaiah Smith.
State investigators said Castro failed to follow prison protocol by allowing the two inmates out of their cells at the same time and not properly escorting them from a shower area to their cells. A report said those failings led to the use of force resulting in the hospitalization of one inmate and death of another.
At one point, Castro left the fighting inmates while he went to get a pair of gloves.
Investigators said Smith was aware Castro repeatedly moved multiple inmates at the same time but failed to report it, "leading to a security breach which led to an inmate's death."
Castro and Smith resigned May 1.
Ramos, who was still on probation, was terminated. But his report, written in the immediate aftermath of the shooting and signed by a supervisor, Sgt. Marc Sydiongco, was used as the basis to administratively charge Arevalo for the death. The notice of charges was logged into a computer at 2:23 a.m. Nov. 13, 2014, just hours after the 8 p.m. incident, documents show.
"I really do feel like NDOC (Nevada Department of Corrections) thought he was going to die and this was a premeditated attempt to try to cover this up," Plunkett said.
A spokeswoman for the attorney general's office said Thursday it would have no comment.
According to the records, an administrative preliminary hearing was held Dec. 3, at which Arevalo was given a Miranda warning based on the officer's statement.
Administrative charges affect an inmate's good time credits and other privileges. Hearings are conducted by prison officers. Arevalo was convicted of the charges at a Jan. 26, 2015, hearing and cautioned he could face criminal charges.
Plunkett filed an appeal on Arevalo's behalf, arguing he did not kill Perez and therefore could not be found guilty of murder. She also claimed he acted in self-defense.
In mid-April 2015, Dwight Neven, High Desert warden, said there was sufficient evidence supporting the charges, but he overturned the murder and assault charges.
"The officer's report is clear and indicates that inmate Arevalo continued to fight and kick inmate Perez, despite numerous verbal warnings to stop," Neven wrote in a memo issued about three weeks after the shooting was made public.
"Whether or not inmate Perez was the initial aggressor … Arevalo's actions also contributed to this incident as he continued to yell and kick inmate Perez."
Arevalo is serving two to six years in prison on a 2013 burglary conviction in Las Vegas. He was transferred to Ely State Prison, Nevada's only maximum security penitentiary, where death row inmates are housed, in the fall and has been kept in segregation for the past two years, Plunkett said.
Ramos and the two officers are being provided private counsel paid for by the state to represent them in the two civil lawsuits. The attorney general's office is representing the state and prison administrators, including former Director Greg Cox, Neven and other officers.
In declarations filed last week with a motion to dismiss the Perez case, both Cox and Neven asserted they were not present at High Desert when the incident occurred and they did not direct or condone the actions of the officers.
They further said that while they oversee the safety, security and management of facilities, they delegate "down the chain of command" responsibilities to ensure protocols and procedures are carried out.
Cox was forced out of his job in September by Gov. Brian Sandoval following a series of nonfatal shootings at state prisons and his failure to deliver a report on time concerning use of force at correctional facilities.
Contact Sandra Chereb at schereb@reviewjournal.com or 775-461-3821. Find @SandraChereb on Twitter.
RELATED
State's silence on shooting of handcuffed prison inmates called deeply troubling
Family of dead High Desert inmate negotiates with Nevada AG
Lawsuit: High Desert prison guards allowed inmates to fight
Nevada to pay lawyers defending workers in deadly prison shooting