Partner fired at gunman who police say killed his K9, Nicky, and 2 people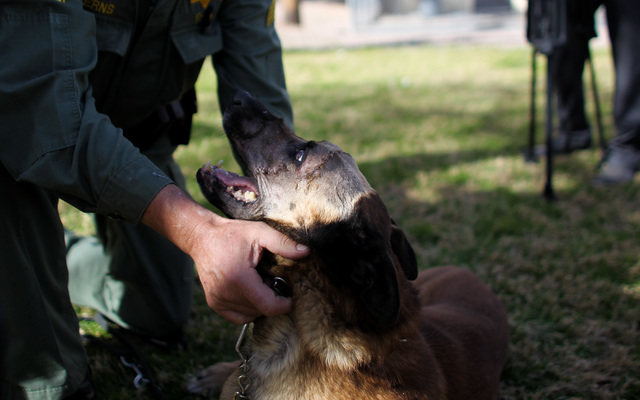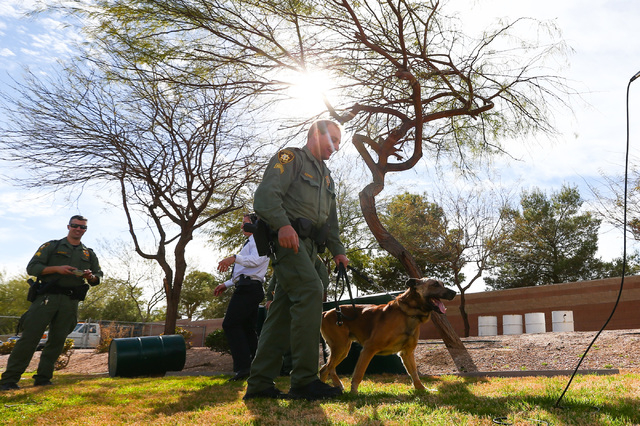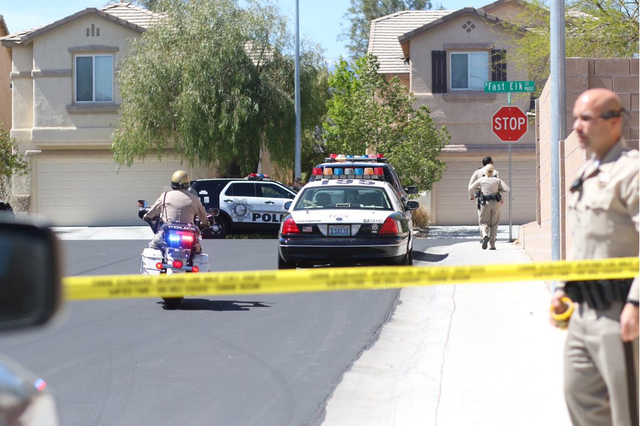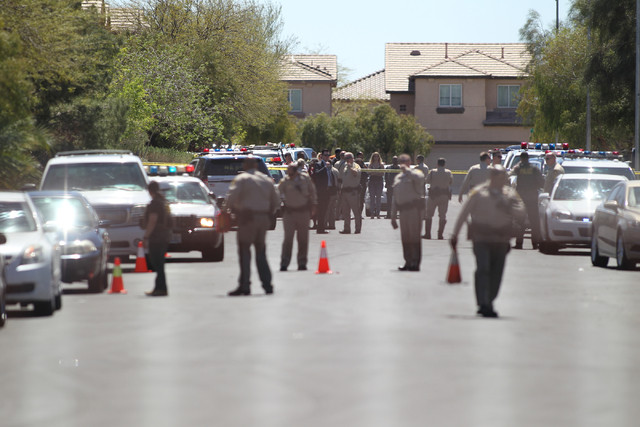 A police dog's handler was one of four Las Vegas officers to open fire on a suspect who fatally wounded the animal Thursday afternoon.
By the time Thursday's chaos was over, two people were dead in a northwest valley neighborhood and the suspect who killed the dog was hospitalized with several gunshot wounds.
The police dog, Nicky, had returned to duty less than a month ago after recovering from a machete attack in a February standoff.
Emergency crews were dispatched just before noon Thursday to 9848 Fast Elk St., near Log Cabin and North El Capitan ways. A man and a woman were shot and killed by the suspect inside a home, Capt. Shawn Andersen said at the scene.
When officers confronted the man outside, told him to drop the handgun he was holding and tried to arrest him using Nicky, the suspect shot the dog. Nicky's partner, Las Vegas police Sgt. Eric Kerns, and three other officers then shot the suspect, who was rushed to University Medical Center for treatment.
Nicky died at the scene Thursday, and was later taken to a central valley animal hospital — who would act as a "dog coroner" — accompanied by a police procession of about 10 patrol cars and four motorcycle officers.
Multiple neighbors told the Las Vegas Review-Journal they heard several shots during the ordeal. One neighbor, Cathy Gates, 51, said she saw police shoot the man several times "all through the chest" after he shot the police dog. She indicated the area he was shot by touching her throat and drawing her hand down to her upper abdomen.
As of late Thursday, sources confirmed the suspect was shot several times in the neck and chest, adding he was stable and awake but paralyzed from the neck down.
Nearby elementary schools were placed on a hard lockdown just after noon for about an hour. Students at Scherkenbach and Bilbray elementary schools had to shelter in place and were not permitted to move between rooms.
Additional details about the people who were killed or the suspect were not immediately available, including any connections between them. Metro homicide detectives were not on the scene Thursday, despite the presence of two homicide victims.
The investigation was handled instead by the department's Force Investigation Team, because it was considered to be a major case by top department officials. Officer-involved shooting investigations are often handled by the FIT unit in conjunction with the homicide unit.
The three other officers involved in the shooting will be named in the next two days, per Metropolitan Police Department protocol.
Metro spokesman Michael Rodriguez said officers use police dogs as a tool to take people into custody without using deadly force. He compared their deployment to using less-lethal weapons such as stun guns.
Rodriguez did not have information about whether Kerns will be granted leave as a result of Nicky's death, adding the situation is "not something we come across very often." He said police counselors were on scene speaking to Kerns and other officers.
The man and the woman who were killed will be identified by the Clark County coroner's office once their families have been notified.
This was the fourth officer-involved shooting Metro has investigated this year. Last year, the department saw 16.
Contact Wesley Juhl at wjuhl@reviewjournal.com and 702-383-0391. Find @WesJuhl on Twitter. Contact Rachel Crosby at rcrosby@reviewjournal.com or 702-387-5290. Find @rachelacrosby on Twitter.
With heavy hearts we regret to confirm that LVMPD K9 Nicky was killed in the line of duty today. #LODD #Nicky pic.twitter.com/VyOndLtwtC

— LVMPD (@LVMPD) March 31, 2016
UPDATE:
Neighbor footage shows officer-involved shooting that left K-9 dead — VIDEO