'Planets aligned' for homicide suspect who escaped North Las Vegas police custody — VIDEO
September 7, 2016 - 7:54 pm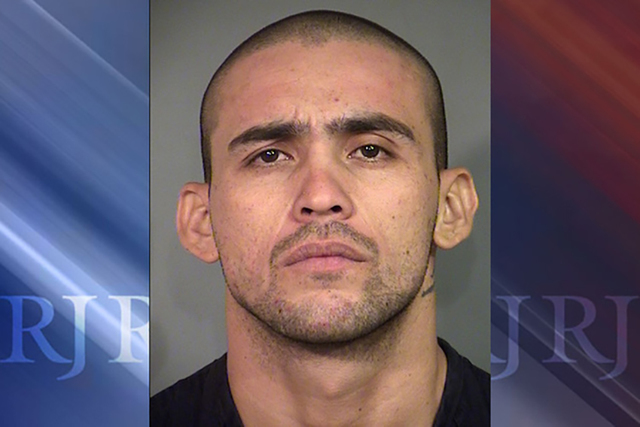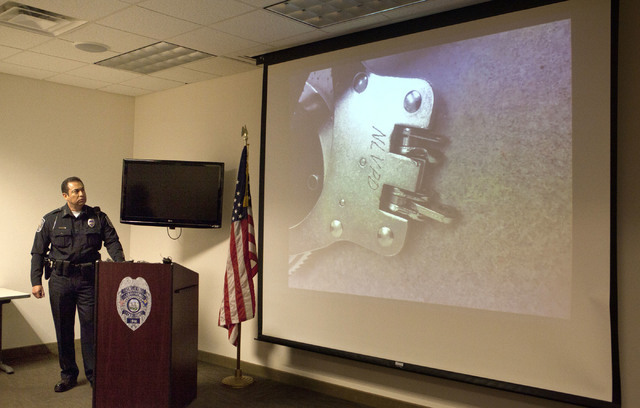 A fluke and a little good fortune helped a homicide suspect escape North Las Vegas police custody Friday, officials explained Wednesday, the day after the suspect was recaptured.
The escape was fairly elaborate for a man whose feet were shackled together and whose right wrist was handcuffed to a fixed metal bar atop a table bolted to the ground inside a locked interview room, North Las Vegas police chief Alexander Perez said during a Wednesday afternoon press conference.
The chief added no one has ever broken out of handcuffs and escaped police custody in the 25 years he's worked with the department.
"Understand, we are very aware mistakes were made," the chief said, before describing how the man, Alonso Perez, 25, managed to walk out of the department's detective bureau at 3525 W. Cheyenne Ave., near Simmons Street, undetected.
It began when Perez was placed in the small, seemingly secure interview room, his every move recorded and later played back to detectives. Though a live video monitored the suspect, "nobody was monitoring" the live feed, the chief said — the department's first mistake.
Because nobody was watching the feed, nobody noticed the moment Perez essentially snapped his cuffs in half about 10 minutes after being left in the room alone. And though detectives checked in every few minutes to offer Perez water or a restroom break, Perez hid his broken cuffs and acted normal as he devised a way out, surveillance footage showed.
About 45 minutes later, Perez, who stands about 6-foot-3, made his move: He stood up, slid a chair toward a corner of the room and reached above him. Then he shifted a foam ceiling tile out of the way and hoisted himself into the rafters, the chief said.
To get out of the building, Perez had to drop back down from the rafters into a police hallway, which — at that moment — happened to be empty. Then he bolted to a nearby exit door.
With a cuff still latched on his right wrist and shackles still on his ankles, Perez's luck hadn't yet run out — about 100 yards from the police building, Perez happened upon an unlocked work truck in a neighboring parking lot, which was unoccupied but running with the keys in the ignition to cool down the vehicle in the searing summer heat.
"The planets aligned for that guy," said the captain of the North Las Vegas detective bureau Wednesday.
With ease, Perez put the truck in drive and drove away.
"We discovered he was gone at about 1:10 p.m.," about 40 minutes after detectives had last checked in with Perez, the chief said Wednesday. Perez was initially arrested in connection with the fatal Aug. 27 shooting of Mohammed Robinson, 31, though police have not explained how he was linked to the case.
The same FBI task force that arrested Perez early Friday — before surrendering him to North Las Vegas police custody — rearrested Perez on Tuesday at an east valley apartment complex.
"We have been in communication with the Robinson family directly when the escape happened, and also soon after he was captured, and they've been exceptional with us and that's been really appreciated," the chief said.
Perez was being held at the Clark County Detention Center without bail Wednesday. He is due in court Thursday morning and faces charges of murder, discharging a gun into an occupied structure, escape and grand larceny of an automobile.
The North Las Vegas chief said police are looking into whether interview room ceilings need to be modified, though officials noted the building is leased and modification could affect the fire code.
"We're not perfect. The police are simply not perfect," the chief said. "However, we will learn from our mistakes so that they're not repeated, and that's the goal."
The first step for North Las Vegas police?
"Someone will be monitoring the interrogation room at all times when someone's in custody or being interviewed," the chief said. "We're working on a live feed to each desk as well."
While the chief said no one has escaped North Las Vegas police custody in the last 25 years, a man arrested in connection with a stolen vehicle escaped from Metro's northeast valley substation in April.
In August 1999, Timothy Blackburn — who was originally arrested in connection with a $1 million armed robbery of a bank's ATM repository — broke out of the previous North Las Vegas jail with the help of his wife. During an FBI standoff for his rearrest in the valley about two weeks later, Blackburn fatally shot his two preschool daughters, his wife, then himself.
Contact Rachel Crosby at rcrosby@reviewjournal.com or 702-387-5290. Follow @rachelacrosby on Twitter.