Police investigate 2nd fatal shooting at east Las Vegas home
Updated February 19, 2018 - 6:52 pm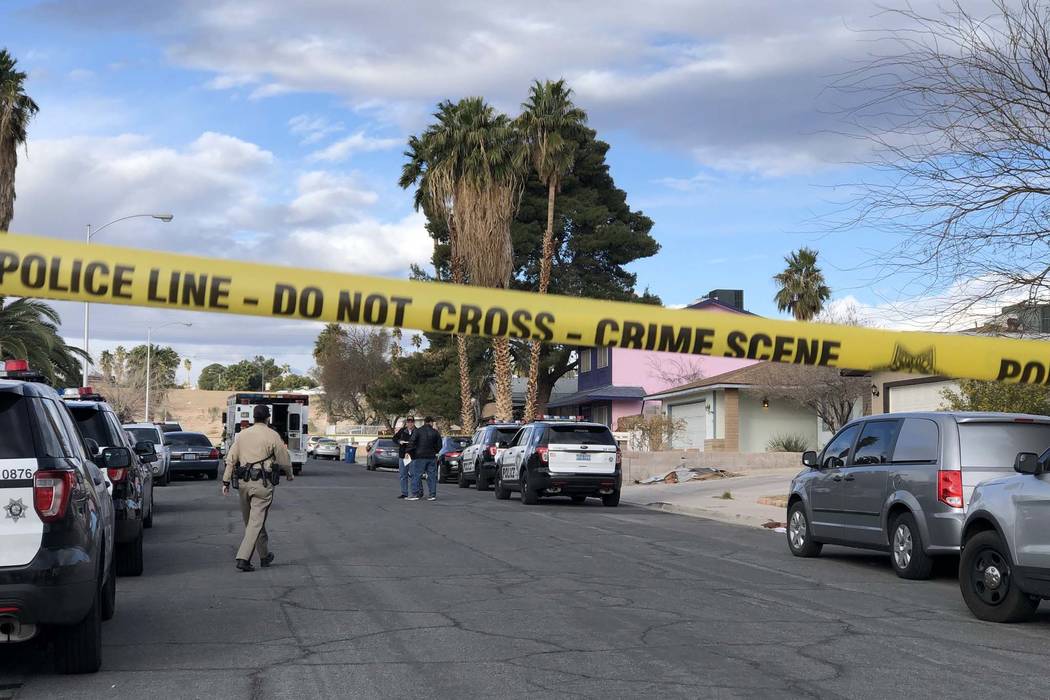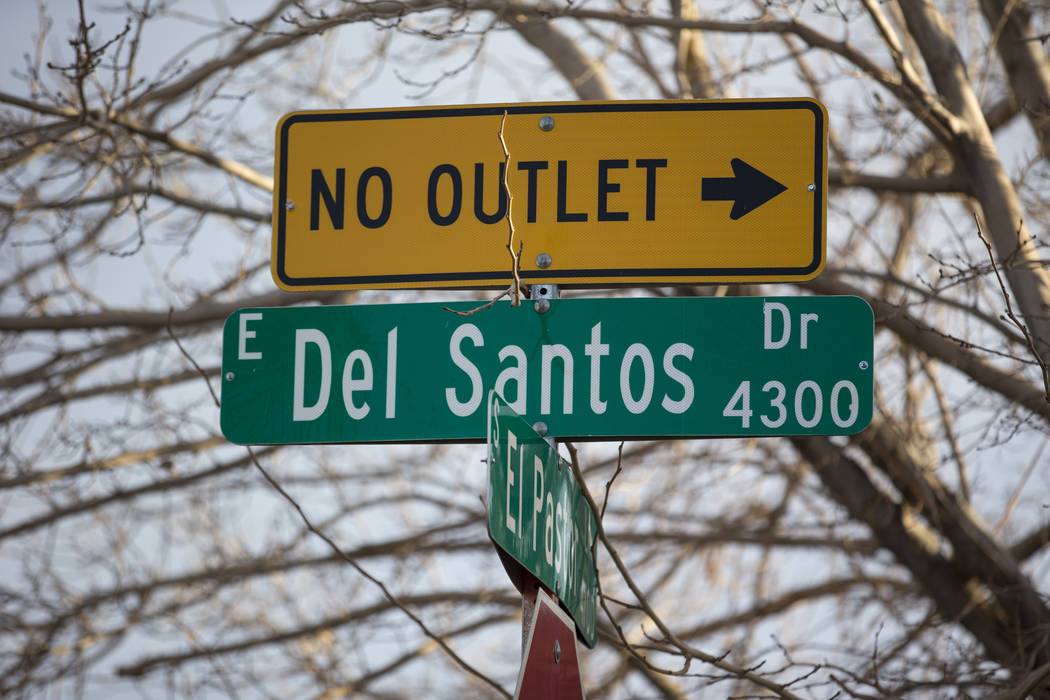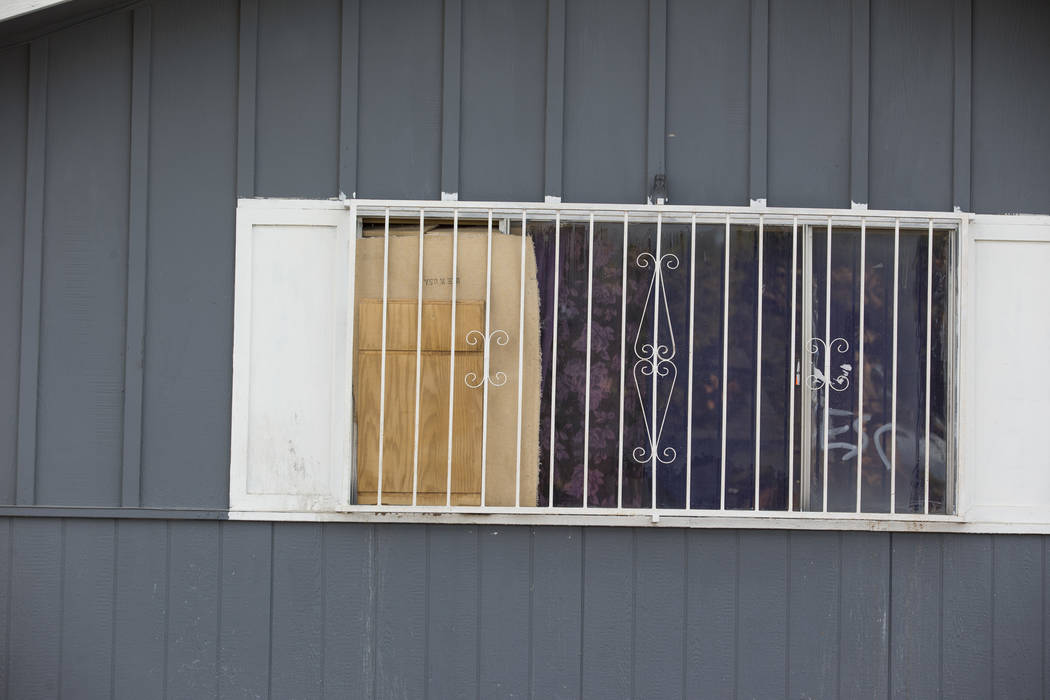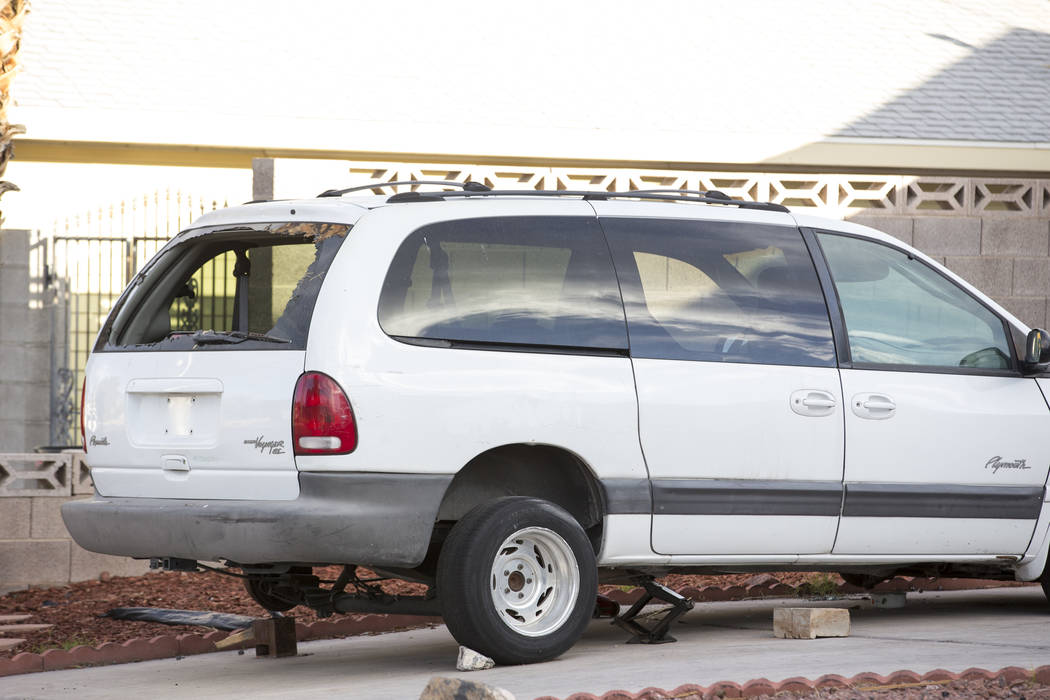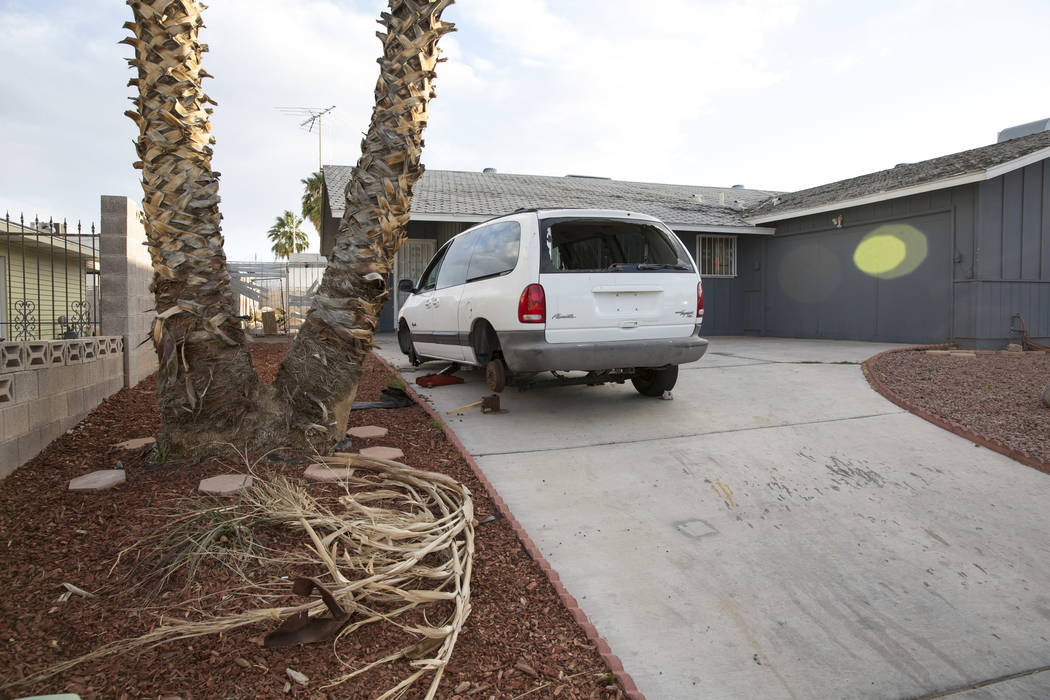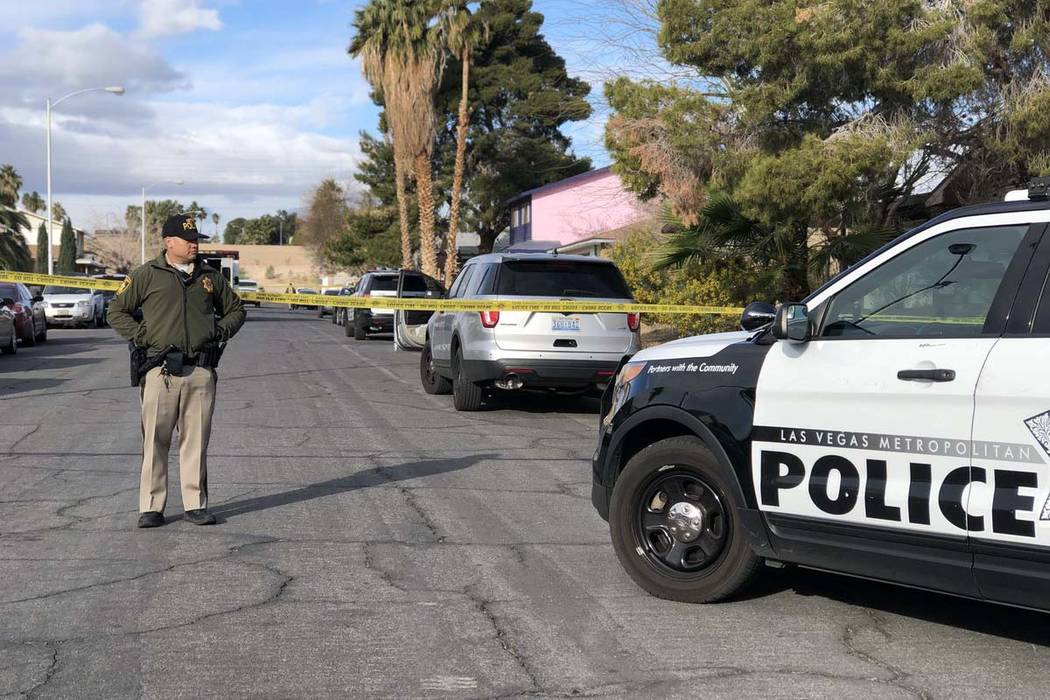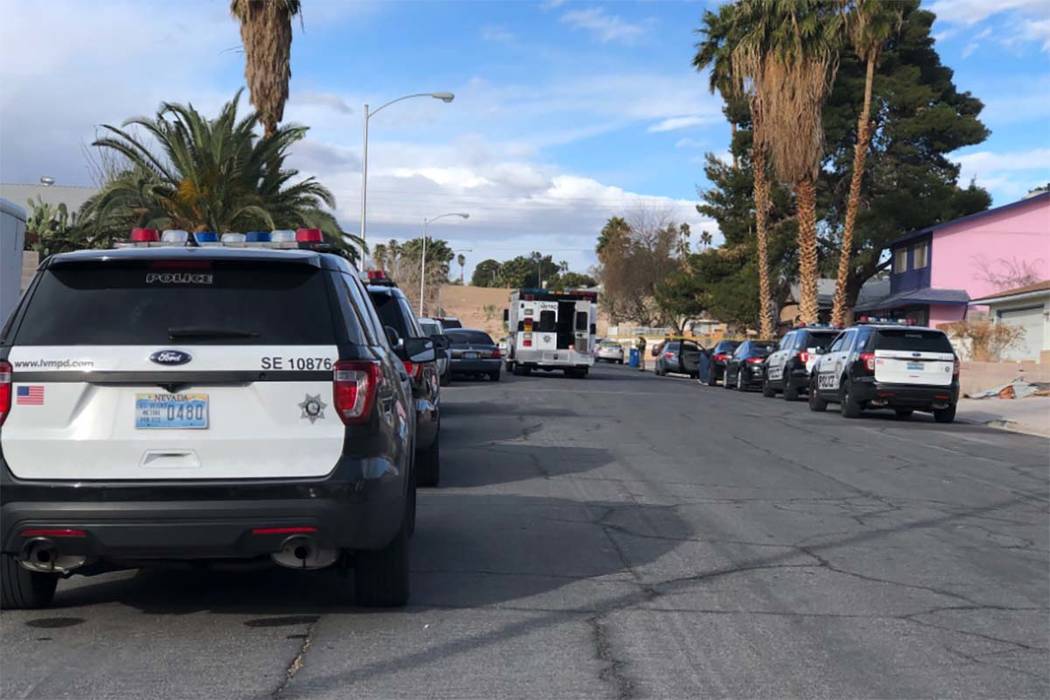 A man was gunned down early Monday in the driveway of what police are calling a drug flophouse, triggering the second homicide investigation at that east Las Vegas residence in less than two months.
Metropolitan Police Department homicide detectives first were called to 4323 Del Santos Drive on Dec. 22, when a narcotics-related dispute led Christine Rose Sanchez to shoot three of her roommates to death, according to police and court records.
Detectives returned to the home just before 5 a.m. Monday after multiple 911 callers reported hearing gunshots. When officers arrived, they found a man in his 30s dead in the driveway from at least one gunshot wound to his chest, homicide Lt. Dan McGrath said.
"He came to the residence for some unknown reason," McGrath said of the victim, who did not live at the house. "I would venture to say it had something to do with narcotics."
McGrath said the man had just arrived at the home with a woman when a white SUV pulled up and a man inside began shooting. McGrath confirmed that police were looking for two suspects Monday, the shooter and the driver of the vehicle.
Police on Monday could only describe the shooter as a black man with a medium build. The woman, who was not injured, did not provide a description of the driver, McGrath said.
It remained unclear in the hours following the shooting whether the victim knew his killer or whether the attack instead targeted the flophouse, where people are known to come and go on a frequent basis, McGrath said. As of the December shooting, he said, police had been called to the property at least 14 times within the previous year.
As detectives continued to investigate Monday, longtime resident Chris Martie approached patrol officers guarding the scene near the yellow crime tape. Running his hand through his hair, he yelled, "The same f——— house? The same house again?"
Stopping mid-sentence to listen to the frustrated neighbor, McGrath added, "It's quiet over here. It's not a problem area except for this one house."
In December, McGrath said the homeowner, identified by Clark County property records as John Nunn, told police he often allowed transients to stay in the home.
'Rolling in her grave'
Nunn inherited the one-story house built in 1977 in 2010 from his late mother, Elizabeth "Betty" Jeffreys. The house was underwater at the time, as the mortgage outweighed the home's value, property and court records show.
Martie, the 35-year-old neighbor, who has lived five houses from Nunn his entire life, told the Las Vegas Review-Journal that Jeffreys would be disappointed in her son "if she could only see the house now."
"She must be just rolling in her grave right now," he said Monday. "I knew her and she was a wonderful woman."
Sitting in their garage Monday afternoon, hours after the shooting, Mya Rider, Martie's fiancee, added, "She'd be disappointed."
The couple, who is now raising their 1-year-old son in Martie's childhood home, said the issues surrounding Nunn's house started about three years ago but have escalated in the past year.
County records indicate that trash hauler Republic Services has filed at least three liens against the property since 2016. Such liens often are filed because of unpaid bills.
"It quieted down for a little bit after the triple homicide," Rider said. "You could tell the homeowner had cleaned up his act a bit, but after like two weeks, it was like nothing had changed."
McGrath said the four people who fled after the Dec. 22 shooting were not the same residents in the home Monday when shots were fired.
Nunn and the four most recent residents were detained Monday morning, and McGrath said they would be arrested if police found narcotics inside during a warranted search.
It was not immediately clear whether Nunn, who also was present during the December shooting, would face additional charges.
"He was inside the residence during this one, too, so I don't know what we can do with him," McGrath said.
But Clark County Commissioner Chris Giunchigliani, who represents the neighborhood in which the home is located, said she would contact Metro on Tuesday to discuss declaring the home a public nuisance. Nunn then could be criminally prosecuted, she said.
"It's very disconcerting because I don't want people at risk," Giunchigliani said. "Bullets go through windows, walls and everything else."
Metro Capt. John Liberty, who heads the Police Department's southeast area command, noted Monday that the department had not received any service requests prior to the triple homicide in December. A service request should be submitted for ongoing issues, Liberty explained, including housing violations or drug-related activity.
"The squeaky wheel gets the grease, and without the community telling us what's going on in their neighborhoods, things can slip through the cracks if we aren't notified," Liberty said.
Asked about residents who fear retaliation, Liberty suggested that people file service requests anonymously online at www.lvmpd.com.
McGrath, too, urged concerned residents to continue reporting issues to police involving the address.
"People in the area obviously have concerns about this residence where there's been multiple shootings," he said, speaking over the gusts whipping the area early Monday. "It seems like a common factor has been narcotics and some criminal activity inside the house."
'Police know what it is'
But an upset Martie told the Review-Journal he's called the police dozens of times.
"We've called the cops. They just don't care. It's not the same neighbor just complaining. It's us. It's them," he said pointing at surrounding homes. "It's all of us."
Another resident relatively new to the neighborhood, who spoke on condition of anonymity, said she had heard that the home was a flophouse and that after the previous killings, neighbors hoped it would be cleaned up somehow.
But, she added, "slowly people have been coming back." She said she has seen people with shopping carts and trash bags full of belongings heading toward the home, and police have been "up and down so many times."
"Everybody knows what it is, and the police know what it is," she said of the house.
The Monday morning killing was the 37th homicide in the county this year and the 31st investigated by Metro, according to Review-Journal records. The victim will be identified by the Clark County coroner once his family has been notified.
Anyone with information regarding the shooting may call Crime Stoppers at 702-385-5555.
Contact Rio Lacanlale at rlacanlale@reviewjournal.com or 702-383-0381. Follow @riolacanlale on Twitter. Review-Journal staff writers Eli Segall, Michael Scott Davidson and Max Michor contributed to this report.