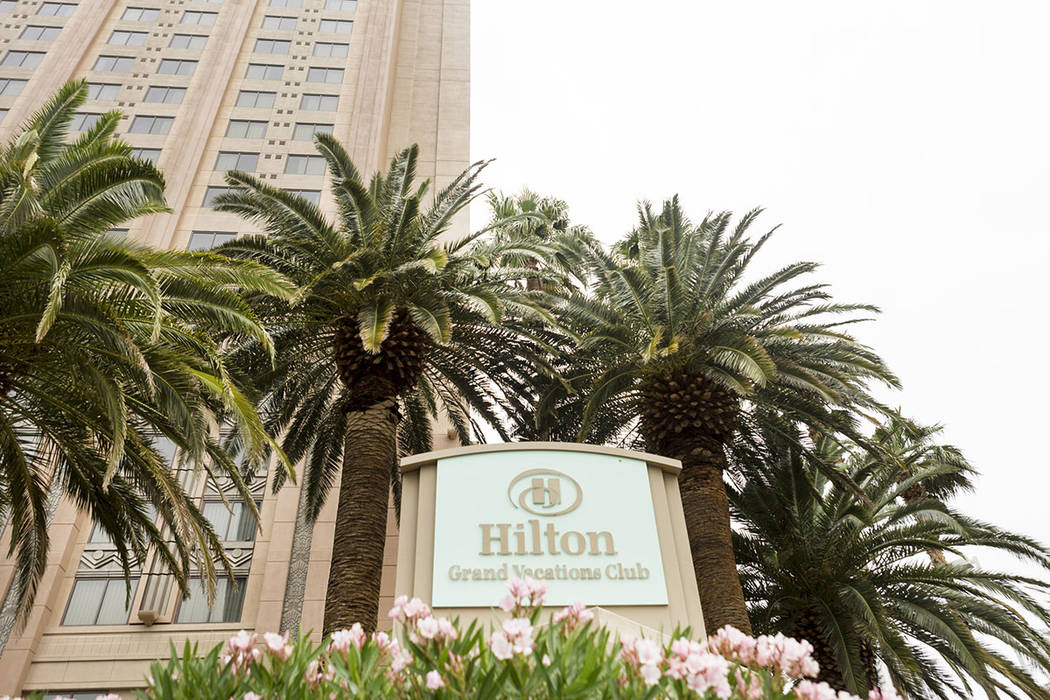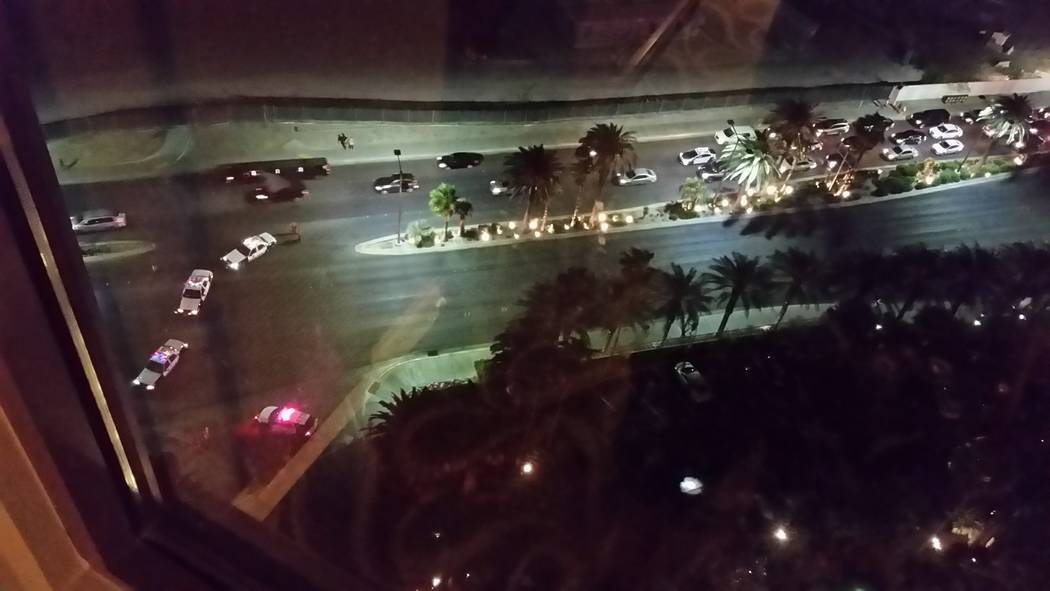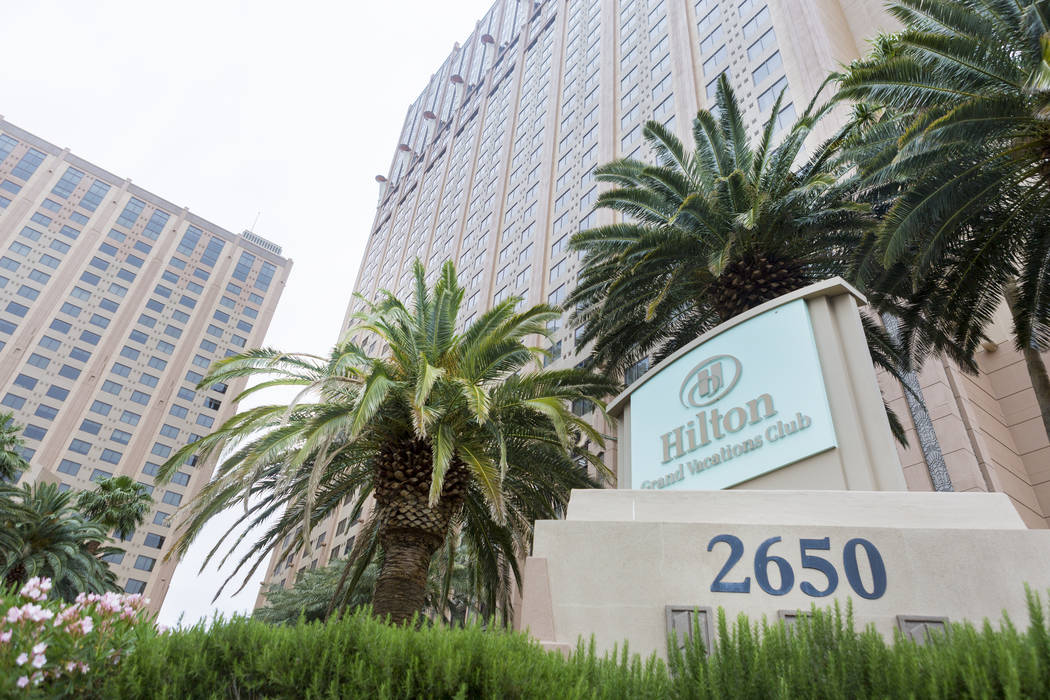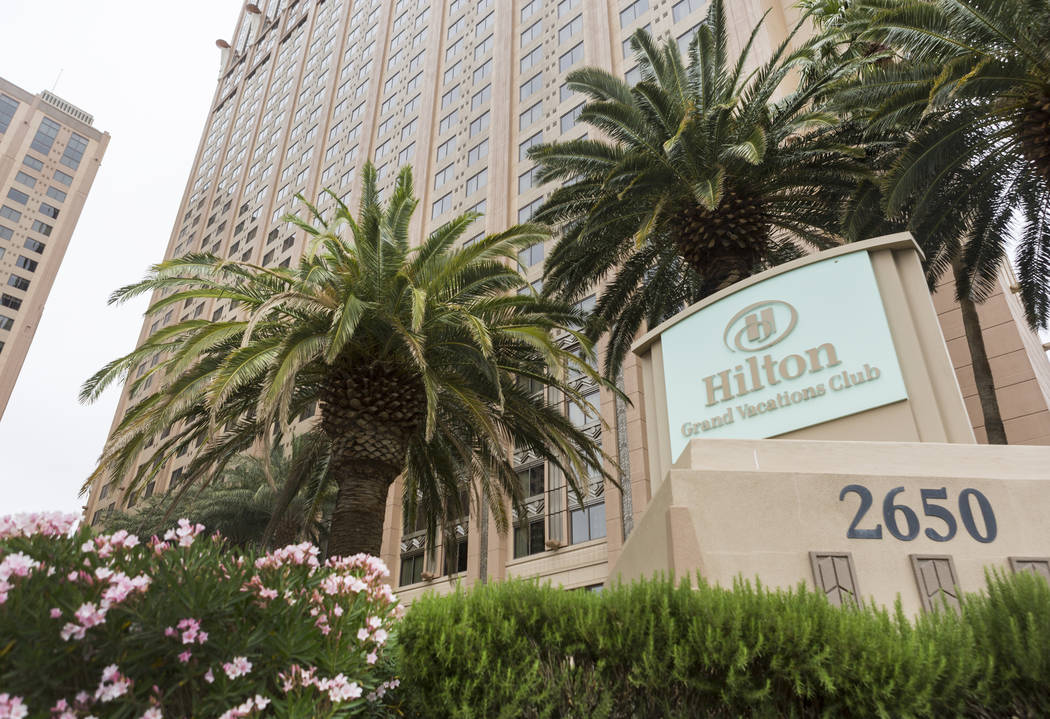 Las Vegas police on Sunday continued to investigate a shooting outside a Strip time-share hotel that left one man dead and another hospitalized Saturday night.
At 8:30 p.m. Saturday, two men had a dispute at the Hilton Grand Vacations Club On the Boulevard, 2650 Las Vegas Blvd. South. In a briefing near the scene Saturday night, Metropolitan Police Department Lt. Dan McGrath said officers responded to a report of a shooting and a bleeding man who stumbled into the hotel lobby.
The man was transported to University Medical Center, where he died, police said.
The altercation happened in the valet area. One man drove his car around the valet area, got out and started shooting. The other man who was shot returned fire, fatally wounding the first shooter, McGrath said.
Metro said its homicide section's investigation showed the men who were shot knew each other.
The men were staying at the hotel, McGrath said. He added that other people who know the men are also at the hotel but weren't cooperating with police, except for the girlfriend of the man who died.
Brittany Caldwell told the Las Vegas Review-Journal she was a friend of the dead man, whom she said was 25-year-old Dewan Ismail Calloway of Los Angeles.
In a statement Sunday evening, Metro said a dark gray Audi SUV was described as being at the shooting on Las Vegas Boulevard and with the second victim at Twain Avenue and Swenson Street, where he flagged down a medical transport unit.
Dan Henry, 54, was visiting from Idaho with his wife and staying at the Hilton Grand Vacations Club. He said when he called the lobby Saturday night after the shooting, an employee described the incident as an "emergency situation."
"When we noticed them placing orange traffic cones we figured out it was bullet casings," Henry said. "That's when we knew there had been a shooting. They said if we wanted to leave we'd have to go out through the back. When I went downstairs, I saw smears of blood in the lobby entrance."
The shooting might be gang-related, and the gang unit was at the hotel, reviewing video from the scene, McGrath said Saturday night. No arrests have been made, police reiterated Sunday, adding that they will forward their investigation's findings to the district attorney's office.
"Our hearts go out to the victims and their families," Hilton Grand Vacation spokeswoman Erin Pagán wrote in a statement. "Local emergency response supported very quickly, which allowed for minimal impact to operations."
Detectives are seeking two other men who were in the Audi and to interview anyone who witnessed the shooting at the hotel.
Metro asks that anyone with more information call the department's homicide section at 702-828-3521 or Crime Stoppers at 702-385-5555.
Review-Journal writer Rachel Hershkovitz contributed to this report. Contact Max Michor at mmichor@reviewjournal.com or 702-383-0381. Follow @MaxMichor on Twitter. Contact Sandy Lopez at slopez@reviewjournal.com or 702-383-4686. Follow @JournalismSandy on Twitter.