Police investigate fatal shooting in southeast Las Vegas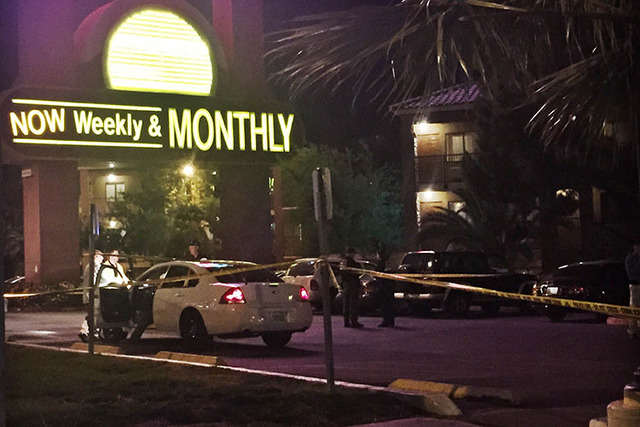 A man was shot and killed in the southeast valley late Wednesday after an argument in front of an extended-stay hotel, Las Vegas police said.
The argument started about 10:15 p.m. when two men approached another man on a bicycle in front of the Budget Suites of America at 4855 Boulder Highway, near Flamingo Road.
One of the men who approached the bicyclist started yelling, and a fight soon broke out between the two, Metropolitan Police Department homicide Lt. Dan McGrath said. That's when the second man unloaded about seven shots at the bicyclist, hitting him at least once in the chest.
The two drove off after the shooting. Police were nearby and arrived within a minute, where they found a resident trying to give the bicyclist CPR. The officers pitched in while medical crews were on the way, but the bicyclist died after being taken to Sunrise Hospital and Medical Center.
As of 1:30 a.m. Thursday neither suspect was in custody. McGrath said one was described as a male, taller than 6 feet with shoulder length hair and a black shirt. The other was also a male and may have been about 5 feet, 7 inches tall.
"They were last seen leaving in a silver, four-door car," he said.
It was unclear what the argument was about, but a few neighbors said it sounded like it was over the sale of a speaker.
A man at the nearby Sam's Town Hotel & Gambling Hall said he heard a couple gunshots as he was getting into his car.
"Two minutes later I heard the ambulance and saw police," said the man, who did not want to identify himself.
Crime scene tape surrounded the front of the complex. Many onlookers stopped to check out the police commotion from the nearby sidewalk as detectives interviewed witnesses.
Cones marked the several places police found shell casings. The man's bike still lay in the spot he was shot.
Contact Rachel Crosby at rcrosby@reviewjournal.com or 702-387-5290. Find her on Twitter: @rachelacrosby