Police: Man in his late 20s shot, killed in southeast Las Vegas Valley
October 28, 2016 - 5:48 am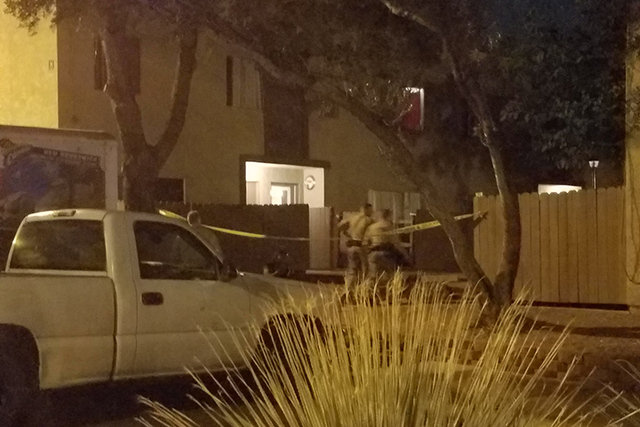 Police are investigating a homicide at an apartment complex in the southeast Las Vegas Valley early Friday morning.
One man died after a shooting at Virginia Apartments at 5350 Tropicana Ave., said Lt. CJ Jenkins with Metropolitan Police Department.
Lt. Dan McGrath of Metro's homicide unit said the man was in his late 20s and was shot in the lower torso. He was alert and talking to police when they arrived, but he was taken to Sunrise Hospital, where he died about 45 minutes later.
The victim has yet to be identified, and there were no suspects as of 6 a.m. McGrath said police believe the man likely opened the door for his assailant, leading officers to believe it wasn't a random shooting or robbery. The apartment unit has a stairwell, he said, and the man appeared to be shot on the landing. Also in the apartment were his girlfriend and two young children, one McGrath called an infant. They were not injured.
McGrath wasn't sure what type of gun was used, but he said the man was shot once.
The call originally was received by police as a shooting just before 2 a.m.
Louisa Antrim, 27, said she called 911 immediately after hearing a single gunshot from a nearby apartment.
"(It sounded) extremely close, like through the wall, almost," Antrim said.
She said she didn't hear yelling, arguments or anything else suspicious before the gunshot.
Shortly after the shot, Antrim said she heard a woman from a neighboring apartment running down the stairs and yelling about her children being "up there."
She said she's heard gunshots before but never called 911 about them until Thursday morning.
"This one just felt off," Antrim said. "And then when I heard that woman screaming I really freaked out."
Contact Mike Shoro at mshoro@reviewjournal.com. Follow @mike_shoro on Twitter.