Police: Woman faces murder charges after mother, daughter strangled with shoelace
September 20, 2023 - 6:25 pm
Updated September 21, 2023 - 2:18 pm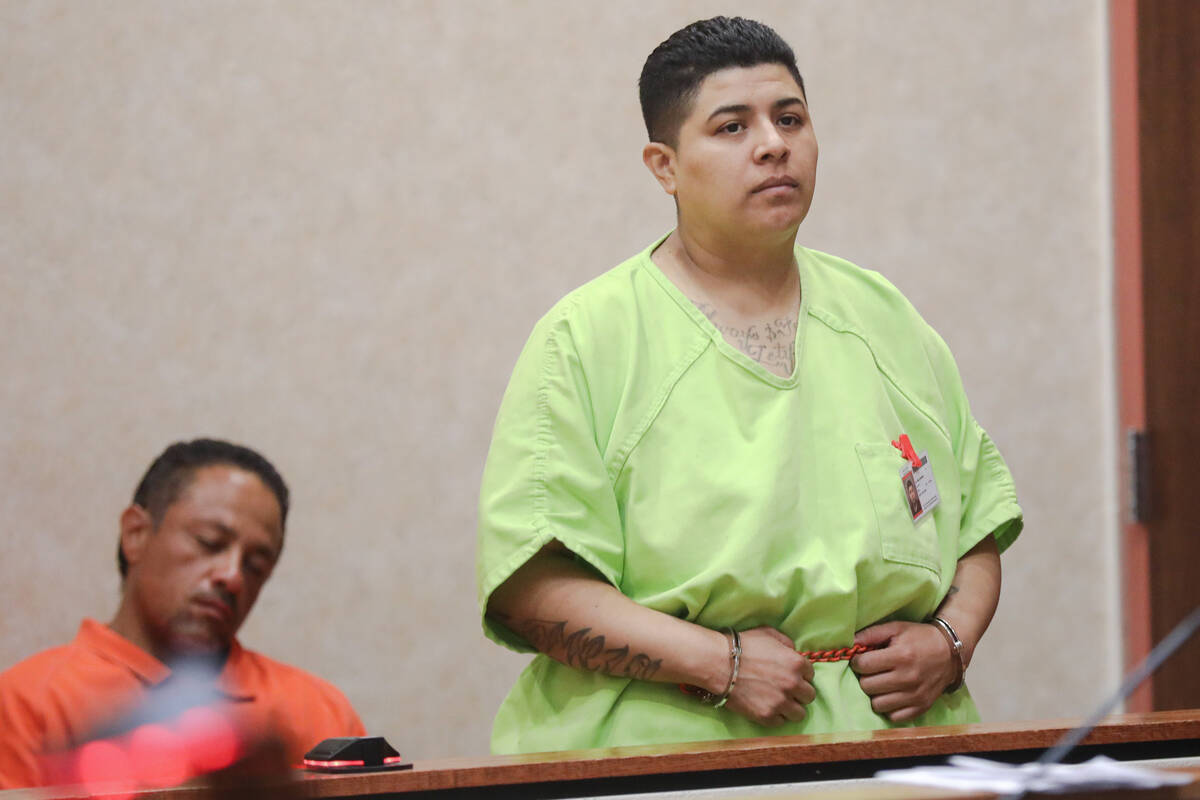 A 37-year-old woman is facing murder charges in the deaths of her girlfriend and her girlfriend's mother after she told police Tuesday she strangled them both with the same shoelace in North Las Vegas.
Rosemary Meza, 37, is set to be arraigned on two counts of open murder next week, according North Las Vegas Justice Court records.
In a court appearance Thursday morning, Meza wore a bright yellow jail uniform in front of North Las Vegas Judge Pro Tempore Joel Mann.
She is being held without bail at the North Las Vegas Community Correctional Center, jail records show.
The two victims have been identified as Norma Rios Valdovinos, 58, and Alyssa Valdovinos, 26, according to the Clark County coroner's office.
At 6:10 p.m. Tuesday, the North Las Vegas Fire Department found a woman later identified as Rios Valdovinos lying unconscious near East Cartier Avenue and Magnet Street, according to the police report. She was taken to North Vista Hospital and pronounced dead at 6:47 p.m.
Police said surveillance video taken on Carroll Street a block to the east showed someone getting out of a vehicle and dumping a body.
"The vehicle stopped momentarily, then proceeded west several feet, eventually stopping again," police stated in the report. "An unknown suspect was seen struggling to pull (the victim) out of the rear right passenger side of the vehicle and then leaving her unresponsive in the roadway, partially on the sidewalk. The suspect got back into the vehicle and drove away westbound on Cartier Street."
A doctor at North Vista, police related in the report, stated that the woman "had deep ligature marks on her neck which indicated that she was most likely strangled."
A police detective at the hospital stated there were apparent ligature marks around Rio Valdovinos' throat, dark spots around her neck area, scratch marks on her arms "and it appeared that she had been attacked and defended herself."
Officers then reported a crash at the intersection of Alexander Road and North 5th Street involving a car matching the description of the one seen in the surveillance video when the body was removed.
The driver of the car was Meza, who also matched the description of the person seen taking out the body, police said.
A dark-colored shoestring was recovered from the car by police, who noticed blood stains on the middle console. Officers also learned the car's secondary registered owner was Alyssa Valdovinos.
During an interview, police reported Meza confessed that "she had killed her girlfriend and hurt her girlfriend's mother earlier in the day."
Police said they searched an apartment in the 2400 block of Carroll Street where they located the body of Alyssa Valdovinos.
Meza revealed that she used the same shoelace to strangle both women, according to the report.
At a pretrial custody hearing Thursday, a judge set Meza's arraignment on the murder charges for Monday, court records show.
Contact David Wilson at dwilson@reviewjournal.com. Follow @davidwilson_RJ on X. Contact Jeff Burbank at jburbank@reviewjournal.com or 702-383-0382. Follow him @JeffBurbank2 on X. Review-Journal reporter Katelyn Newberg contributed to this story.