Prosecutor: Suspect in Fremont shooting out on bail at time of killing
Updated June 28, 2022 - 7:11 pm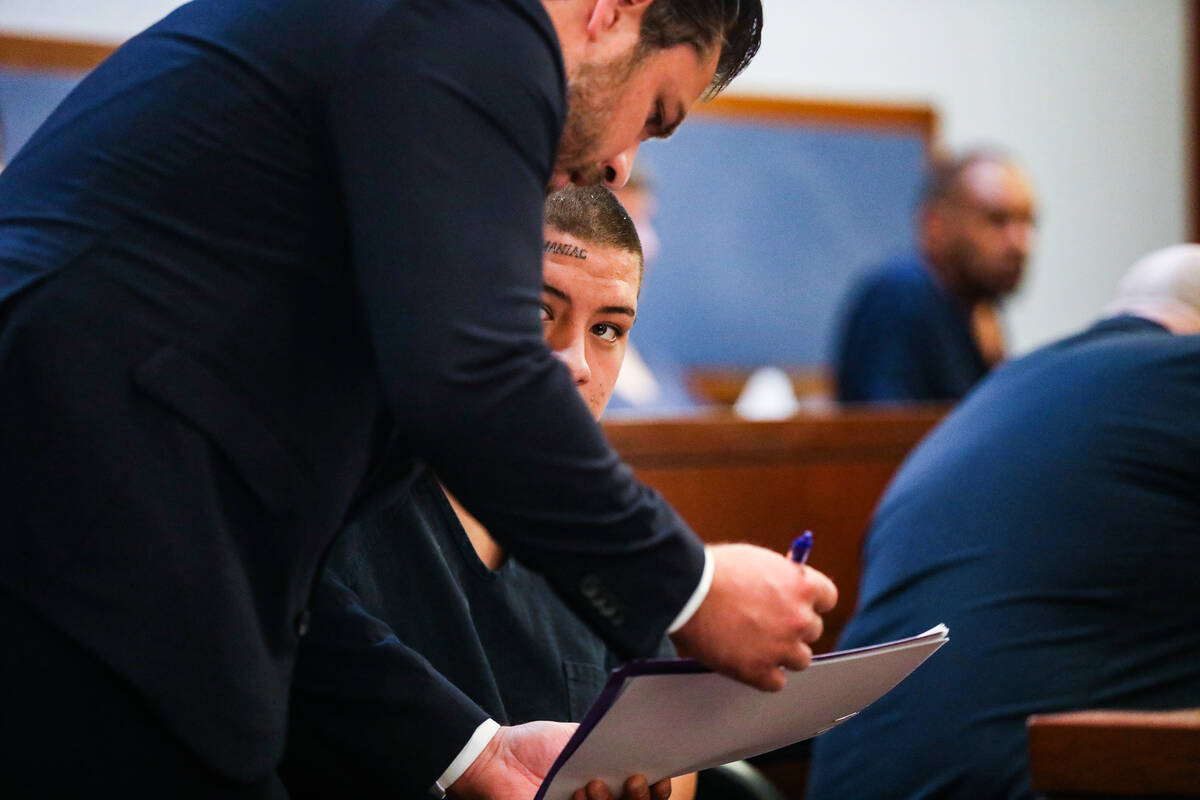 A teenager accused of killing a man and wounding a bystander in a shooting at the Fremont Street Experience was free while awaiting trial in a separate felony case at the time of the slaying, attorneys said Tuesday.
Ruben Robles, 17, faces one count each of murder, attempted murder and carrying a concealed gun without a permit.
Chief Deputy District Attorney Binu Palal told Las Vegas Justice of the Peace Joseph Sciscento that the teenager had previously been released on his own recognizance, but did not provide information on that case.
District Court records show that the teenager was indicted in May on two felony charges of possession of a firearm with an altered or obliterated serial number, and carrying a concealed weapon. The case dates to October.
Attorney Jack Buchanan, who represents the teen on the gun charges, told the Las Vegas Review-Journal that Robles has pleaded not guilty in that case and is scheduled for trial in August.
Buchanan said he did not represent Robles on the murder charge.
Sciscento scheduled bail and preliminary hearings for July. Robles is being held without bail.
Las Vegas police alleged that Robles opened fire during a quarrel at the downtown Las Vegas tourist attraction.
The shooting occurred at 2:10 a.m. June 19 in an area where visitors regularly gather to drink and enjoy live music under a mammoth canopy in the heart of downtown Las Vegas.
Raymond Renova, 23, died at University Medical Center, where the wounded bystander also was taken, police said. The wounded bystander was expected to recover.
Renova was part of a group that was approached by another group that included Robles. Robles' group instigated the fight near Binion's, according to a Metropolitan Police Department arrest warrant released Tuesday. Some witnesses said they believed the fight to be gang-related.
Renova pulled out a 5- to 6-inch knife to defend his cousin who was being beaten. Robles pulled out a firearm and fired six shots at Renova, according to the warrant.
A man who started chest compressions on Renova noticed gunshot wounds below Renova's collar bone, one in the abdomen and one in his right arm. When an officer took over chest compressions, the officer said Renova had a gunshot wound to the back of his head.
Robles, then 16, was identified within two days, and a warrant for his arrest was issued a week ago.
An officer and detective who reviewed video of the fight and shooting recognized the shooter as Robles because he was "connected to three shootings and an armed robbery in 2021," according to the warrant.
He was arrested Friday in an east Las Vegas neighborhood, police said.
Shackled and in blue jail garb Tuesday morning, Robles answered questions from Sciscento with "yes, sir" and "yes, your honor."
Alex Spelman, Clark County deputy special public defender, declined to comment.
Records show that this is the fourth gun-related case in which Robles is being prosecuted as an adult.
Robles faced a count of robbery with a deadly weapon in a March 2021 case, records show. He also was charged with multiple counts of assault with a deadly weapon and shooting into an occupied structure in connection with an October case. Both cases were dismissed, records show.
Contact Ricardo Torres-Cortez at rtorres@reviewjournal.com. Follow @rickytwrites on Twitter. Review-Journal staff writer David Wilson contributed to this report.