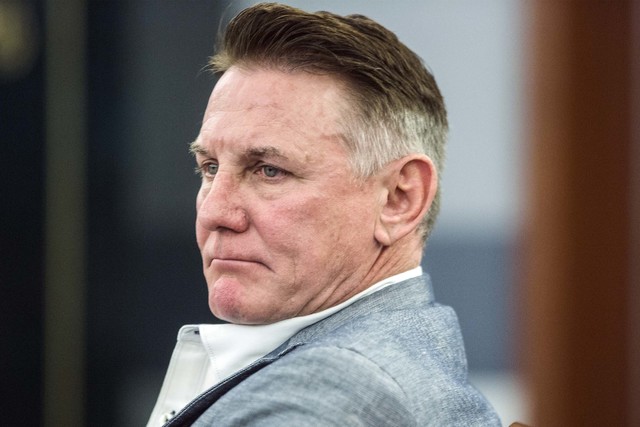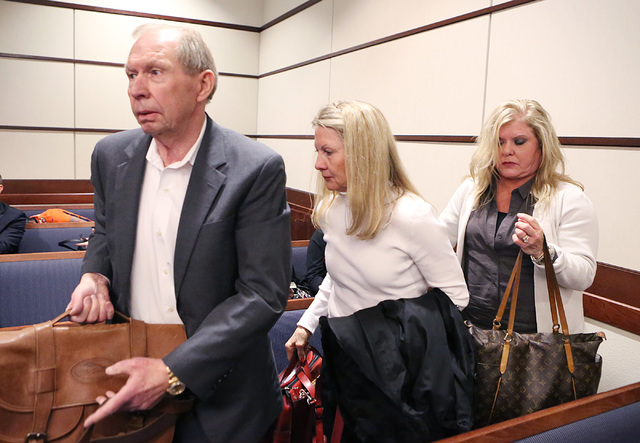 The Nevada Board of Psychological Examiners issued an emergency order late Tuesday suspending the license of Boulder City psychologist Gregory "Brent" Dennis, who is accused of killing his wife.
Dennis, 54, was arrested last week and charged with murder in the January 2015 death of Susan Winters, which was originally ruled a suicide. He was released on $250,000 bail late Monday.
In a four-page order, the psychology board based its decision on Dennis' admitted drug addiction and new allegations contained in a Henderson police report that he obtained controlled substances from a known drug dealer and his own patients.
Over the past several days, the Las Vegas Review-Journal has been reporting allegations in the police declaration of arrest tied to his drug abuse and wife's death.
The board's suspension order was effective at 7 p.m. Tuesday and alleges that to allow Dennis to continue practicing as a psychologist at his Boulder City mental health clinic "would be a danger to the public health, safety and welfare of the citizens of Nevada."
According to the order, the board reviewed a copy of the 27-page declaration of arrest before suspending Dennis and found that it was "credible " and provided sufficient grounds to take emergency action.
Practicing psychology under the influence of any controlled substance is "gross malpractice" under Nevada law, the order states. And dependence on a controlled substance constitutes professional incompetence.
Dennis' lawyer Richard Schonfeld said late Tuesday that he was disappointed with the order.
"I would have welcomed the opportunity for notice and a hearing before they issued the suspension," he said. "We are preparing to make a presentation to the board and look forward to them considering our evidence."
Earlier Tuesday, the psychology board's executive director, Morgan Alldredge, gave no indication that a suspension was coming.
"We are aware of the case, and we're looking into the allegations made and how it affects his licensure," she said. "Some of the allegations are serious and directly affecting his ability to practice."
In an interview with the Review-Journal hours before the suspension, Winters' father, Danny Winters, criticized the board for its lack of action.
"In my opinion, I think it's terrible that he's allowed to continue seeing patients and treating people when he's charged with murder," the father said. "I think they need to take a long, hard look at this. Is he the kind of person they want representing psychologists in Nevada?"
Danny Winters and his wife, Avis, filed a complaint against Dennis with the board in 2015 based on his drug use and alleged role in their daughter's death.
The board dismissed the complaint, citing a lack of supporting facts.
In October, the parents filed a second complaint after Dennis admitted in a civil deposition that he bought drugs from a street dealer and sought treatment for substance abuse.
In the police declaration of arrest, a Henderson detective alleged that Dennis regularly obtained prescription painkillers from his own patients.
Contact Jeff German at jgerman@reviewjournal.com or 702-380-4564. Follow @JGermanRJ on Twitter. Contact David Ferrara at dferrara@reviewjournal.com or 702-380-1039. Follow @randompoker on Twitter
RELATED
Boulder City psychologist charged in wife's death released on $250K bail
Henderson police detail drug allegations against psychologist charged in wife's murder
Psychologist booked on murder charge at Henderson jail in wife's death
Grand jury targets husband in lawyer's 2015 death
After waffling, Henderson police say they have reopened investigation into lawyer's 2015 death