Radio traffic released by fire department captures chaos of Las Vegas shooting — AUDIO
November 3, 2017 - 8:07 pm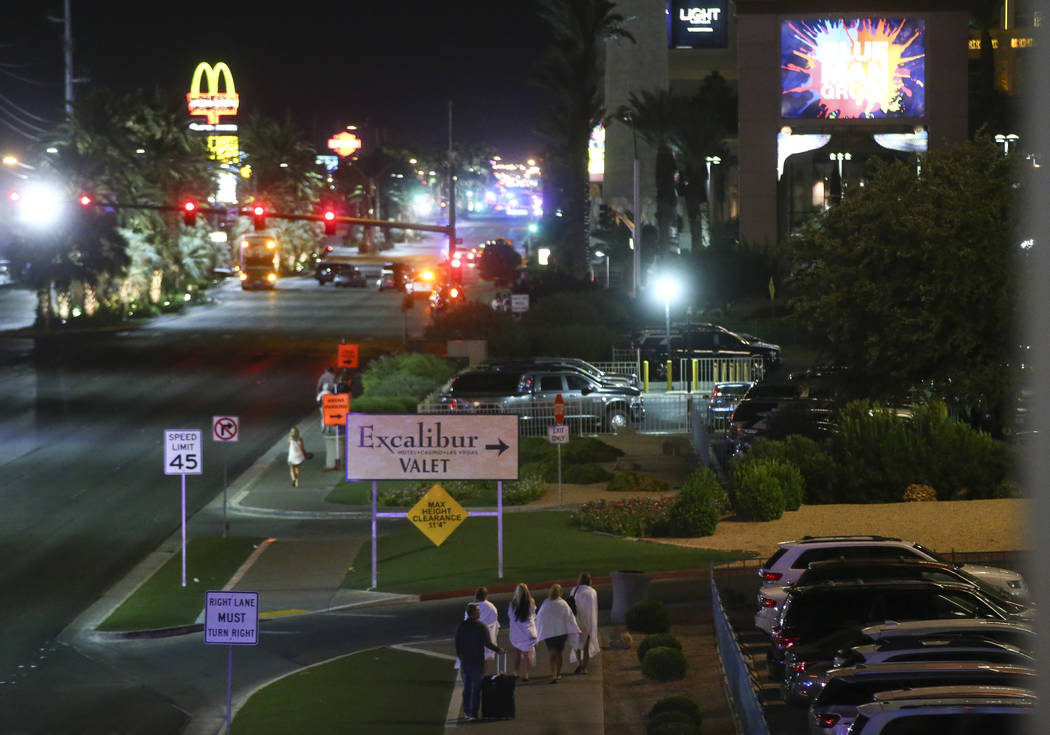 The first voice comes in over the radio, crackling with static but calm.
"Dispatch, we've got a large crowd running from the music festival down here," a man says. "Do you have reports of anything? Sounds like gunfire."
The voice belongs to Capt. Ken O'Shaughnessy on Fire Engine 11. A Clark County Fire Department employee of more than 10 years, O'Shaughnessy was witnessing thousands of Route 91 Harvest concertgoers fleeing from a barrage of bullets on Oct 1.
The transmission is the start of three hours of Fire Department communications released by the county Friday morning. County spokesman Erik Pappa said some communications were removed from the recording due to Health Insurance Portability and Accountability Act privacy concerns.
The bursts of radio communication captured how paramedics responded to the unfolding chaos that killed 58 at the festival and injured more than 500.
Influx of injuries
Sirens can be heard wailing in the background as the paramedics establish at least five treatment centers around the concert venue. For the recording's entirety, more and more gunshot victims arrive at the centers and are found by first responders.
Fire Chief Greg Cassell said his paramedics weren't able to access the concert grounds until about 10:30 p.m., 25 minutes after the shooting was first reported to Las Vegas police.
Listen to Clark County Fire radio traffic from the night of Oct. 1:
"The initial arriving units were swamped with patients running away from the ground," he said. "They just couldn't get there."
Two hours into the recording a transmission states that University Medical Center, the state's only Level I trauma center, has run out of beds for patients. It's not until 30 minutes later that the error is clarified.
The communications also show how pressed first responders were to find enough ambulances to transport victims.
"Chief, we're currently loading patients into private vehicles. We have no more ambulances, and we're getting pickup trucks full of patients coming in," Engine 11 reported from near the intersection of Tropicana Avenue and Koval Lane.
False reports
Tensions were heightened early on by reports of a man wearing military fatigues and carrying a black duffel bag.
And more than two hours after the shooting started, Fire Department employees were still receiving erroneous reports of more shots being fired inside McCarran International Airport and other resorts, including New York-New York, MGM Grand, Tropicana Las Vegas, Planet Hollywood Resort, Caesars Palace and Hooters Hotel.
Cassell said the reports of additional shooters likely were caused by injured concertgoers fleeing into nearby casinos for safety. He believes people already inside those buildings thought the injured had been shot there.
Overall, Cassell praised his first responders for their level-headed reaction to the historic tragedy.
"They're able to stay that calm because we practice radio discipline, we preach radio discipline," he said. "If someone had put that in front of me and I hadn't known what happened, I would have thought it was a drill because of how professional and calm everyone sounded."
Contact Michael Scott Davidson at sdavidson@reviewjournal.com or 702-477-3861. Follow @davidsonlvrj on Twitter.
Full audio provided by Clark County Fire from the night of Oct. 1:
Excerpts from radio traffic:
—"At least 4 patients shot."
—"We don't know what we got just yet, so please be very careful making your way in on this."
—"We were right next to the concert when it started happening. It sounded like full-auto fire."
—"I'm getting reports that the shooter is shooting from Mandalay Bay into the crowd at Route 91."
—"We can't go in front of the Mandalay Bay. We'll have to go around it."