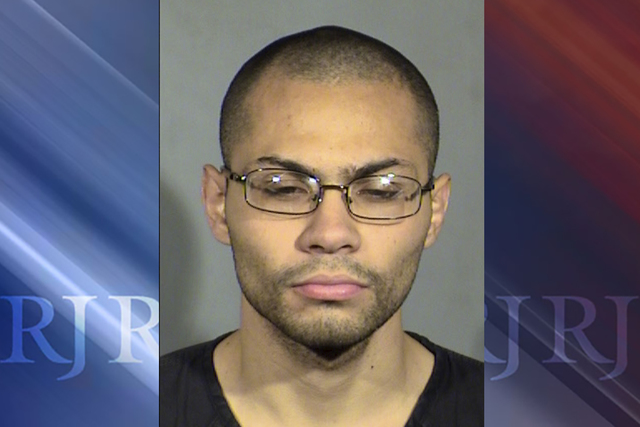 The suspect in Saturday's deadly shooting at a Las Vegas bar may have killed a man for sitting next to his date, according to a Metropolitan Police Department report.
Police said Joel Nuno-Cruz, 24, was arrested Thursday after a five-hour manhunt. Police suspect he fatally shot Alberto Sanchez-Delatorre, also 24, and wounded a bystander about 7 a.m. Saturday at the OK Corral bar, 1602 N. Nellis Blvd.
The suspect was booked into the Clark County Detention Center on charges of murder with a deadly weapon, battery with a deadly weapon, burglary while in possession of a gun, and possession of a gun by a prohibited person. He was booked under the name Joel Nunoz, but court documents identify him as Joel Nunez Cruz.
A server at the bar was struck by an errant bullet.
The police report detailing the investigation said Nuno-Cruz had taken a woman dancing at the bar and became angry when Sanchez-Delatorre sat next to his date. The woman told police that Nuno-Cruz stormed out of the bar and had her drop him off at a nearby street.
She said he told her Sanchez-Delatorre had disrespected them, and then he told her to take off. The woman told police she did not know what he was going to do next.
He returned to the bar about 13 minutes later, walked up to Sanchez-Delatorre and fired several rounds, according to the report. He then ran away.
A Metro patrol officer identified the shooting suspect as Nuno-Cruz on Tuesday, the report said. The officer had arrested him on Dec. 28 on grand larceny charges connected to a shoplifting incident at a Walmart.
Nuno-Cruz has two felony convictions in Nevada — one for attempted battery by a prisoner in 2008 and one for possession of a dangerous weapon by a prisoner in 2010, according to the police report.
Police said he has also been linked to a string of recent east valley robberies.
The armed robberies mostly happened at fast-food restaurants, but at least one occurred at an east valley computer store. At the computer store, the robber fired at least seven rounds as he ran away.
Contact Wesley Juhl at wjuhl@reviewjournal.com and 702-383-0391. Follow @WesJuhl on Twitter.
RELATED
1 dead, 1 injured after shooting in east valley
Coroner identifies man who died in Saturday shooting at Las Vegas bar
Shooter in Saturday homicide also wanted in string of Las Vegas Valley robberies