Road-rage incident leads to deadly shooting in northwest Las Vegas Valley
September 21, 2017 - 8:44 pm
Updated September 21, 2017 - 11:42 pm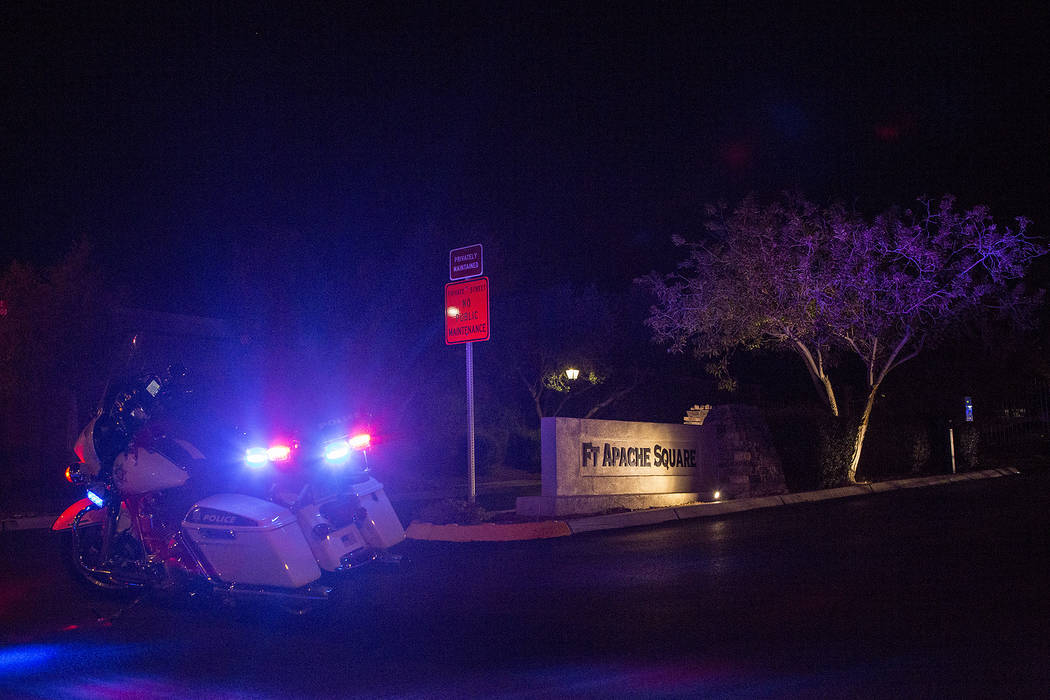 A man was shot and killed Thursday night after a road-rage incident in a gated community in the far northwest valley, Las Vegas police said.
Metropolitan Police Department got a call about 7:15 p.m. regarding the shooting on Swamp Rose Avenue in the Ft. Apache Square gated neighborhood, near Fort Apache Road and Grand Teton Drive.
Two men, both driving pickup trucks, were involved in a road-rage incident that started near the community's entrance and continued a short distance into the gated neighborhood, homicide Lt. Dan McGrath said Thursday night. The man killed apparently had been braking often and driving very slowly, prompting the shooter to honk his horn, he said.
"This did not have to happen," McGrath said.
The drivers, both in their 60s, then stopped their trucks in the middle of Swamp Rose Avenue, McGrath said.
The man killed then got out of his truck and walked over to the other truck. The man inside rolled down his window and opened the door, but the other driver pushed it back closed and raised his hand as if to hit him.
The driver, who was inside his truck with two family members, told police that he was afraid for his life as the man approached.
"He said he felt threatened and fired one shot" from a handgun stored inside the car, McGrath said.
The shot struck the man in the head, and he died on the scene.
"He did have options to leave, or go around or back up," he said.
The driver who shot the man called 911 to report the incident.
Jim Reed Davis, 62, was arrested Thursday in connection with the shooting, according to jail records. He was booked into the Clark County Detention Center on one charge of open murder.
The Clark County coroner's office will identify the deceased once next of kin is notified.
Contact Mike Shoro at mshoro@reviewjournal.com or 702-387-5290. Follow @mike_shoro on Twitter.