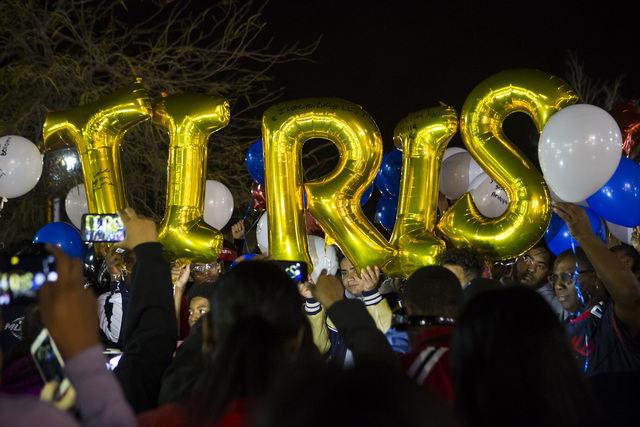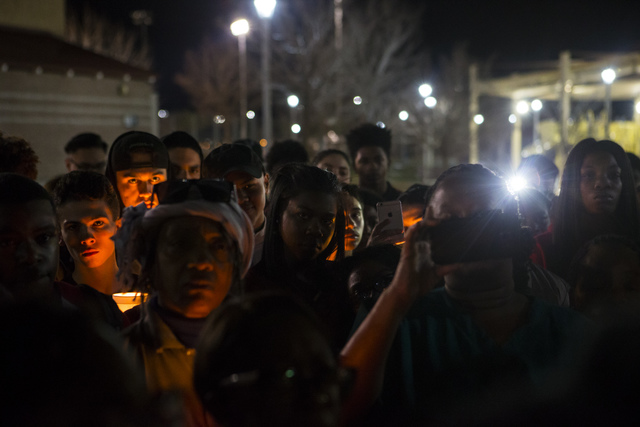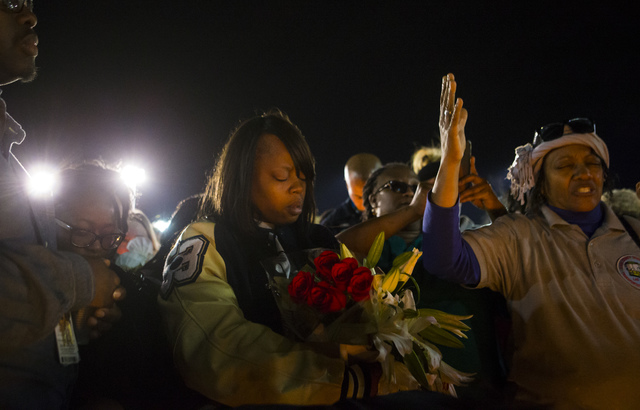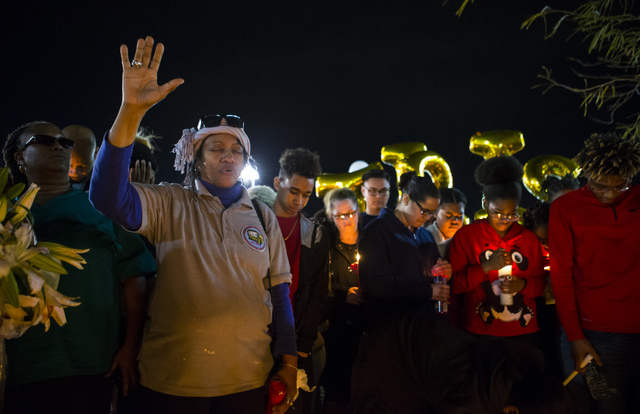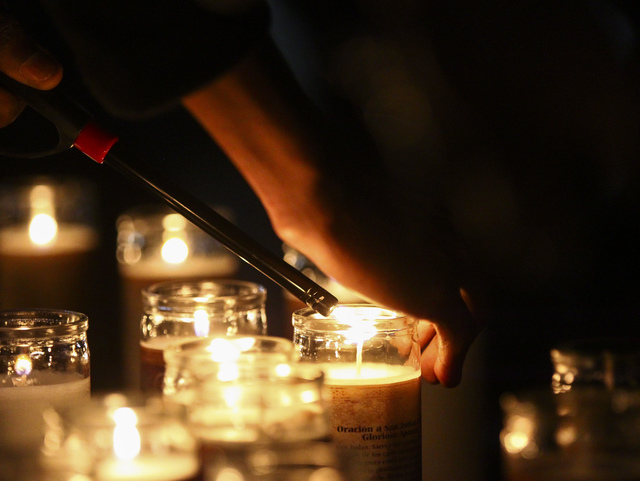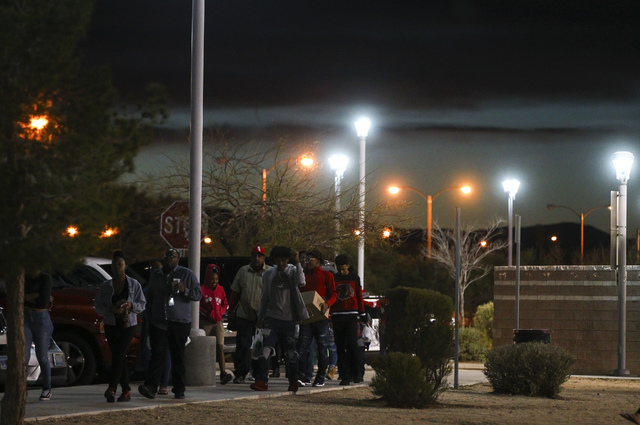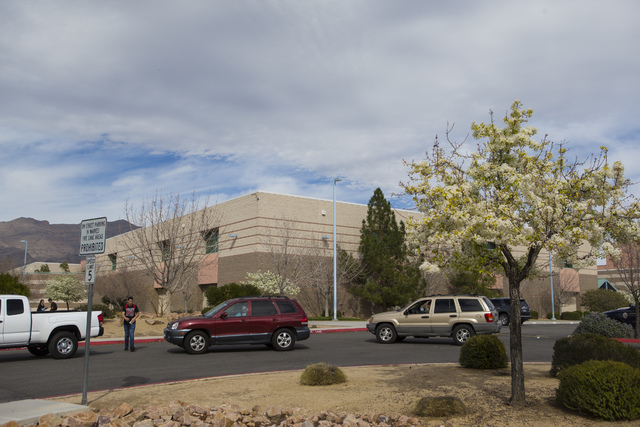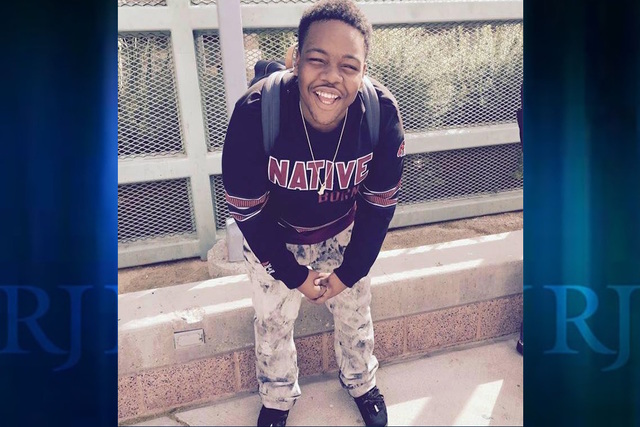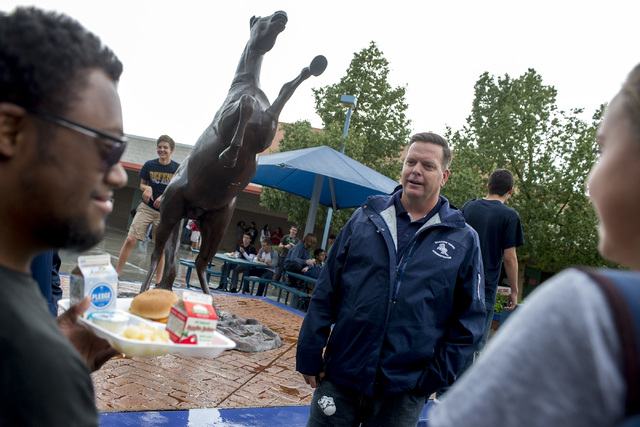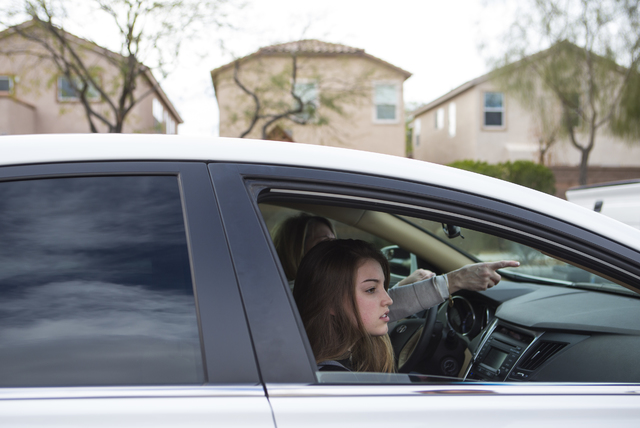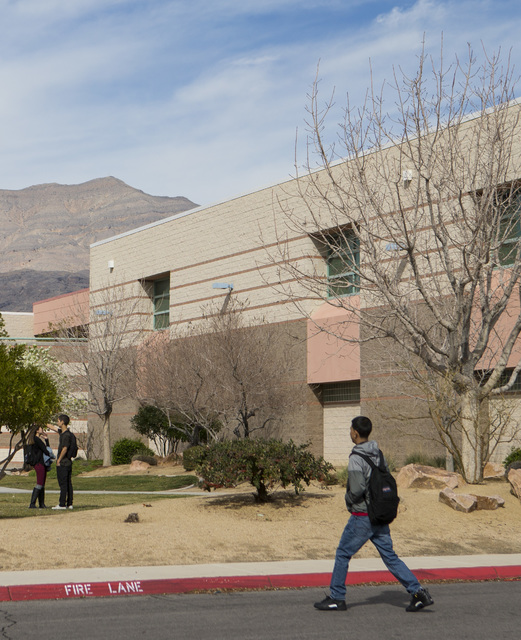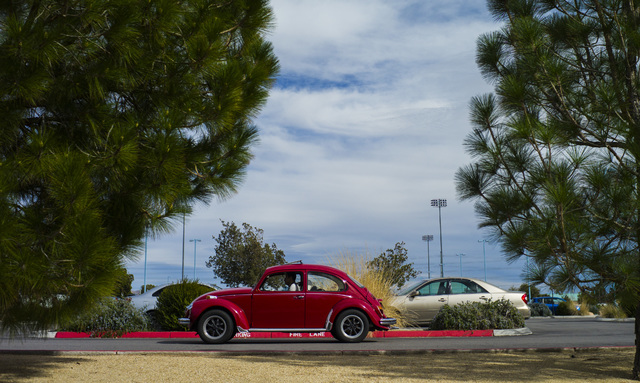 More than 100 people huddled together in the cold Tuesday night during a vigil in honor of Tiris Coleman Jr., the 17-year-old Shadow Ridge High School senior who was fatally shot Sunday.
The crowd of mostly classmates struggled to light candles as the wind whipped through Aviary Park, close to where Coleman grew up in North Las Vegas and a few miles from the school.
Coleman, a lineman on the school's varsity football team, was shot about 5 p.m. Sunday after an altercation near the West Las Vegas Library, 951 W. Lake Mead Blvd., police said. It's unclear whether he was involved.
The teen died less than a half-hour later at University Medical Center. He was the fourth Shadow Ridge student to die since August.
"It's just been a rough year," Principal Travis Warnick told the Las Vegas Review-Journal on Tuesday. "Thankfully we're a pretty tight-knit family, and we've leaned on each other to get through."
At school Tuesday, a Clark County School District grief counselor was on hand, officials said. Many students wore red in honor of Coleman, and his teammates wore their football jerseys.
"I probably talked to him every single day," the principal said of Coleman. "He was always the one who would come up and say, 'Hello, what's going on?' every single day."
On Monday, while some students began processing their grief at home, head football coach Travis Foster called in about 40 players for a workout in the wake of Coleman's death.
"They're doing OK," Foster said Tuesday. "The approach we're taking is to get them together and have them spend time with one another. It's a sobering situation to have something happen to your teammate."
Aubrey Nellems, a teammate of Coleman's, said it was a good opportunity to face Coleman's death together.
"We let it fuel our workout," the 17-year-old said. "We got together as less of a team and more as a family. He was like a brother to us. Everybody pushed each other past our limits for Tiris."
Foster said Coleman was known as a funny and energetic teen on and off the field.
"It's rare that you have a kid that's involved in so many different cliques," Foster said. "Everyone was friendly with the kid. It's certainly a shock."
A parent letter sent home Tuesday assured families the school is "monitoring our students to ensure they have the support and resources they need to get through this difficult time."
"It is never easy to lose a valuable life, especially at such a young age," the letter read. "This student will always be remembered as a part of our school family."
FIRST OF FOUR
The first death Shadow Ridge collectively experienced this school year was that of Gabriela Hansen, 15.
Hansen died Aug. 20 after suffering an allergic reaction to antibiotics. She had just gotten her wisdom teeth removed.
Her mother, Katie Hansen, said Shadow Ridge administrators and coaches visited Gabby in the hospital.
"This school community has been absolutely amazing," she said, adding that the track team also dedicated its season to her daughter, who was "brilliant" with "the most amazing sense of humor."
A week after Hansen died, a different student died at home.
A third, Jaelan Fajardo, 16, died on the way to school Feb. 9 after a DUI suspect plowed into the back of his car at a red light.
Fajardo's mother, Marcia, said her son was a loving person who wanted everyone to be happy.
"He was always the light of our party when we had family get-togethers," she said. School staff has repeatedly checked in with her, and the Shadow Ridge soccer team retired his jersey number — 8.
The whole team signed Fajardo's jersey and gave it to her, she said.
LONG LIVE JUNE JUNE
During the vigil Tuesday, a friend handed Coleman's mother a worn-out, dark blue beanie — Coleman's favorite hat, which he had left at the friend's house before he was fatally shot.
Her only son often wore it on bad hair days, Coleman's mother said, laughing. But as the crowd chanted "June June," Coleman's nickname, she clutched it close.
No suspect has been named in Coleman's slaying, but detectives believe the shooter was a juvenile. Anyone with information may contact the Metropolitan Police Department at 702-828-3521.
Contact Rachel Crosby at rcrosby@reviewjournal.com or 702-387-5290. Follow @rachelacrosby on Twitter. Contact Blake Apgar at bapgar@reviewjournal.com or 702-387-5298. Follow @blakeapgar on Twitter.
RELATED
Clark County coroner IDs teen killed Sunday near West Las Vegas Library
'He really wanted to make us proud of him,' fatally shot teen's grandmother says
Teen fatally shot after fight at basketball court near West Las Vegas Library