Shooting death is 2nd in a week at North Las Vegas apartment complex
Updated October 30, 2018 - 9:45 pm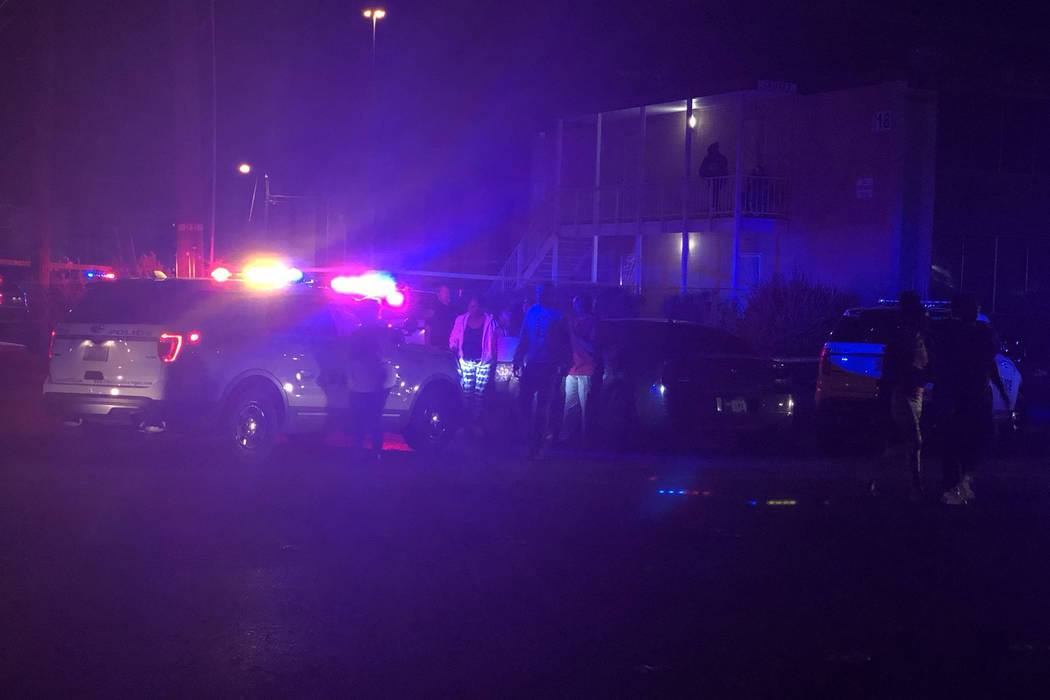 North Las Vegas police are investigating the fatal shooting of an 18-year-old Tuesday night in the second homicide at the same apartment complex in the past week.
Officers responded to the 3300 block of Civic Center Drive, near Cheyenne Avenue, about 6:30 p.m. Tuesday to multiple reports of gunshots, said North Las Vegas Police Department spokesman Eric Leavitt. Officers arrived to find an 18-year-old man with a gunshot wound outside an apartment.
The man, who did not live at the complex, was pronounced dead at the scene, Leavitt said.
Police had not identified a suspect Tuesday night, Leavitt said. There were no reports of a party or any loud fights outside the complex before the shooting, he said.
No further information about the homicide was immediately available.
North Las Vegas police investigated a homicide late Friday night at the same apartment complex, where 20-year-old Andru Jarone Rollins was found with a fatal gunshot wound to the chest outside an apartment.
No arrests have been made in Friday's shooting, and police are trying to determine if the two homicides are related, Leavitt said.
"At this time we're not going to rule out anything," Leavitt said Tuesday night.
As North Las Vegas police investigated the scene and interviewed a few witnesses, groups of people stood near the complex and across the street. Crying and the occasional angry shout could be heard over the traffic on Civic Center Drive.
Leavitt urged anyone with information about the shooting to come forward.
"We need all the help we can to find witnesses to this crime so we can track down who's responsible for this," Leavitt said. "As you can see there's a lot of family and friends out here tonight in support to try to figure out who did this."
Anyone with information may call the Police Department at 702-633-9111. Anonymous tips can be left with Crime Stoppers at 702-385-5555.
Contact Katelyn Newberg at knewberg@reviewjournal.com or 702-383-0240. Follow @k_newberg on Twitter.