Slain teen's uncle, jailed for breaching police tape, won't be charged
Updated March 31, 2023 - 9:38 pm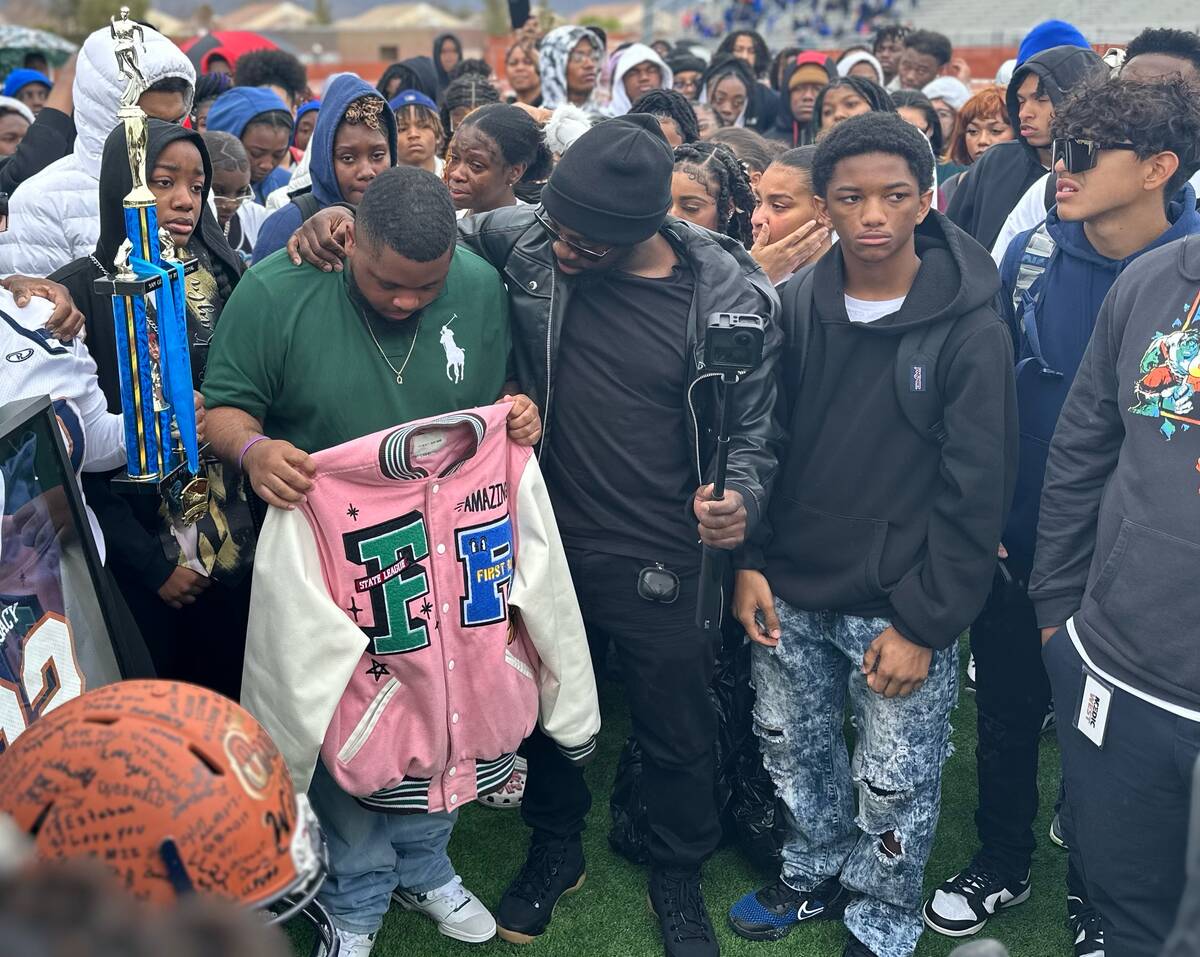 Charges won't be filed against the uncle of a slain 17-year-old boy who, while distraught, ran under police tape at the crime scene and was then arrested and jailed for almost a full day, the county's top prosecutor said.
Jeremiah Wiggins' nephew Omarion Wilson was fatally shot Saturday night during a birthday party in a hotel room near the Strip.
Wiggins, 35, of Las Vegas, admits he ran under the police tape of the sealed-off scene in an effort to find his sister, who is Wilson's mother, and console her.
Clark County District Attorney Steve Wolfson said it appears Wiggins "acted out of emotion" and that while maybe he shouldn't have reacted like he did at the scene, his actions were understandable given that his nephew had just been fatally shot.
"We have denied prosecution of this case," Wolfson said. "We're not filing charges."
Wiggins had been arrested on a misdemeanor charge of obstructing a police officer.
When told by the Review-Journal that prosecutors wouldn't be filing any charges, Wiggins was relieved but was still thinking of his late nephew.
"I don't know what to say. Am I grateful for not being charged? My emotions are only on one thing, and that's all I can say," Wiggins said, adding he was in jail from just before 1 a.m. Sunday until about 10 p.m. that night.
Wilson, of North Las Vegas, had been shot at about 9:15 p.m. Saturday in a fifth-floor room at the Platinum Hotel and Spa during a birthday party, police said. He was pronounced dead at 10 p.m. at Sunrise Hospital and Medical Center.
According to a Metropolitan Police Department arrest report, police officers were outside the Platinum, which is on Flamingo Road at Koval Lane, at about 12:45 a.m. Sunday when Wiggins wanted to go inside to see his sister, Laquinna Wiggins, 44.
At that point, Jeremiah Wiggins knew that Wilson had been shot and that one person was dead, but he hadn't yet received confirmation that Wilson had died. He hoped against hope that his nephew — whom he considered to be like a son to him — was still alive.
An upset Wiggins was told by police he couldn't go into the building, that only hotel guests were allowed inside, the report said.
"At that point, the male became irate and ran underneath the police crime scene tape towards the front doors of the property," the report said. "A short foot pursuit ensued and the male was taken into custody before he could fully enter the building."
The arrest report noted that Wiggins was "cooperative once officers took him into custody." For his part, Wiggins said he understands the officers were doing their jobs. In interviews, he wasn't defiant or even outwardly angry about what happened. But he also doesn't think he should have been arrested.
"Do I feel like it was justified for them arresting me? No," Wiggins said.
In response to questions about the arrest, and whether it was appropriate to arrest and then jail the uncle of a teen who had just been fatally shot, Metro's public information office issued a statement.
"Officers were behind the crime scene tape and in charge of evidence preservation in an active homicide investigation," the statement said. "A group of individuals had gathered near the scene and officers noticed an unknown individual run past the crime scene tape without warning. Due to his actions, the individual was taken into custody and an arrest was made."
When he was in jail, Wiggins got confirmation from his girlfriend over the phone that Wilson had died.
At a vigil for Wilson on Wednesday on the football field at North Las Vegas' Legacy High School, where Wilson was a senior, Wiggins said he had a hard time processing his nephew's death while in the Clark County Detention Center.
"I had a lot of breakdowns," Wiggins said.
Contact Brett Clarkson at bclarkson@reviewjournal.com. Follow @BrettClarkson_ on Twitter.