Strip stabbing victim was off-duty police officer
Updated March 28, 2022 - 3:34 pm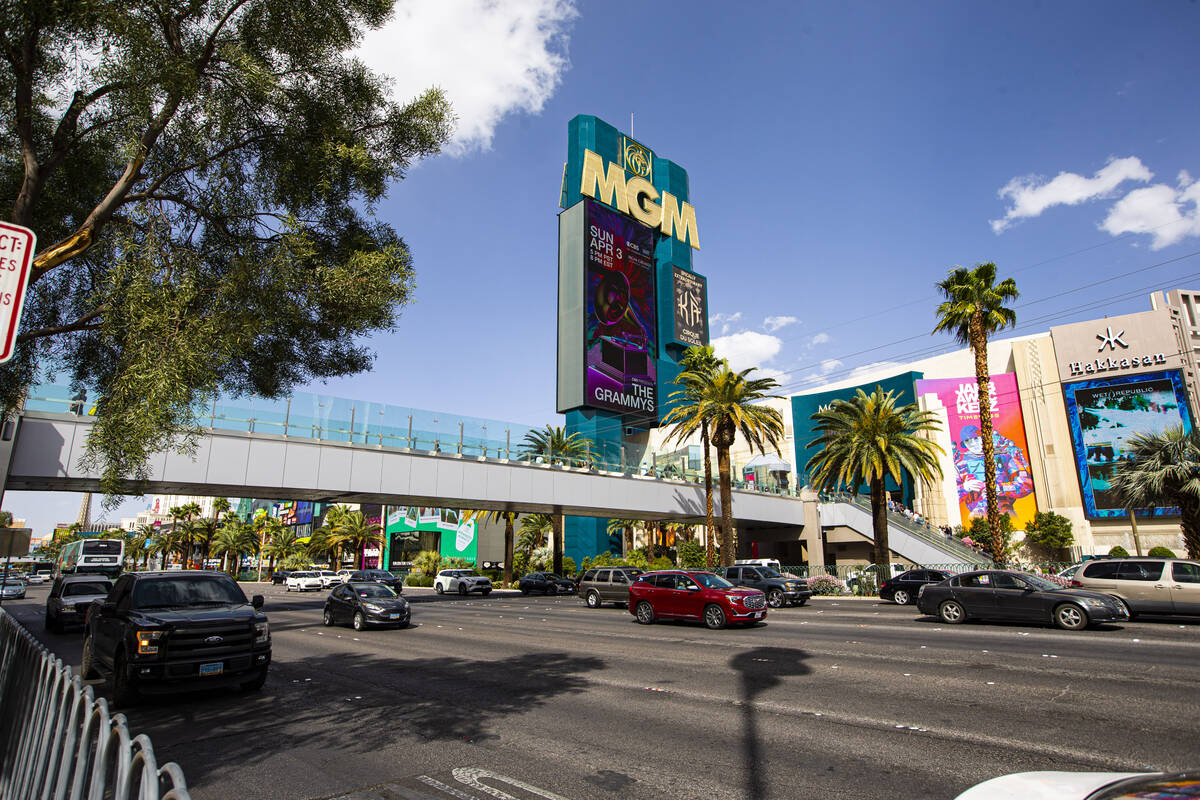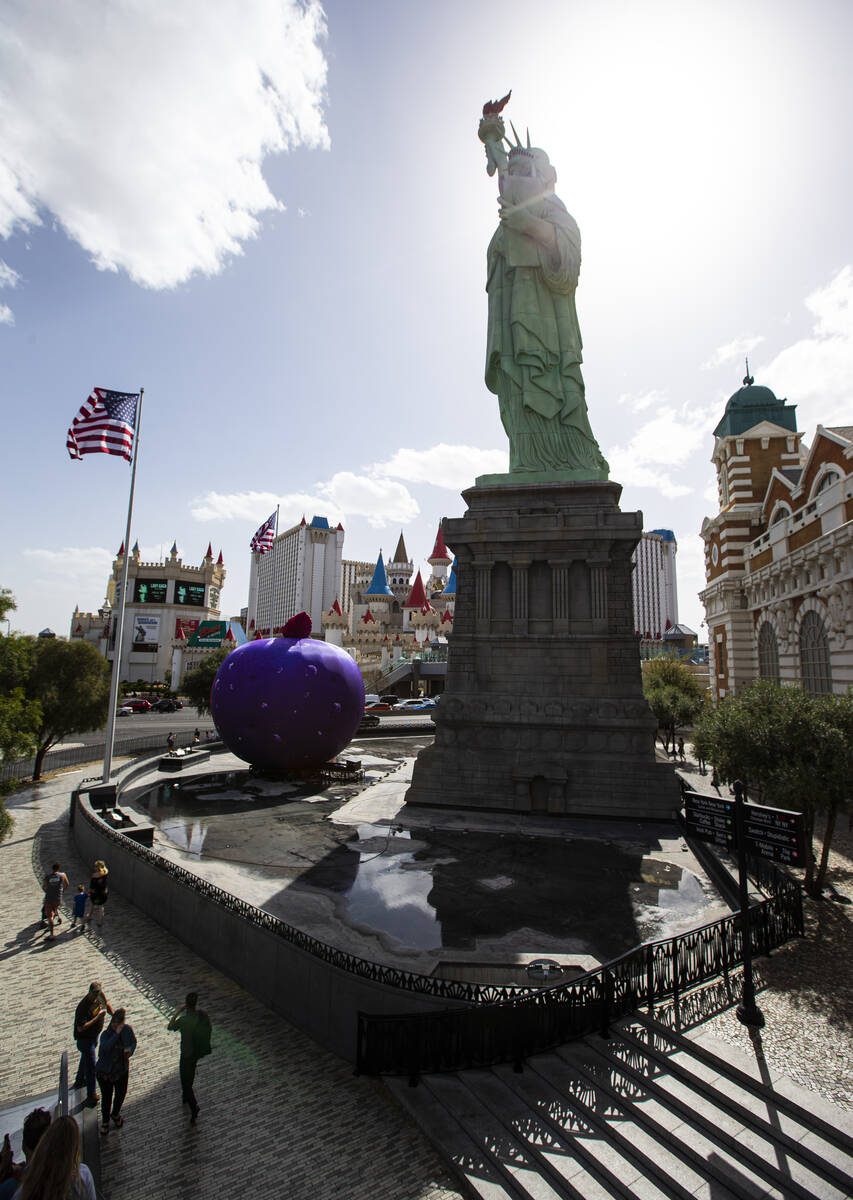 A man accused of fatally stabbing an off-duty police officer on the Las Vegas Strip over the weekend was arrested twice in the past year on the Strip in connection with acts of violence, according to police and court records.
Freddy Allen, 58, was arrested on suspicion of murder in the Saturday night attack on a pedestrian bridge at Las Vegas Boulevard South and Tropicana Avenue.
Las Vegas police said in an arrest report for Allen that he stabbed Edmonds, Washington, officer Tyler Steffins on the bridge connecting the New York-New York and the MGM Grand during a brief quarrel between Steffins and another man over Steffins petting some dogs on the bridge.
The Edmonds Police Department said in a news release Monday that Steffins was an officer with the police force who was visiting Las Vegas.
"He was attacked by a person unknown to him who was armed with a knife," the police department said.
Edmonds police Chief Michelle Bennett said Steffins was a former Marine who was recognized for his service during Operation Enduring Freedom in response to the 9/11 attacks.
Steffins graduated from the Edmonds police academy in March 2019 and worked as a patrol officer.
Steffins, 33, of Lake Stevens, Washington, died of a stab wound to the chest, the Clark County coroner's office said. His death was ruled a homicide. He is survived by his wife, two young children, father, stepmother, brothers and a sister.
"While we grieve with heavy hearts, our peer support program members are actively engaging with our staff," Bennett said. "Tyler was a valued member of our police family whose infectious smile and contagious laugh endeared him to his peers. We will miss him terribly but cherish the times we had with him."
Allen was scheduled to appear in Las Vegas Justice Court on Monday on a count of murder with use of a deadly weapon, but he was not brought to court due to disruptive behavior, according to court records. He is currently being held at the Clark County Detention Center without bail.
Allen's arrest report stated that Las Vegas police were patrolling on foot in the area of the pedestrian bridge when bystanders told them about a disturbance on the bridge.
As officers headed to the bridge they learned a "male had been stabbed," the report stated.
They then spotted a man, later identified as Allen, running by them with a knife in his hand, according to the report.
The officers chased Allen and saw him throw the knife into a fountain pool in front of the New York-New York. The hunting knife, with a 6-inch fixed blade, was recovered from the fountain, the report stated.
Other officers rushed to the bridge where they found Steffins gravely wounded. He was rushed to University Medical Center where he died at 12:01 a.m. Sunday.
Quarrel over dogs
Police said in the report they located a man in the area of the bridge named Dean Cattorini, who said he was on a pedestrian bridge near the Excalibur a day earlier when Steffins approached and "grabbed his dogs (sic) face aggressively and it upset Dean."
The next day, just prior to the stabbing, Cattorini said Steffins approached him and his dogs on the pedestrian bridge again as Allen was standing nearby.
"Dean and Freddy (Allen) were approached by Tyler who stopped to pet the dogs," police said. "Dean asked Tyler not to be rough with them."
Cattorini said Steffins petted the dogs aggressively again, and Steffins and Cattorini started to quarrel. Steffins then said told Cattorini to "get a job." Allen, standing nearby with his hands behind his back, suddenly lunged at Steffins, according to police.
Cattorini said he thought Allen simply shoved Steffins, but after Allen ran away, Steffins uttered, "I think he just stabbed me."
"Tyler took off his shirt and a few seconds later he collapsed on the ground," police said. "Freddy and Dean did not exchange any words with one another prior to the stabbing."
Video surveillance examined by police showed the men quarreling when Steffins turned to look at Allen.
"When Tyler turned toward Freddy, he was stabbed in the left side (of) his chest," police said.
Steffins shoved Allen as he was being stabbed, police said, noting Steffins was not armed at the time.
Two prior cases
On Sept. 7, Allen was on the Strip with a pit bull when he was encountered by Fashion Show mall security.
Las Vegas police said in an arrest report for Allen that he threatened the security officer with a knife and what ultimately proved to be a fake gun.
Allen was initially arrested on charges of assault with a deadly weapon, resisting a public officer and having a glass beverage container on the Strip. No one was injured in the encounter.
Court records show Allen entered a no-contest plea to misdemeanor assault. A no-contest plea does not involve an admission of guilt but it acknowledges prosecutors could likely prove their case if it were to go to trial.
In mid-November, Allen received a suspended 90-day jail sentence, an order to stay out of trouble for six months and was also ordered out of the Strip corridor for six months.
Later that month, Allen was arrested again in connection with a stabbing in the 3400 block of Las Vegas Boulevard South.
Police said that Allen stabbed a man in an alley between the Royal Casino Hotel and Harrah's.
The victim, who was uncooperative with police, required staples to his head, 16 stitches to his right arm and five stitches to his left arm, police said.
Police ultimately arrested Allen on a felony charge of battery causing substantial bodily harm after using surveillance video from the area to identify him as the perpetrator.
Allen later told police he was in a fight with the victim over stolen phones and a bag of dog food, police said.
Allen claimed the victim was injured with a ring Allen was wearing and not a knife, according to police.
He pleaded guilty to attempted battery with substantial bodily harm, a gross misdemeanor, and he was sentenced in February to 90 days in jail with 72 days credit for time served.
Clark County District Attorney Steve Wolfson said that a risk assessment report in the September case indicated Allen had no prior felony or gross misdemeanor cases in the past decade.
"We did a good job on the two prior cases based upon the facts and circumstances in each case," Wolfson said. "We got convictions on both cases with a jail sentence on one where we had an uncooperative victim. This oftentimes is the case when you are talking about prosecuting people who are sometimes homeless because oftentimes their victims are homeless. Or, when we try to get them (a victim) to come to court, it is difficult. So in many of these cases, although we'd like to get a stiffer penalty, oftentimes we can't."
Wolfson said prosecutors were still reviewing evidence in the slaying. Allen is due back in court on Wednesday.
Contact Glenn Puit by email at gpuit@reviewjournal.com. Follow @GlennatRJ on Twitter.