Suspect faces murder charges in shooting at Las Vegas car wash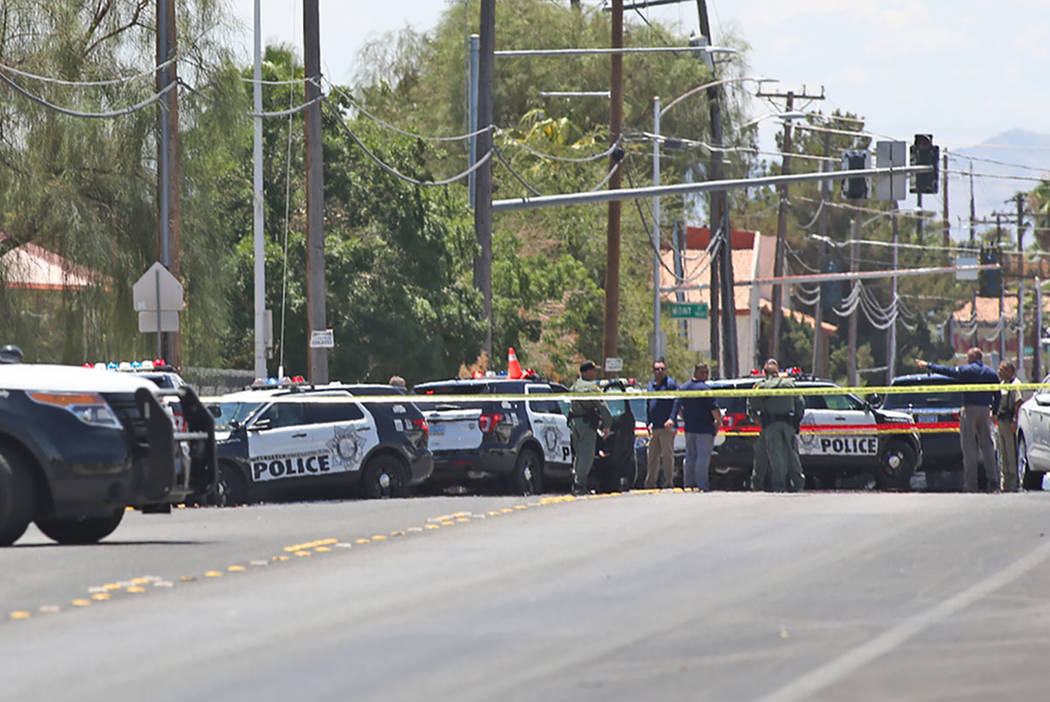 A man faces murder charges after a violent series of events Wednesday morning near downtown Las Vegas that left two men dead and another wounded, records show.
Las Vegas police booked Rene Nunez, 30, into Clark County Detention Center in connection with a shooting that triggered a police chase and an exchange of gunfire between officers and two suspects from the earlier shooting, according to jail and booking records.
Nunez faces nine charges, including two counts of murder, three of attempted murder and one of a driver disobeying an officer resulting in death or bodily harm, jail records show.
The violent events began about 7:30 a.m. when officers responded to a shooting at a car wash at 1402 N. Eastern Ave. Calls to police indicated that a man had been shot multiple times in the chest before his attackers fled in a black Ford Expedition, a Metropolitan Police Department news release said.
That man died at University Medical Center about 10:15 a.m., Metro Capt. Yasenia Yatomi said Wednesday.
Police found a vehicle matching the description of the suspects' vehicle about 9:30 a.m. near 29th Street and Constantine Avenue, according to the release. The black SUV sped off when officers attempted to stop it, Yatomi said at a briefing.
Metro traded gunfire with the SUV occupants during a police chase, which ended when the Ford Expedition crashed into a wall at Hollingsworth Elementary School, 1776 E. Ogden Ave., near 18th Street, Yatomi said.
Police fatally shot one occupant inside the vehicle. Another man ran onto the grounds of the school before he was taken into custody. He had been shot and was taken to University Medical Center for treatment, Yatomi said. It was unclear whether the injured man was shot by police or was shot earlier.
Two officers fired their guns, according to the release. Metro is expected to release the names of those officers on Friday.
The events prompted the elementary school to go on lockdown until dismissal at 1 p.m. Wednesday, Clark County School District spokesman David Roddy said.
Students were escorted out of the school by Metro or CCSD officers, Roddy said.
No officers were injured.
It was the 10th officer-involved shooting of 2018 and the fifth fatal shooting. At this time last year, six of the department's 10 police shootings were fatal, according to Las Vegas Review-Journal records.
Contact Mike Shoro at mshoro@reviewjournal.com or 702-387-5290. Follow @mike_shoro on Twitter.