Suspect in killing lived with housekeeper who discovered victim's body, report shows
January 18, 2017 - 6:56 pm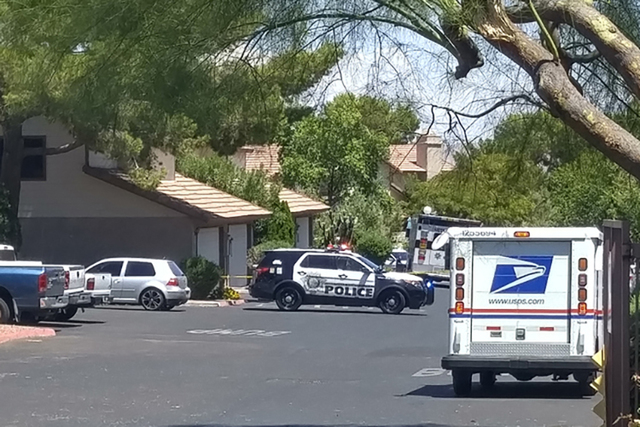 A man accused of killing an elderly woman in her home over the summer lived with one of the housekeepers who discovered the victim's body.
Jorge Vasquez-Rivero, who is in federal custody, is due in court Feb. 17 in connection with the July slaying of Mary Trimble. He is being charged with murder, burglary, kidnapping a victim 60 years or older and possession of a controlled substance with intent to sell.
Housekeepers found Trimble's body in her east valley home on the morning of July 20. The 70-year-old woman, a former principal violist for the Nevada Chamber Symphony and for the Las Vegas Philharmonic, had been tied up and gagged and was found lying in her bed, an arrest warrant for Vasquez-Rivero said.
The Clark County coroner's office has said she died of asphyxiation.
Nextaseo Cleaning Services had been servicing Trimble's home for the last two years, so Marta Ruana and Elizabeth Bazurto had grown accustomed to finding the front door unlocked for them. The door was locked the day they found Trimble's body, the arrest warrant said.
So the housekeepers entered through the back door and found Trimble's body in her bed upstairs. Responding paramedics said her room and bathroom had been ransacked. Detectives said her cellphone and a number of prescription medications had been stolen, the arrest warrant said.
Surveillance footage from the complex showed the lights were on about 3 a.m. the day she died, and it looked as if two or three people were moving around inside.
Detectives learned about a week later that Ruana's DNA was found on the collar and armpit areas of a T-shirt that was used to restrain Trimble. Ruana told police that the shirt was hers and was kept in the car she shares with Vasquez-Rivero.
Investigators followed that lead to find Vasquez-Rivero, with whom Ruana had two children, the arrest warrant said.
Plainclothes officers began staking out Ruana's and Vasquez-Rivero's home July 27; they served a search warrant at the home Aug. 2.
Detectives found about 50 pounds of marijuana in Vasquez-Rivero's room, the arrest warrant said. Detectives learned Vasquez-Rivero had been deported twice and was wanted by the FBI for returning illegally.
He was also tied to a DEA investigation into narcotics that were being mailed to Florida from Las Vegas. His DNA matched with another sample taken from a T-shirt used to restrain Trimble, the arrest warrant said.
Ruana told police she did not know what Vasquez-Rivero was planning. She added that she was afraid of him and that he sometimes beat her. She agreed to take a polygraph test and cooperated with detectives, the arrest warrant said.
Contact Wesley Juhl at wjuhl@reviewjournal.com and 702-383-0391. Follow @WesJuhl on Twitter.