Suspect to stand trial in Nevada Highway Patrol sergeant's killing
Updated November 12, 2020 - 6:47 pm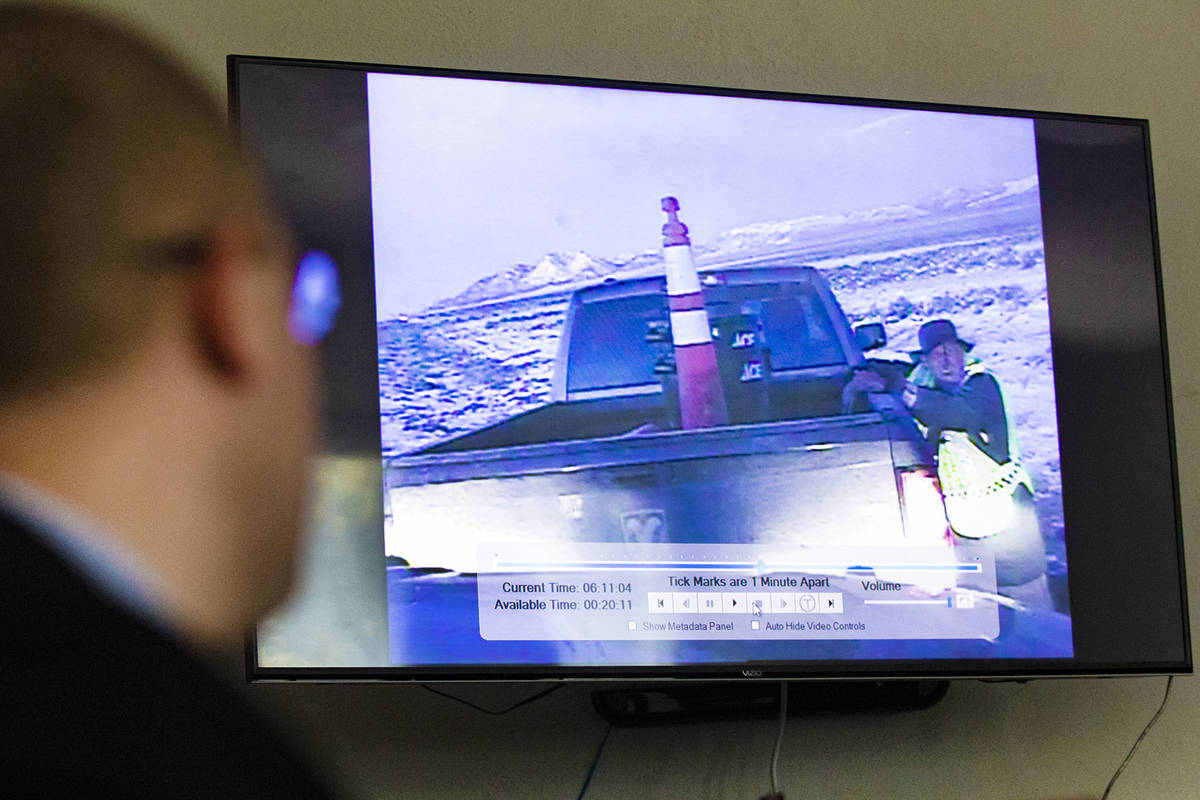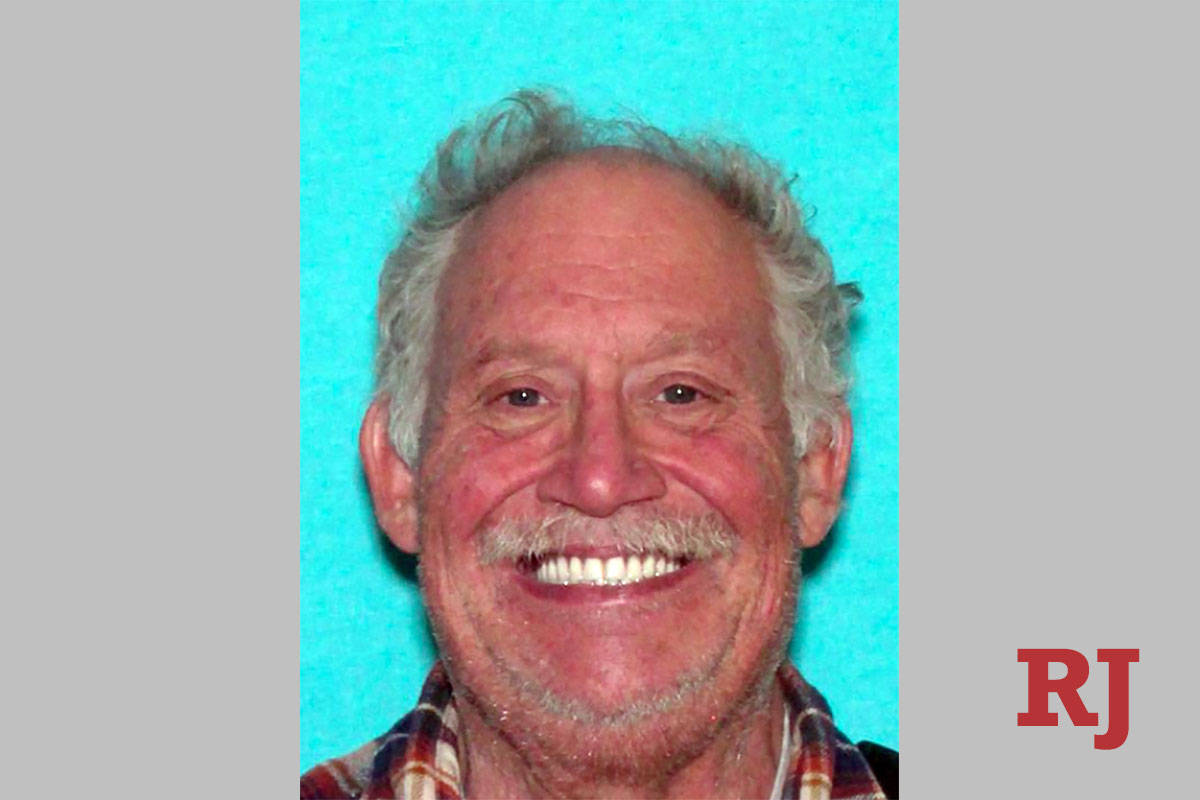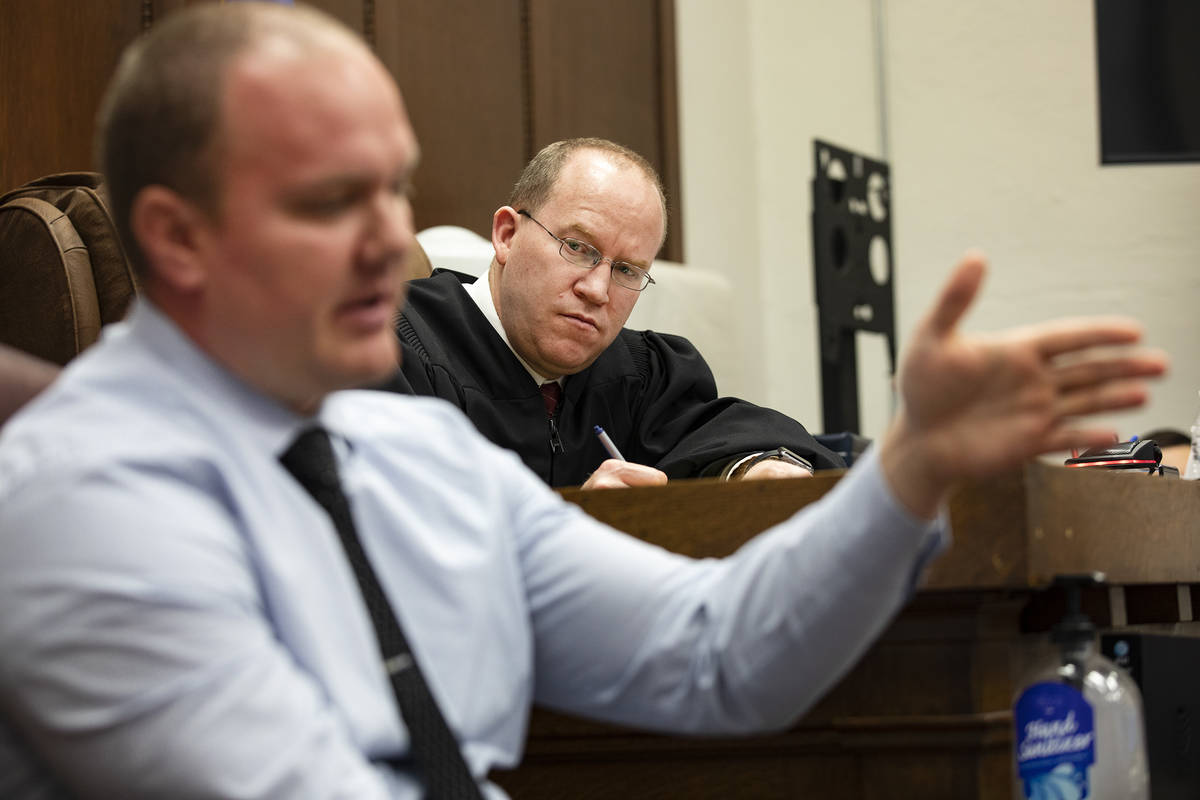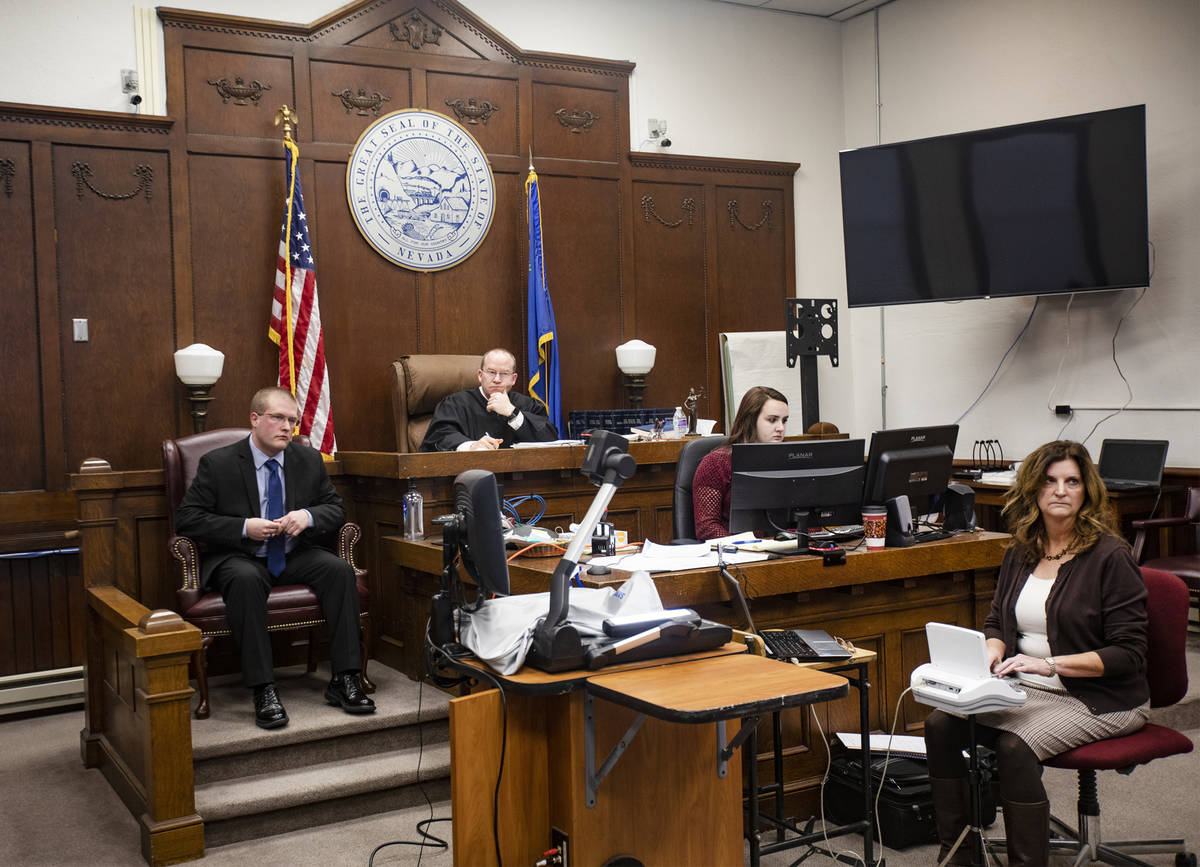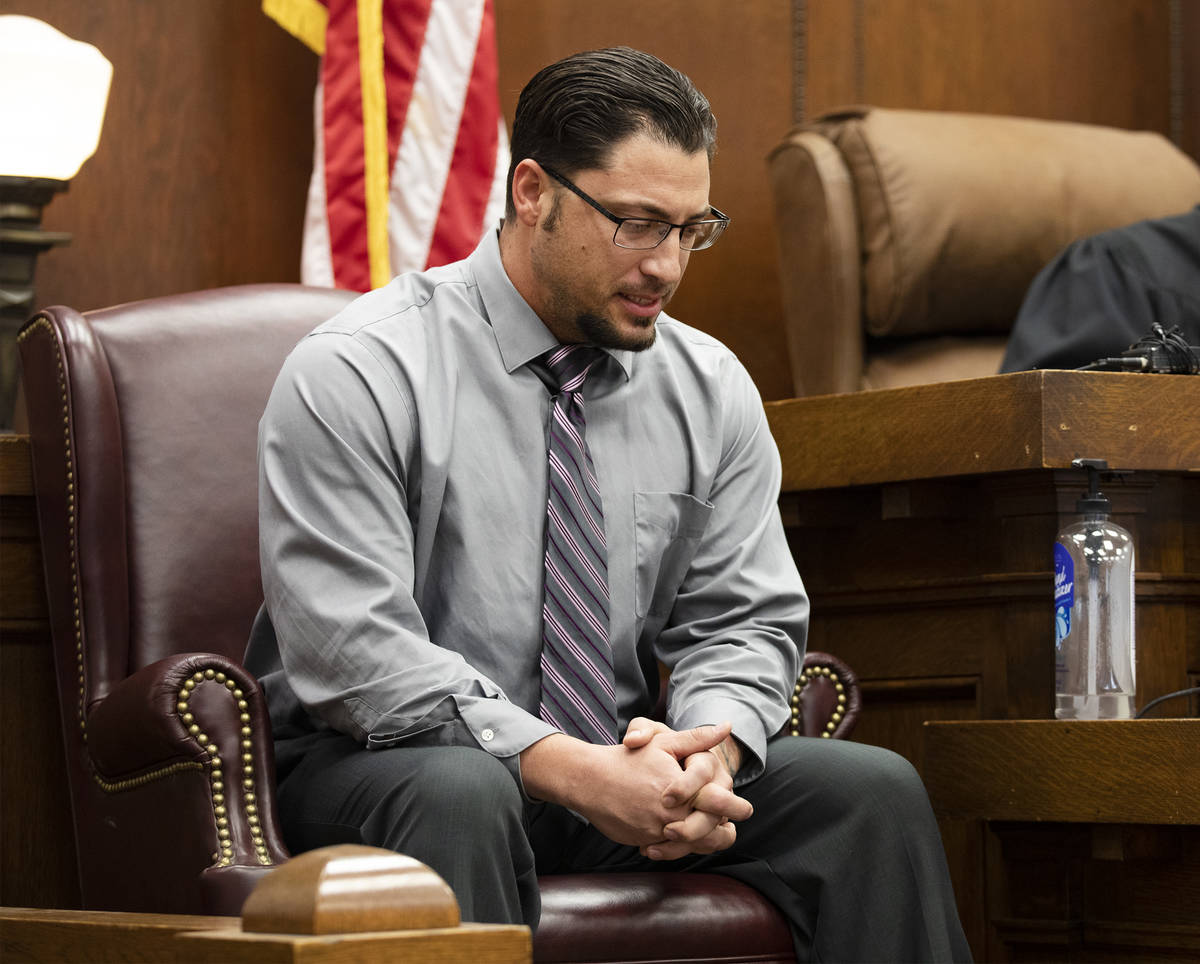 ELY — Footage of Nevada Highway Patrol Sgt. Ben Jenkins' final moments was shown publicly for the first time Thursday during a preliminary hearing for the man accused of fatally shooting him.
At the conclusion of the hearing, Justice of the Peace Mason Simons ruled that there is enough evidence for John Dabritz to stand trial.
If convicted of murder, the 66-year-old man, who is diagnosed with Type 1 bipolar disorder, could be sentenced to death. His defense attorneys, Kirsty Pickering and Richard Sears, have said they intend to use the insanity defense at trial.
Dabritz did not attend the hearing due to prison transfer restrictions, caused by the COVID-19 pandemic, at the Northern Nevada Correctional Center, where he will remain as he awaits trial.
From the courtroom gallery, a few of Jenkins' family members, including his mother, braced one another and cried as the officer's frantic and desperate pleas emerged from a large television inside the courthouse.
"Officer shot, officer shot!" Jenkins could be heard shouting into his radio in a video captured by his body camera.
Jenkins collapsed to the snow-covered ground.
It was still dark outside on that cold, Friday morning in March, when Jenkins had pulled over to help a stranded driver and minutes later was caught off guard by the gunfire.
"I've been shot in the right shoulder," Jenkins said, breathing heavily, as he tried to crawl toward his patrol vehicle. "I've —"
Another round went off, and Jenkins stopped moving. It would be his final dispatch.
'A period of mourning'
Still in tears, his relatives hurried out of the room when the video faded to black. They declined to comment after the hearing, but White Pine County District Attorney Michael Wheable, who spoke briefly with them before they left the courthouse, told the Las Vegas Review-Journal: "They're still in a period of mourning, and it's a very sensitive subject."
The footage of Jenkins' final moments comprised a combination of body camera and dashboard camera videos shown Thursday. That, along with testimony from six witnesses during the roughly five-hour-long hearing, offered the clearest picture to date of the March 27 shooting and the hourslong manhunt that followed.
According to the videos, Dabritz had run out of gas just north of Ely on U.S. Highway 93.
During their initial interactions, "there was no expressed provocation," prosecutor James Beecher said. Before the first gunshot, Jenkins had spent several minutes trying to push Dabritz's pickup truck with his patrol vehicle onto the dirt shoulder.
When that didn't work, Dabritz and Jenkins both briefly stepped out of their vehicles.
"Well, we tried," Dabritz said to the officer, according to a video captured by the dashboard camera in the Highway Patrol vehicle.
When Jenkins turned away, Dabritz reached for a rifle in his pickup and fired the first round, the video showed.
Dr. Lisa Gavin, a medical examiner for the Clark County coroner's office, which conducted Jenkins' autopsy, testified Thursday that the first bullet struck Jenkins in the back and then shattered, creating three "partial" exit wounds on the front of his body and causing his right lung to collapse.
The second gunshot, which stopped Jenkins mid-sentence in his final dispatch, was to the head. Gavin said specific markings on Jenkins' body showed that the second shot was fired from about a foot away.
Over the next roughly 20 minutes, the dashboard camera captured Dabritz dragging Jenkins' body around the patrol vehicle to the passenger side of his pickup truck, stripping the officer of his uniform and weapon, and then setting fire to the pickup and the body.
Then, according to the video, he climbed into Jenkins' patrol vehicle and drove away with music from the radio blasting. He left the scene before law enforcement arrived, just as black smoke from the fires began to rise into the sky.
Manhunt and arrest
Hours later, Dabritz was arrested just outside the small town of Cherry Creek, after a police helicopter spotted the stolen patrol vehicle in a ravine.
White Pine County Sheriff's Office Detective Anthony Sifre, who gave emotional testimony on Thursday, said he assisted a SWAT team from Elko in taking Dabritz into custody.
Sifre began to cry soon after taking the witness stand, as he recalled getting a phone call from a colleague notifying him that Jenkins had been shot.
"Sorry," he said, looking down into his lap. "I didn't think this was going to happen. I apologize."
Sifre took a deep breath and tried again.
Once the stolen patrol vehicle was located, he and the other officers put together a carefully thought-out plan, Sifre said, because they were concerned about the possibility of explosives in the vehicle due to the suspect's "background in chemistry."
The Review-Journal previously reported that Dabritz, long before he had begun to show symptoms of bipolar disorder, had been a "brilliant chemist" in California in the 1980s, according to his ex-wife, Haydee.
In the months following his arrest, authorities linked Dabritz to a growing list of crimes, including a series of shootings in Wells and Ely and the detonation of an explosive device in Tybo, about 70 miles outside of Tonopah, that police have said was linked to "anti-government extremism."
Court documents obtained first by the Review-Journal revealed that prosecutors believe Dabritz had shot Jenkins "to avoid or prevent" his arrest in connection with the Wells and Ely shootings — described by prosecutors as an "act of terrorism."
In addition to open murder, Dabritz is charged with third-degree arson, grand larceny of a motor vehicle and grand larceny of a firearm in connection with the March 27 shooting.
Contact Rio Lacanlale at rlacanlale@reviewjournal.com or 702-383-0381. Follow @riolacanlale on Twitter.