Third boy arrested in fatal shooting of Las Vegas teen
Updated June 14, 2018 - 8:03 pm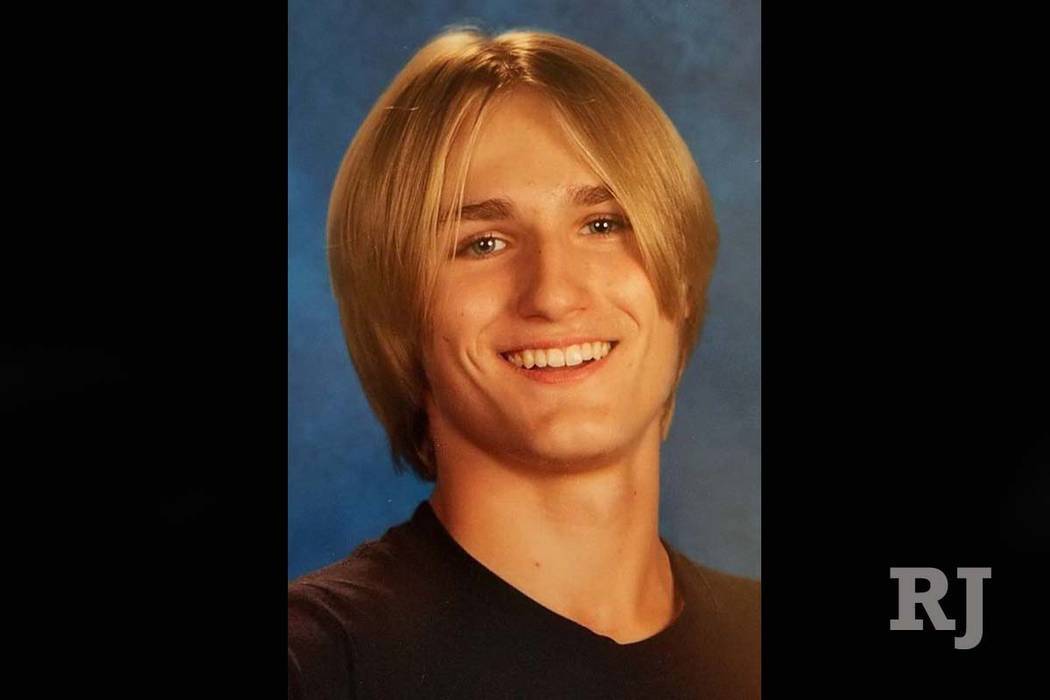 A third teenager has been arrested in the fatal shooting of a 17-year-old boy in Henderson last week, police said.
Detectives tracked down the teen and arrested him late Wednesday near Warm Springs and Pecos roads, Henderson Police Department spokesman Scott Williams said.
The teen faces charges "along the lines" of destroying evidence and accessory to murder, Williams said. Police didn't release his identity because he is a minor.
He joins Jaiden Caruso, 16, and Kody Harlan, 17, as suspects in the homicide of Matthew Minkler, 17, who was found dead from a gunshot wound to the head late Friday in an abandoned house on the 2000 block of Cool Lilac Avenue.
"I'm very, very thankful that the police are taking such swift action on this," Matthew's mother, Jamie Shanklin, said in a Thursday phone interview.
Prosecutors charged Caruso and Harlan as adults. Caruso faces charges of murder with a deadly weapon and robbery, and Harlan faces charges of robbery and aiding a felony offender after the fact, court records show. Police earlier identified the latter as Kody Harlen, but court documents show he was booked under the last name "Harlan."
Officers are pushing to have the third teen charged as an adult, Williams said.
Harlan told police that Caruso pulled out a Ruger .357-caliber revolver and shot Matthew in the face during a modified game of Russian roulette, a version of the game where Caruso "never allowed the other participants to handle the firearm or pull the trigger themselves," according to arrest documents.
Matthew's family doesn't believe that explanation.
"We know this wasn't Russian roulette," Shanklin told the Las Vegas Review-Journal on Wednesday. "My kid was shot in the chin, like they were shutting him up."
According to the pair's arrest report, Caruso and Harlan returned to the house shortly afterward the shooting, but only to clean up the scene and hide the body inside a downstairs closet under a plastic sheet. Harlan is accused of dragging the body into the closet.
"They never called 911," detectives wrote in the report. "They never attempted to render aid."
The homicide investigation began June 8 after Henderson officers tried to pull over a stolen vehicle driven recklessly by Harlan near Sunset Road and Green Valley Parkway, the report shows.
When the car blew through a red light and crashed at the intersection, five juveniles inside the car got out and ran, police said. Once in custody, the juveniles gave information about the homicide, leading detectives to the house on Cool Lilac, police said.
'Heart of gold'
The words "F— Matt" had been spray-painted onto the closet door where Matthew was found, the report said.
Detectives described that detail in the report as a "heinous" act. His mother agreed.
"My kid was way better than this," Shanklin said, frustrated. "I'm so sad that he wanted to be liked so bad that he fell under prey by these people."
In the days since his death, she said, hundreds of people have reached out to her to let her know how much they loved and appreciated her son.
Matthew had a "heart of gold" and was always willing to lend a helping hand, his mother said.
He volunteered for two years with Convoy of Hope, an organization dedicated to helping those in need. Shanklin said her son fed hundreds of homeless people while volunteering with the group.
His mother's voice grew wistful talking about her son's smile, a "real, genuine" grin he showed often in the videos he made of himself. A grin she'll never see again.
"He barely made it to 17," Shanklin said of her son, who had just completed his junior year at Silverado High School.
An arraignment hearing for Caruso and Harlan took place Thursday morning. Their preliminary hearing in Henderson Justice Court is set for 9:30 a.m. July 2. Bail was set at $1.02 million for each, court records show.
A call to the office of Caruso's attorney, William B. Terry, was not immediately returned Thursday night.
A GoFundMe account has been created to assist with Matthew's funeral costs.
Contact Mike Shoro at mshoro@reviewjournal.com or 702-387-5290. Follow @mike_shoro on Twitter.