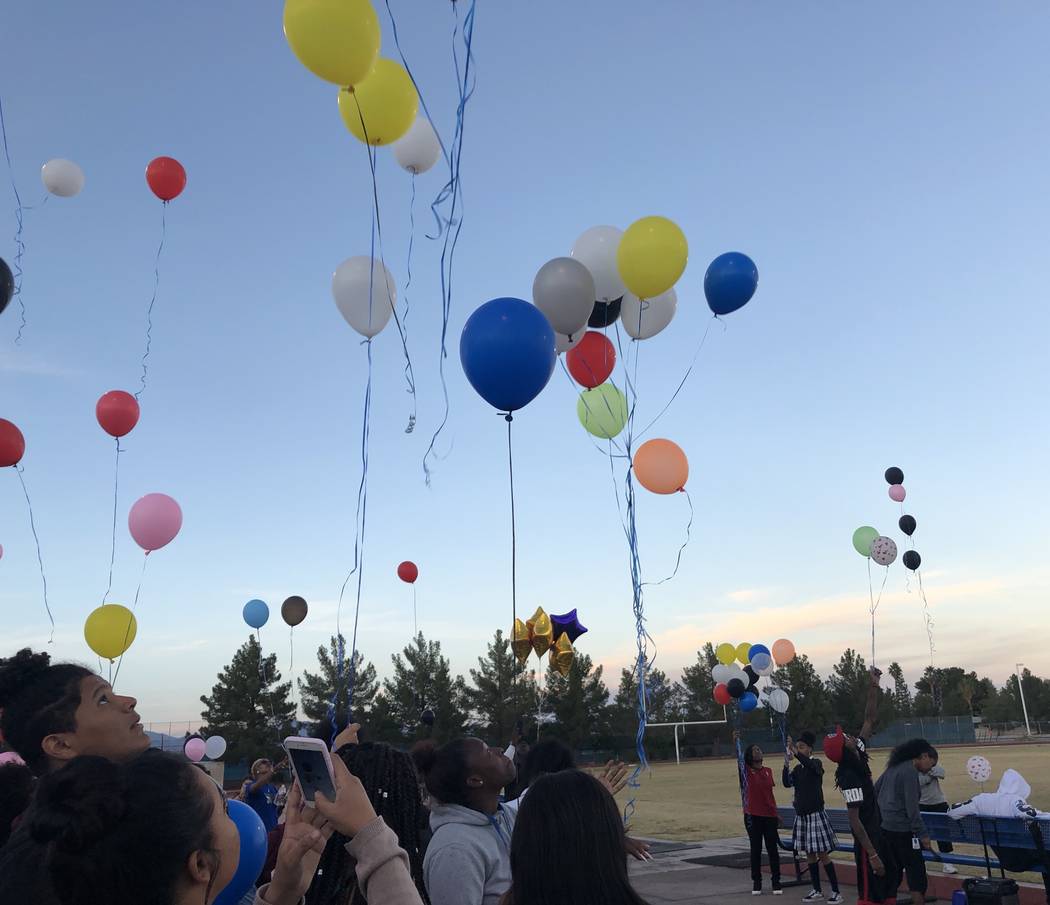 Susan Nash was like a mother to the students of Desert Pines High School, who cried and hugged each other Wednesday night as they mourned the death of the special education teacher's aide.
Nash's friends and family also gathered at the high school in the eastern Las Vegas Valley to honor Nash, who was shot and killed Oct. 14 along with two of her adult children, Deonte' Nash, 31, and Dejona'e Nash, 20.
Desert Pines principal Isaac Stein told the vigil crowd, who held balloons by the school's football field, that Nash thought of them all as a family and wanted each of them to succeed in life.
"She was about family, she was about protecting her family and she was about being here for her family," Stein said.
Nash "adopted" many children through the school's mentor program, Stein said, and the 52-year-old attended sporting and school events to cheer her students on.
"What I wanted to tell her family, and you can see it here, is how many people that she actually touched that made a difference in their lives," Stein said.
Jose Easley Jr., 41, was arrested Oct. 17 in connection with the shooting deaths. He faces charges that include three counts of murder, court records show.
For Nash's friend April Brown, it is hard to believe she won't see her co-worker again.
"I'm really going to miss her; it still doesn't seem real, though," said Brown, a secretary at the school who used to work with Nash in the special education department. "It just feels like I'm going to see her walk up in this school, or she's going to call."
Trish Holman, another co-worker, remembered Nash as someone who loved fun, always saying "let's turn up" when the two met, Holman said.
She said there has been a feeling of sadness at the school in the days since Nash's death.
"The kids are still asking questions: Why, why did they do it to her?" Holman said.
Contact Katelyn Newberg at knewberg@reviewjournal.com or 702-383-0240. Follow @k_newberg on Twitter.