Woman shot at Las Vegas business remembered for love, kindness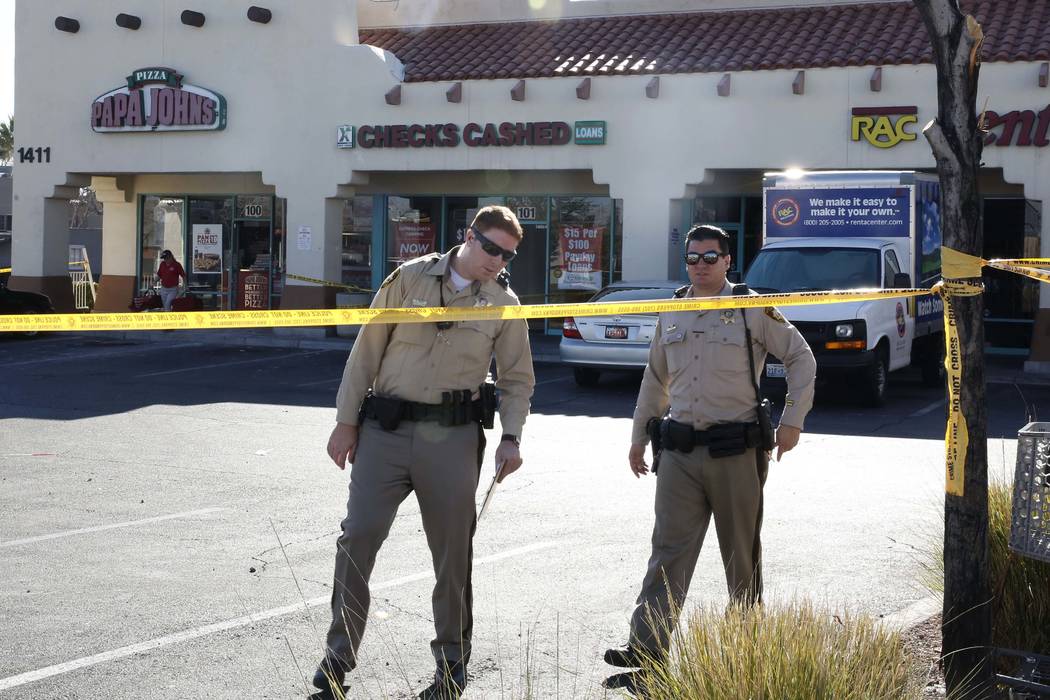 Celia Luna should have been in Mexico visiting her son and granddaughter by now.
"Instead we're planning her funeral," Sheyla Padilla said through tears. "I knew the day would eventually come that I'd have to plan my mom's funeral, but not for these reasons. She was only 55 years old."
Two days before the trip, the mother of three was gunned down by two men in their late teens or early 20s while opening the central valley check-cashing business for which she had worked for more than three years.
"We're from a border town in Mexico, so my mom was always trying to get down there whenever she could," Padilla said. "She was so excited to spend time with my brother and niece."
The night before she was killed, Luna spent at least an hour on the phone with her son and granddaughter. They were planning their weekend together.
"Grandma will see you so soon," she said before hanging up.
Three families destroyed
At about 9:15 a.m. Thursday, Luna called 911 and told a dispatcher she had been shot in the chest. By the time Metropolitan Police Department officers arrived at Checks Cashed, 1411 N. Jones Blvd., the two suspects were gone. Police said the attack may have been an attempted robbery.
In the days following the attack, Metro homicide detectives could not confirm whether the shooting was an isolated incident.
Padilla told the Las Vegas Review-Journal that her mother never felt threatened or scared at work.
"She was firm at times, but always respectful and very understanding of her customers' situations," Padilla said. "So the question now is why? It was just so senseless."
As of Sunday, police had not identified Luna's killers. But in the end, Padilla said, three families will have been destroyed.
"They stole our light, kindness and laughter. But it's not just my family who lost someone," she said in a raised voice. "The killers' families will be broken, too. And for what? For money? Was it worth it?"
Hug your loved ones
Outside of work, Luna was loud, lively, happy and outgoing. She loved taking photos and hosting family gatherings. Most of all, Padilla said her mom loved dancing.
"She was young at heart and could shut down any dance floor," Padilla said, laughing. "It was a running joke that I was more like the mom and she was the daughter. She was just so much fun."
Padilla said she couldn't think of a single person who didn't like her mom, whom family and friends often described as the life of the party.
Crying again, Padilla said, "She could win anyone over with that big heart of hers."
Her kind personality came with an infectiously positive outlook on life, her family said.
"If she were here today, I know exactly what she would tell me and my brothers," Padilla said. "She would tell us to hug your loved ones, to tell them you love them, to do what you love and nothing less."
Luna's family has created a GoFundMe to assist with her funeral costs. Besides Padilla, Luna leaves behind her two sons, Carlos Perez and Isao Felix, her three grandchildren, her brothers and sisters, and a "never-ending amount of friends who have turned into family," Padilla said.
People with information on the shooting may call Metro's homicide section at 702-828-3521 or Crime Stoppers at 702-385-5555.
Luna's official cause and manner of death is pending with the Clark County coroner's office. Her killing marked the fourth homicide Metro has investigated this year.
Contact Rio Lacanlale at rlacanlale@reviewjournal.com or 702-383-0381. Follow @riolacanlale on Twitter.