Juvenile charged after report of gun at Shadow Ridge High School
Updated March 29, 2023 - 7:02 pm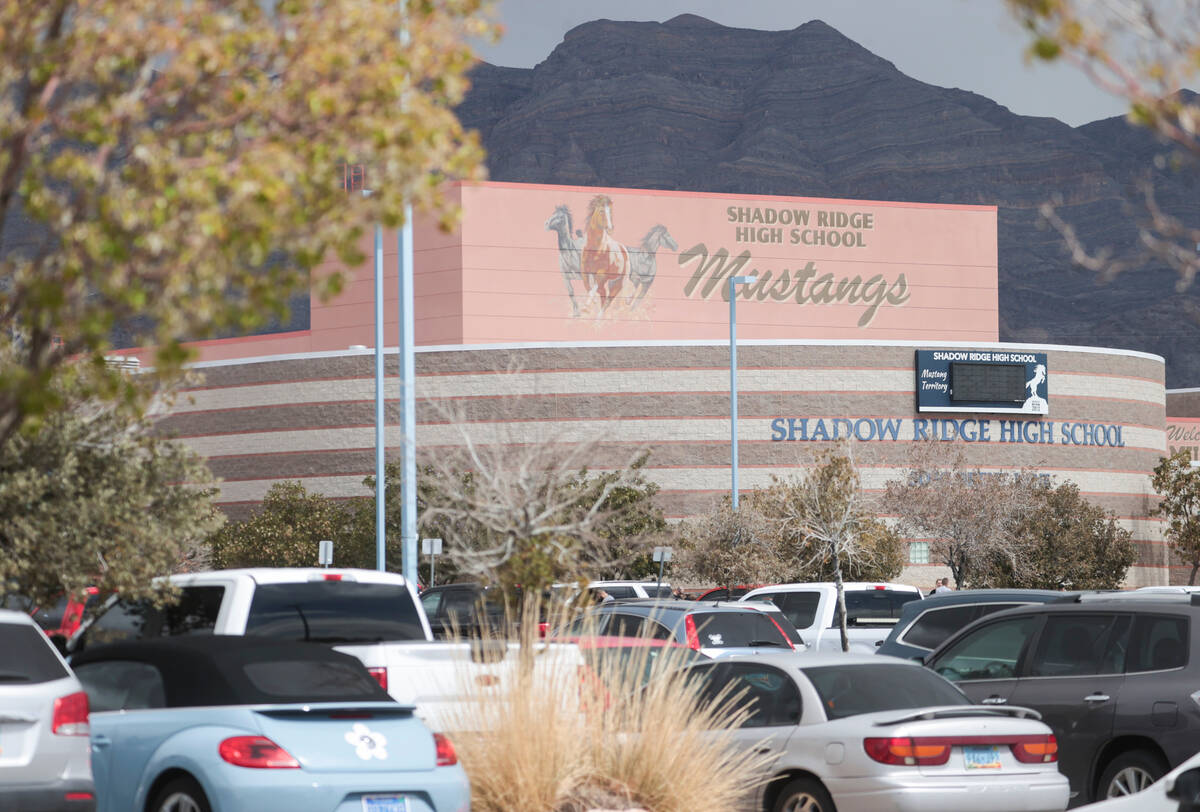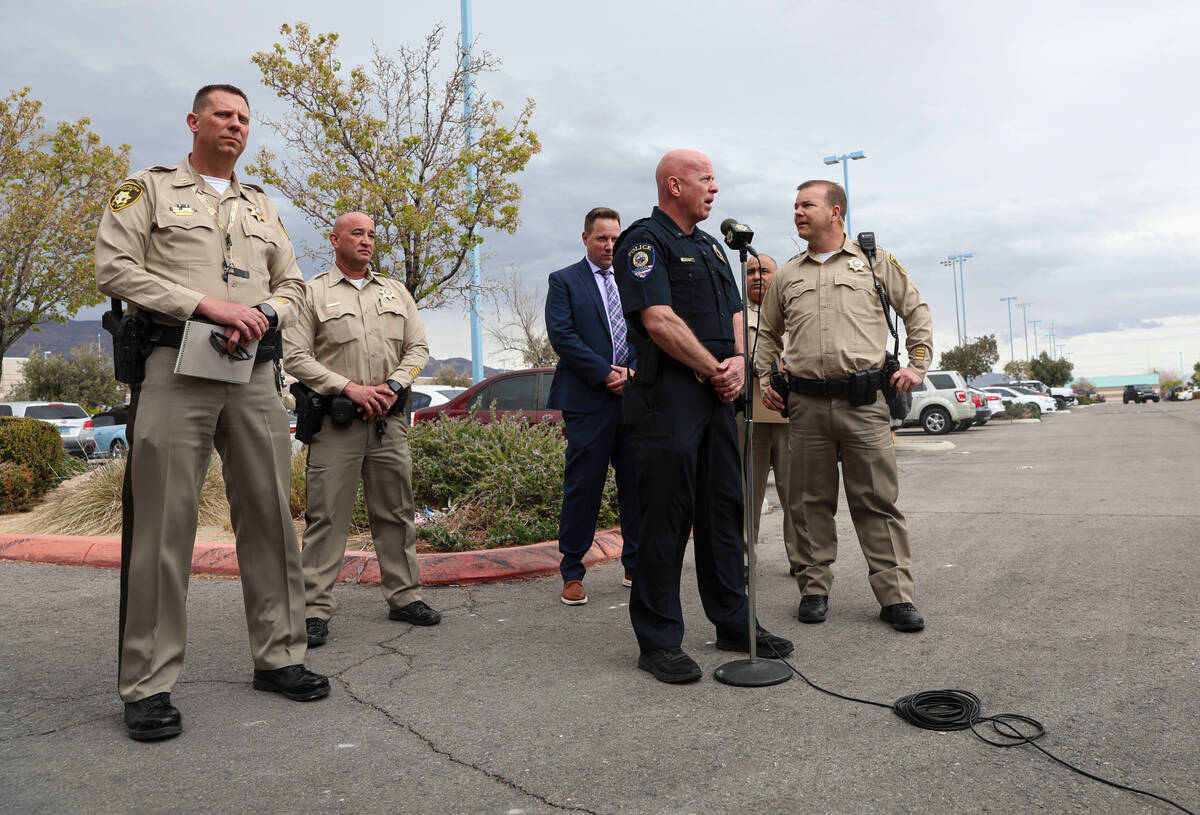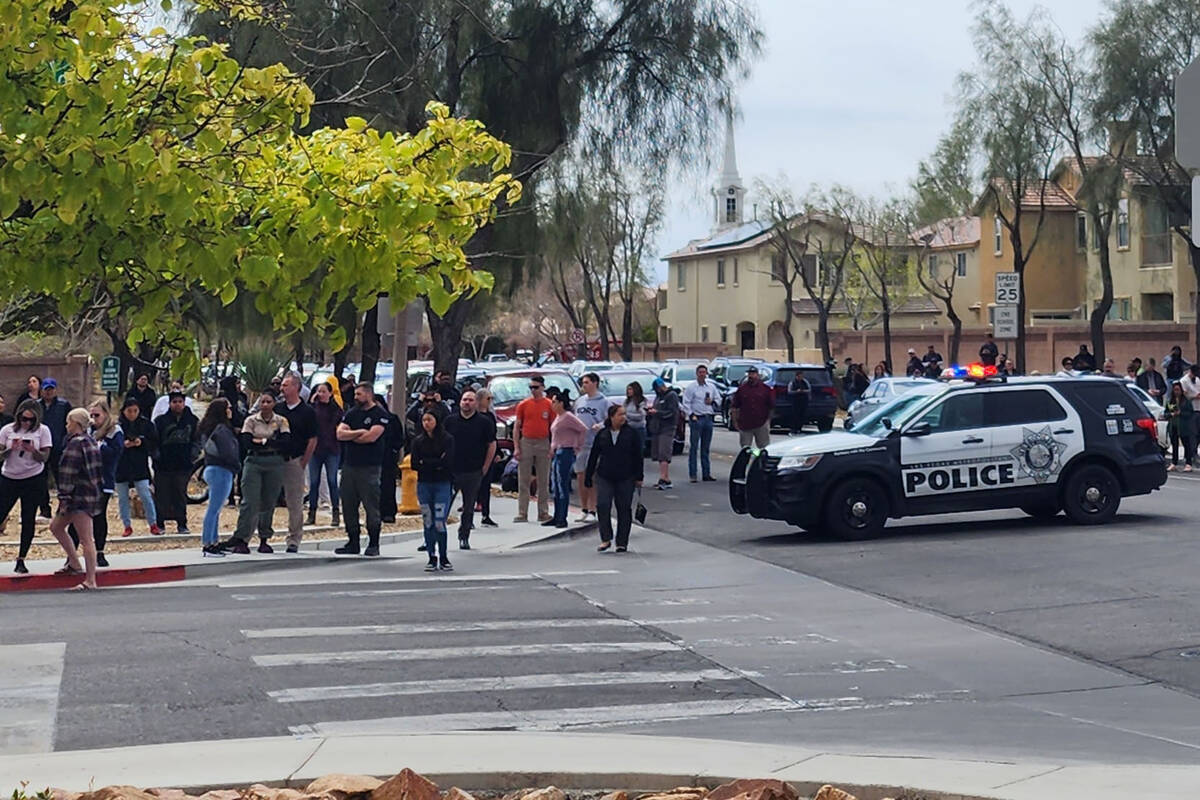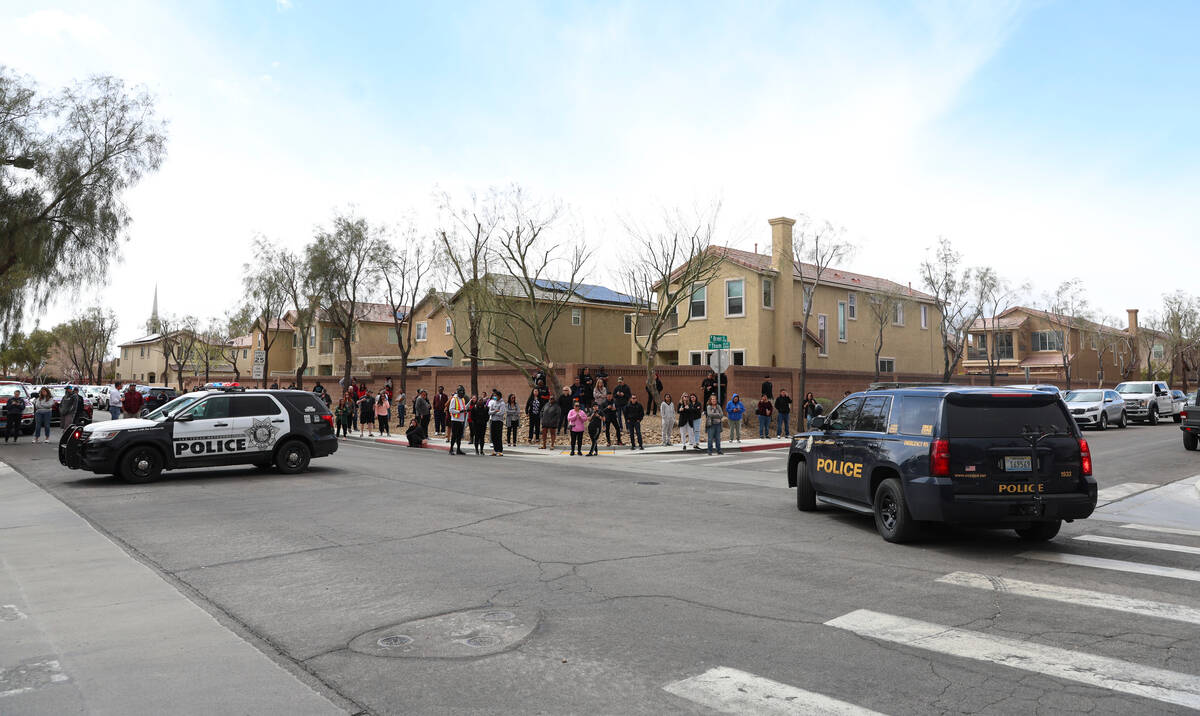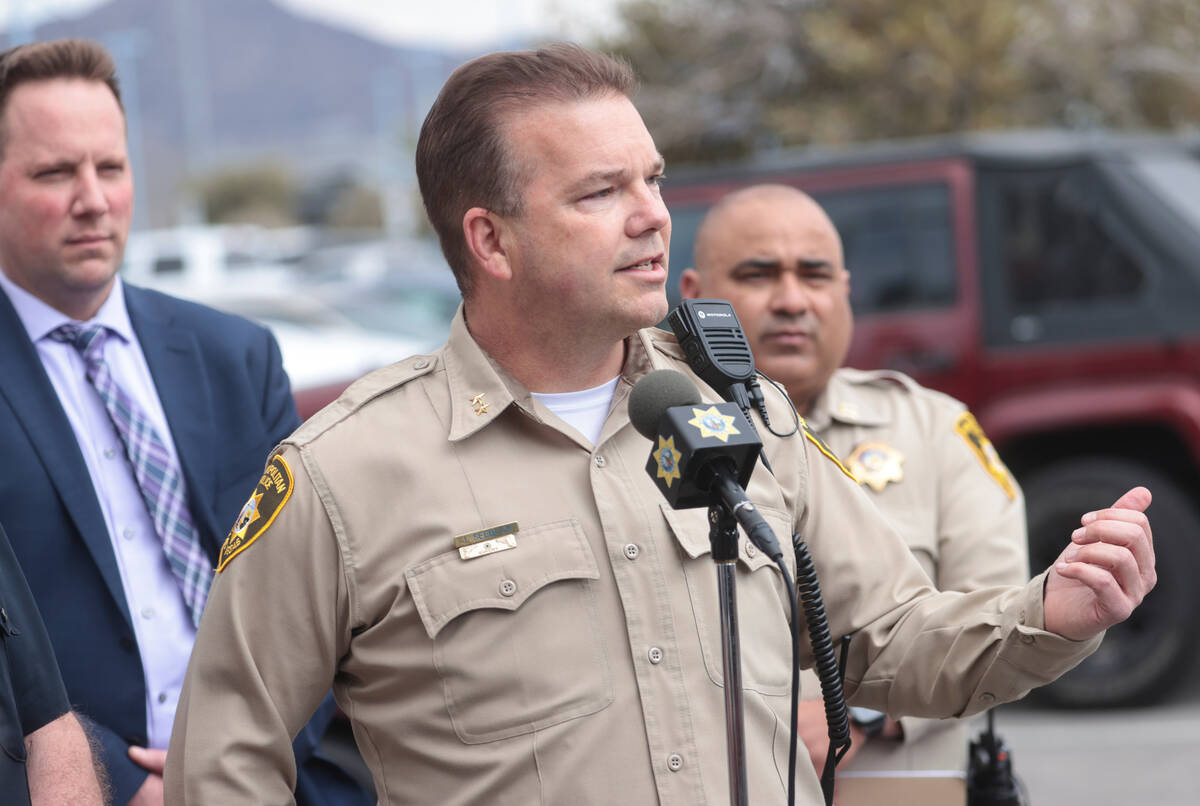 A juvenile was charged with making "terroristic threats" Wednesday after authorities reported that someone had carried a gun inside Shadow Ridge High School, forcing it into a "hard lockdown" for more than an hour, police said.
When police and other agencies arrived at the school in the north valley, students were startled hearing the sirens and communications by loudspeakers, according to parent Sherilyn Clark, 58, who hugged her 17-year-old daughter when they were reunited after the ordeal.
"There was a lot of screaming," said Clark, showing the texts her daughter sent her. "They heard police. They weren't sure what happened but they heard all that was rushing in."
Police were notified at 10:15 a.m. about an "underage individual that was seen in the hallways possibly armed with a firearm," Metropolitan Police Department Assistant Sheriff Jim Seebock said at a news conference in the school parking lot.
The school then went into a hard lockdown, which is enacted after a report of a person on campus with a firearm, Clark County school police Lt. Bryan Zink said.
A hard lockdown requires a school to lock all of its doors and that students hide until they are released, while a soft lockdown only requires a school to lock doors leading into the campus and does not disrupt classroom time, Zink said.
Clark said that after texting with her daughter and making her way to the school, she thought about the shooting at a private school in Nashville Monday where an adult with a rifle killed six people, including three children.
"I've never been so scared in my life, especially what happened in Nashville," she said.
Clark's daughter, who did not want to be named, said she and other students had to hide under their desks for two and a half hours.
Las Vegas and Clark County school police conducted a search for the suspect based on a physical description and located the student, whose name and age were not released, but did not find a firearm, Seebock said. The many first responders at the campus included the Clark County and Las Vegas Fire departments.
"Our goal is to keep our children safe," Seebock said. "We will respond, we will find the person making those threats. We will respond to people trying to do harm. We will not wait. We will not hesitate."
Clark County schools conduct five lockdown drills annually, including three hard lockdowns and two soft lockdowns. Ahead of the start of the school year, Metro officers and school police conducted a joint training exercise about how to respond to an active shooter and allay concerns following the school shooting in Uvalde, Texas.
The minor will be charged with making "terroristic threats," he said.
Threat unsubstantiated
Principal Traci Kannon said in a statement that the "rumored threat has been determined to be unsubstantiated. No weapon was located. However, it is against the law to make terroristic threats. As a result of the investigation, an individual was arrested in connection with the threat."
She added that the school appreciated parents for their patience and that safety procedures "were followed well by students and staff."
Cooper Chanley, 16, a Shadow Ridge sophomore, said he was with others in the weight room when SWAT officers came in and commanded them to raise their hands and hike their shirts to their waists.
Chanley said he and other students used their phones to send each other videos of SWAT officers roaming through the campus. He texted his parents, who were out of town, about the situation and they called his grandmother to pick him up.
"I wasn't really scared," he said.
Axel Reynolds said he was eating lunch in the quad when he heard the sirens. He rushed to the gym and sat in the boy's locker room for two hours, while rumors swirled of a shooter, a gun and a false alarm all at once.
"They didn't say it was a drill," Reynolds, 18, said. "Everyone was freaking out and panicking."
Reynolds was among a group of performing arts students scheduled to perform Wednesday afternoon for Seville Middle School eighth graders, who were visiting Shadow Ridge to learn more about their next school year. The performance was canceled when students were released from school after police cleared the campus.
Carrie McFadden, 42, the mother of a ninth grade student, said that she felt relieved after learning her son was in a physical education class at the football field, away from the main school building.
"Some kids jumped the fence," McFadden said. "There was a helicoper and SWAT pulling up and getting dressed and going in."
"I thought the worst," said Samantha Taul, 37, while waiting for her daughter. "I hopped into my car, my heart dropped. I went as fast as I could go. "
Lorena Llamas said her 15-year-old son and 17-year-old daughter sent her multiple texts regarding the threat. Both students were locked down in the portables.
Llamas drove to the school and parked about 100 feet away to clear a way for medical services.
"I'm observing from my car, looking at the portables, and I could see officers knocking on doors, walking into rooms with guns drawn, clearing every single room," she said. "Fear is going through my head. My kids are so close yet so far from me, and I can't get to them and they can't get to me."
Last year, her son was in eighth grade at Cram Middle School when he ran off campus and hid in a neighbor's house during a false report of a shooting on campus.
Shadow Ridge's baseball game against Foothill High School was postponed to Friday because of the false alarm, a coach confirmed Wednesday afternoon.
The Clark County Education Association, the district's teachers union, posted a statement Wednesday on Twitter calling for action against gun violence.
"Everyday, there's another incident of firearms in our schools," the union wrote. "We can't wait for a tragedy to unfold. Legislators and the Governor must act now."
Contact Jeff Burbank at jburbank@reviewjournal.com or 702-383-0382. Follow him @JeffBurbank2 on Twitter. Contact Sabrina Schnur at sschnur@reviewjournal.com or 702-383-0278. Follow @sabrina_schnur on Twitter.