Las Vegas doctor convicted in deadly hepatitis C outbreak dies
Updated April 11, 2017 - 7:47 pm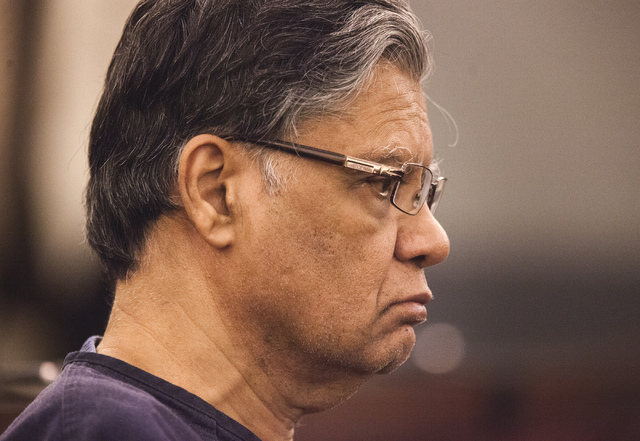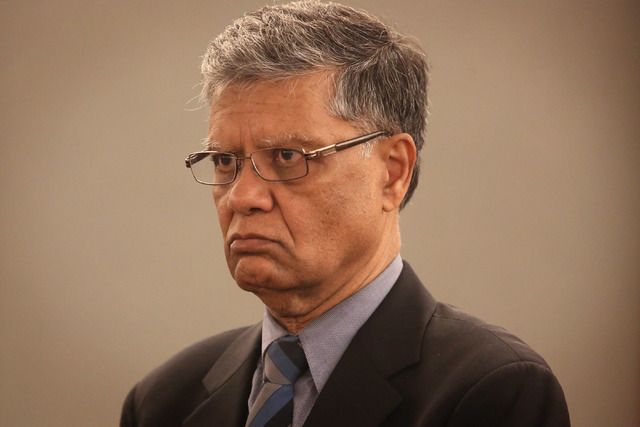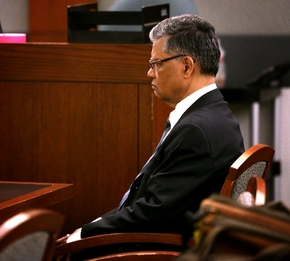 The Las Vegas doctor convicted of murder and criminally neglecting patients in the city's 2007 hepatitis C outbreak has died in prison.
Dipak Desai, 67, serving life in prison with the possibility of parole after 18 years for his conviction on 27 charges, including second-degree murder and insurance fraud, died Monday at Renown Regional Medical Center in Reno, the Nevada Department of Corrections said Tuesday.
Even into his last days behind bars, Desai remained hopeful that he would prevail in overturning his criminal conviction, said his longtime attorney Richard Wright, who visited the once wealthy physician just before he died.
The Washoe County coroner's office is expected to determine Desai's cause of death.
Wright had repeatedly argued that Desai was unfit to stand trial after suffering from multiple strokes.
"Despite his diminished capacity, when I would see him in Carson City, he remained optimistic that we would prevail in the appeal," Wright said. "And he was looking forward to a time when he wouldn't be incarcerated any longer."
Desai, who gave up his medical license, had been serving time at the Northern Nevada Correctional Center before being admitted to the hospital.
A year and six days before Desai's death, the Nevada Supreme Court heard arguments from veteran defense attorney Franny Forsman and prosecutor Michael Staudaher but had yet to make a decision in the case.
"I don't think the state trial proceedings were fairly conducted," Wright said. "We went to trial with him being unable to participate due to his diminished capacity."
He said the case was "tried in an environment of mass hysteria regarding the hepatitis outbreak that occurred."
Wright declined to comment further on Desai's medical condition "out of respect for Dr. Desai and his family."
"I am truly saddened," Wright said. "Despite his public persona after his trial, he was a very loyal, compassionate and decent client and friend."
Raised in the Gujarati tongue of his native Indian state of Gujarat, Desai passed exams that allowed him to embark on a career in medicine in the United States, the Las Vegas Review-Journal reported in 2008.
He told associates he came to America in the mid-1970s with practically nothing, and ultimately amassed a net worth of about $200 million.
He first worked as a resident in New York, where he obtained licenses allowing him to practice both there and in Maine.
Desai moved to Las Vegas in 1980, and in the middle of that decade, he suffered a heart attack and nearly died, according to an associate.
He eventually set up his practice in a medical building near Valley Hospital.
In 1992, Desai provided free medical care to striking Frontier Hotel workers who had no medical insurance.
A year later, he was appointed to the Nevada State Board of Medical Examiners.
He became the medical director for gastroenterology at University Medical Center in 1994 and chief of internal medicine at Lake Mead Hospital — now North Vista Hospital — the same year. He also would become Valley Hospital's director of gastroenterology and teach at the University of Nevada School of Medicine.
His Gastroenterology Center of Nevada, along with the Endoscopy Center of Southern Nevada, the busy clinic where the outbreak was discovered, operated until authorities shut it down.
In July 2013, a jury found Desai guilty of 27 criminal counts related to the outbreak, including second-degree murder in the death of infected patient Rodolfo Meana, 77.
The charges, which also included criminal neglect of patients, focused on the cases of Meana and six other patients infected with hepatitis C at Desai's Endoscopy Center of Southern Nevada on Shadow Lane in 2007. Health officials genetically linked the blood-borne virus in those patients to the clinic.
Another infected patient, Michael Washington, 73, died in Texas in August 2013, but prosecutors have not pursued additional murder charges against Desai.
During the lengthy trial, prosecutors argued unsafe injection practices involving the anesthetic propofol led to the outbreak. The combination of double-dipping syringes into propofol bottles used on multiple patients spread the virus from source patients infected with hepatitis C on two different dates in 2007, prosecutors argued.
Later that year, Desai was sentenced to life with the possibility of parole after 18 years for his conviction on the charges, which also included criminal neglect of patients resulting in substantial bodily harm and performance of act in reckless disregard of persons or property resulting in substantial bodily harm.
In handing down the sentence, District Judge Valerie Adair said at the time there was "no worse betrayal of trust" in society than what Desai did to his patients.
Clark County District Attorney Steve Wolfson on Tuesday called the doctor's prison sentence appropriate, adding that his prosecution was "an extremely serious case, extremely important to the community." Wolfson pointed out that "there were dozens and dozens of people who felt the effect of Dr. Desai's criminal conduct."
Desai also was serving a simultaneous six-year sentence on federal charges of health care fraud and conspiracy.
According to the U.S. Attorney's Office, Desai still owed $2.2 million in restitution at the time of his death. The funds were owed to hundreds of insurers, corporations and other entities the government identified as victims of his crimes.
When Desai was sentenced, federal prosecutors described him as "primarily responsible for what is likely Las Vegas' greatest public health crisis ever."
In 2015, Desai broke years of public silence about the outbreak at his once-busy endoscopy center.
"I'm sorry sir, sorry," he told a federal judge.
Review-Journal writers Jenny Wilson and Rio Lacanlale contributed to this report.
Contact David Ferrara at dferrara@reviewjournal.com or 702-380-1039. Follow @randompoker on Twitter.
A doctor dies in prison
Dipak Desai died Monday in prison, serving time for his conviction on 27 charges in a deadly Las Vegas hepatitis C outbreak.Nov. 1949: Desai is born in India
■ Mid-1970s: He passes exams allowing him to practice medicine in the U.S.
■ 1980: Desai moves to Las Vegas
■ 1992: Provides free medical care to striking Frontier Hotel workers
■ 1993: Appointed to Nevada State Board of Medical Examiners
■ Feb. 2008: Authorities urge patients at Desai's clinic to undergo testing for hepatitis and HIV
■ 2013: Las Vegas jury convicts Desai, and a judge orders him to serve 18 years to life in prison
■ 2015: Desai is sentenced on federal charges related to outbreak