Las Vegas judge says police violated man's rights, tosses murder charge
October 17, 2016 - 4:58 am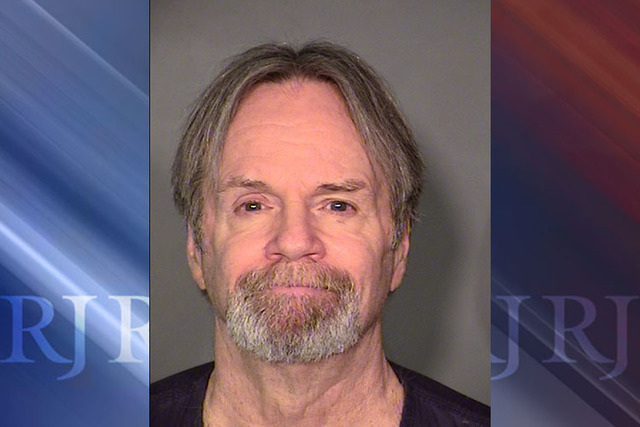 A Las Vegas justice of the peace threw out a murder charge after she lambasted a homicide detective for interviewing a defendant at the Clark County Detention Center without notifying his lawyer.
Terry Fulton, a Las Vegas resident accused in the 2015 death of his 79-year-old mother, had been at the jail for less than a week after spending six months at Lake's Crossing Center in Sparks, the state's only maximum security psychiatric facility, when a detective interrogated him at length.
Late last week, in dismissing four felony counts, including murder, elder abuse, domestic battery with substantial bodily harm and coercion, Melanie Tobiasson denounced veteran homicide detective Tod Williams' interview tactic and said that "without any question whatsoever, (Fulton's) rights were violated."
The judge pointed to "a lengthy, painful" transcript of the interrogation.
"I still cannot believe this interview took place," Tobiasson said. "The blase attitude, the sarcasm, the indifference to the severity of this situation is very disturbing to me. … Based on the things that have happened in this case, it appears to me that the system has devolved into a hide-the-ball and create a truth with smoke and mirrors that in the light of day is revealed as a facade."
The judge said she wanted to discourage "egregious, unlawful and unethical behavior" in the future.
Chief Deputy District Attorney Lisa Luzaich said she was weighing her options on responding to the judge's ruling.
Fulton's attorney, Deputy Public Defender Julia Murray, said she was immediately concerned after learning of the detective's interview. Fulton had been represented by a lawyer for several months before the interrogation.
"There has been not one single rule protection or showing of any sort of respect for this case, this prosecution and this persecuted defendant," Murray told the judge last week.
"Their conduct can't be undone," the defense attorney said after the judge's ruling.
The prosecutor had argued that Fulton's constitutional rights had not been violated because he voluntarily spoke with the detective rather than asking for his lawyer.
"He absolutely knows his rights," Luzaich told the judge. "Not only does he know his rights, he manipulated the system."
She said no one from her office asked the detective to speak with Fulton at the jail.
But according to a transcript of Fulton's statement on Feb. 18, the detective said, "I was contacted by the district attorney yesterday to say that you had been released from Lake's Crossing. We were told not to do anything until you got out. Now you're out."
Fulton, now 62, was first charged with battery on July 12, 2015, after his mother, Rita Schneider, was hospitalized. Police said she had been pushed during a quarrel with Fulton at her east-central valley home a day earlier. Schneider had been diagnosed with breast cancer just four months prior, and doctors discovered signs of cancer on her liver and spine.
She died July 17, 2015, of "pneumonia due to immobility due to thoracic spine fractures," according to the results of an autopsy performed at the request of authorities on Aug. 7, 2015, by the Clark County coroner's office. Her breast cancer also contributed to the death, which was ruled a homicide.
Fulton was charged with murder on April 26.
In his interview, Fulton told Williams that he had initially asked for an autopsy to prove that he hadn't grabbed his mother by the shoulders and pushed her.
The detective asked: "Did you push your mother down?"
"No, sir," Fulton replied. "I did not."
"Did you bump her down?"
"No, I did not, sir. I wouldn't do that."
"Did she fall on the ground in your presence?"
"No, she didn't."
"Did she fall down that day?"
"Not that I know of."
At one point in the interrogation, the detective made vague reference to "rules" about questioning suspects.
"If I've done the wrong thing, you can use that to your good," Williams said. "All I'm trying to express to you is that I've given you the chance to explain your side, and you've done that to the T the way you wanted to."
It's unclear exactly how long the detective questioned Fulton, but the transcript of the interview is 135 pages.
Through a spokesman, police declined to answer questions from the Review-Journal.
"We are currently reviewing both the judge's decision and the detective's actions and are not prepared to comment on either at this time," officer Michael Rodriguez wrote in an email.
Fulton remains jailed but could be freed as early as Wednesday, when he is slated to appear before a different judge on an unrelated charge of driving under the influence.
Contact David Ferrara at dferrara@reviewjournal.com or 702-380-1039. Follow @randompoker on Twitter.