Las Vegas lawyer accused of wielding handgun during deposition
October 5, 2016 - 6:13 pm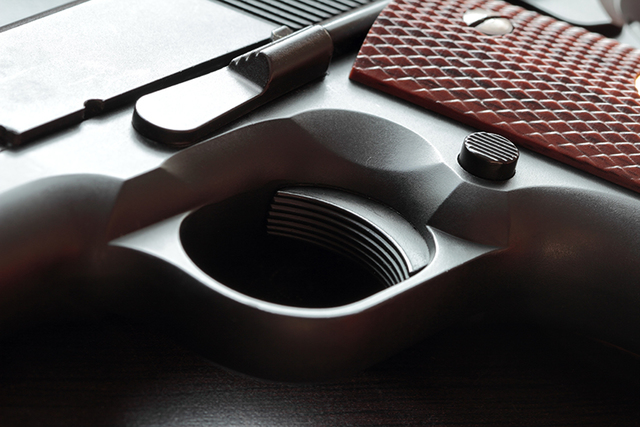 Las Vegas police are investigating allegations that lawyer James Pengilly recently pulled out a handgun in the midst of a hostile deposition at his office, sending a witness and his attorney scrambling for the exit.
Mark Stuhmer, who previously filed a libel lawsuit against the attorney, said in court papers that he was giving testimony Sept. 20 in Pengilly's suite at 1955 Village Center Circle when Pengilly "orchestrated a premeditated ambush." Stuhmer said he now fears for his life.
Moments into the examination, "Pengilly pulled the gun from its holster, preparing to point and shoot, all while gesturing me to come at him," Stuhmer said in an affidavit.
He and his attorney, Dale Hayes Jr., rushed out of Pengilly's office and immediately called 911. Pengilly followed them to the parking lot, where they jumped in Hayes' car.
"Hayes believed that Pengilly was determined to shoot them and later claim self defense," Stuhmer's attorney wrote in a motion for a protective order last week. As Hayes began to back out of the parking lot, he looked up, and "Pengilly was standing right outside the passenger window, gesturing at Mark and continuing to provoke him."
In a telephone conference with District Judge Elizabeth Gonzalez last week, Pengilly acknowledged that he carries a firearm, but he denied wielding the gun in his office.
"I wouldn't use it. I didn't pull it out," he said, according to a transcript of the conference. "I didn't threaten anybody. I didn't brandish it. That's ridiculous. … I would protect myself, but I certainly didn't threaten anybody."
Pengilly, who has been licensed to practice law in Nevada for 20 years, told a Las Vegas Review-Journal reporter that he carries a weapon because his father worked in a San Francisco law firm where a gunman killed eight people.
"I have it every day, all day," he said. "I always carry a gun because I'm an attorney and people don't like me."
He called the allegations a delay tactic in the four-year-old libel case.
"They're suing me for defamation, and there is absolutely no case," Pengilly said. "I've been setting their depositions for years, and they refuse to show up. They have no evidence. They have nothing."
A Metro spokesman confirmed that police are investigating the allegations and said no arrests had been made.
Pengilly called Stuhmer and his brother, J. Christopher Stuhmer, "hotheads" and said they have threatened him in the past.
"They've threatened me before to beat me up," Pengilly told the judge. "They've threatened in parking lots. They've threatened me at contractors board hearings. When Mark Stuhmer, who is a big guy, showed up to the deposition, I asked him why he was suing me, and he immediately got upset. … They both stood up and started threatening me, and I advised them not to threaten me."
The name-calling at the deposition was decidedly more vulgar.
After Pengilly asked Mark Stuhmer why he had filed the libel lawsuit, according to transcripts of the deposition filed in Clark County District Court, Mark Stuhmer responded by saying the lawyer made slanderous claims against him in emails to the west valley's C2 Lofts homeowners association.
"You said I didn't pay my HOA dues, which I did," Mark Stuhmer said. "And you also said I do unscrupulous business practices, which I do not."
The questioning quickly turned to profanity-laced insults hurled by both men.
According to transcipts and other court papers, Pengilly at one point shouted, "Are you ready for it?"
Pengilly reached for his back right hip and lifted up his shirt, Hayes claimed in one document. That's when Hayes and his client spotted the gun in a holster.
"Pengilly made it known that he had a firearm by positioning himself as if he was about to engage in a gun fight," Hayes wrote.
Pengilly told the two men that he had a permit to carry the weapon, according to the transcripts.
Hayes and Mark Stuhmer have filed complaints with the State Bar of Nevada. Officials there said Pengilly's law license remains active, and he is in good standing with the organization. Complaints remain confidential unless an attorney receives public discipline.
Mark Stuhmer, who is listed as a co-founder of a financing company called Global Injury Funding, could not be reached for comment. Contacted by telephone, his brother declined to comment.
Through a woman who answered the phone at his office, Hayes also declined to comment, citing "an ongoing investigation."
Contact David Ferrara at dferrara@reviewjournal.com or 702-380-1039. Follow @randompoker on Twitter.