Las Vegas mall terror suspect made prior threat, report says
Updated May 21, 2018 - 11:00 pm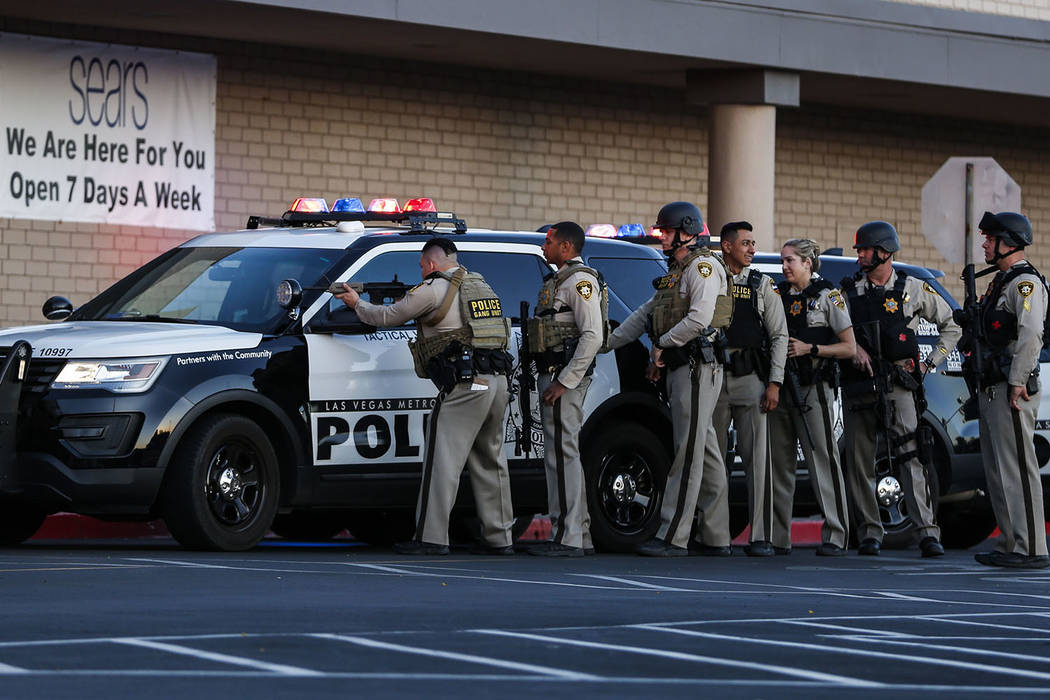 A man charged with terrorizing a Las Vegas mall last week had threatened to shoot up a shoe store after he was turned down for a job, according to his arrest report.
Emile Hopson, 25, is accused of entering Boulevard Mall, 3528 S. Maryland Parkway, shortly before 7 p.m. Thursday with a mask and pointing a fake rifle at shoppers and employees. He was arrested that night at a nearby apartment complex after police evacuated the mall.
Hopson was charged Monday with terrorism, making threats or conveying false information concerning an act of terrorism, and burglary while in possession of a deadly weapon.
An employee of Shiekh Shoes told police he noticed Hopson because of the way he walked, the report said. The employee heard someone yell that there was someone with a gun. He looked outside the store to see a man wearing a gas mask and a green hoodie and pointing a rifle at him and other employees.
The man told investigators he noticed something strange about the way the gunman walked, which reminded him of the way a problem customer walked, the report said.
"He said this male is always in the store and interviewed for a job the week prior," the report said. "The decision was made not to hire the male, and the male threatened to shoot the shoe store up."
The witness also gave police Hopson's name. It is unclear if the initial threat was reported to police.
Another witness told police he was approached by a man who showed him a photo of the suspect that had a time stamp from about 3 p.m. While looking for the man with the photo, police found abandoned clothing at an apartment complex. Two people who saw the man leave the clothes behind told police the man said he lived in the complex.
Officers at the complex found a man sitting in the bushes who matched the suspect's description, the report said. He later told officers his name was Emile Hopson.
Hopson told police a masked gunman kicked his door in and tried to rob him. He also said he saw the gunman jump the wall after he ran outside. Unidentified witnesses who live near Hopson told police they saw Hopson jump the wall while carrying a rifle and wearing a green hoodie and mask, the report said.
Hopson is being held at the Clark County Detention Center.
Contact Blake Apgar at bapgar@reviewjournal.com or 702-387-5298. Follow @blakeapgar on Twitter.