Las Vegas man accused in girlfriend's death had federal child porn conviction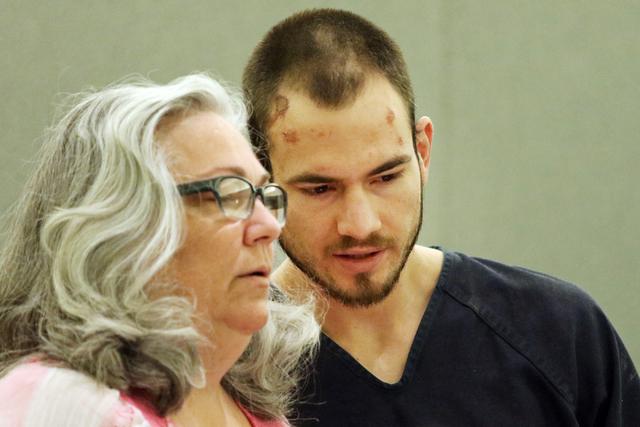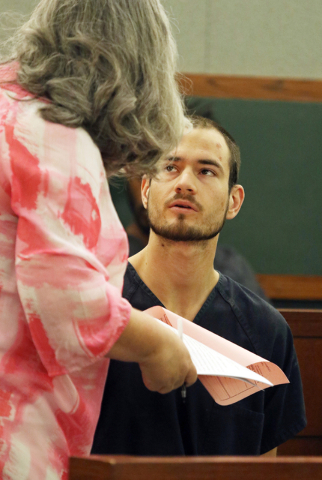 A Las Vegas man who was found naked and bloody in a crashed car after his girlfriend was fatally stabbed is a listed sex offender who was convicted on federal charges of possession of child pornography in 2009.
Police said Skyler J. Fowler, 26, admitted to killing 19-year-old Chelsey Lagle.
Before "going off in a rage of random ideas" in a 911 call Tuesday night, Fowler told police the couple had taken mushrooms together, and "I beat her to f—-ing death," his arrest report stated.
Fowler appeared briefly Friday before Las Vegas Justice of the Peace Eric Goodman, who set a preliminary hearing on a murder charge. Fowler is being held in the Clark County Detention Center without bail.
In a phone interview after the court hearing, David Lagle called his daughter a "wonderful child," who envisioned owning a big house and becoming a nurse.
She worked transcribing calls for the hearing impaired, along with a second job at Kentucky Fried Chicken, trying to save money and accomplish her "dreams of not being poor," he said.
He recalled how she once protected a schizophrenic man on a bus from unruly passengers, and she often helped homeless people find a place to sleep indoors.
"My daughter's gone right now," the elder Lagle said. "There's nothing in this world that's bringing her back. And I cry, but I know that God's taken her, and she's in a better place. That's the only way I can deal with it."
Of Fowler, who worked as a delivery driver for Round Table Pizza, David Lagle said: "I expect him to go to prison, hopefully the rest of his life."
In February 2008, Fowler "did knowingly possess a computer hard drive, disks and other materials that contained three or more images of child pornography that have been mailed, shipped or transported in interstate or foreign commerce," according to a federal indictment.
According to the Nevada Sex Offender Registry, Fowler was convicted on charges of possession of child pornography on May 5, 2009, in Elko. The registry indicates he spent some time in a federal prison in Arizona.
Deputy Public Defender Christy Craig, representing Fowler on the murder charge, said she had no details on his federal case.
In his call to police on Tuesday, Fowler dropped the phone and started "yelling about someone being evil, and then about being wonderful human beings all while noises of crashing and banging continue."
Chelsey Lagle was found dead from multiple stab wounds in the bathtub of her apartment at Enclave-University Town Center near Spencer Street and Tropicana Avenue.
Her golden retriever, Noah, had apparently tried to protect her during the attack, according to her father.
Fowler was arrested that night after he slammed his 2015 Chevy Cruze into a UNLV-area 7-Eleven. He briefly scuffled with another man who had rushed to his aid, police said.
Fowler was treated and released from Sunrise Hospital and Medical Center for injuries he apparently suffered "during the homicide," police said.
He and Lagle had been dating for about two years, her father said.
She knew of her boyfriend's past, but did not consider him a pedophile.
Fowler spent seven months in federal custody after violating his probation. In January 2015, he was ordered to serve another 120 months of supervised release.
Federal court documents show that Fowler admitted to having trouble with alcohol and acknowledged smoking marijuana. The child pornography charges were leveled when he was 18, and authorities confiscated all of his computer equipment.
"I was 8 when I started working on computers," he said in federal court last year. "It's part of who I am. To tell me I can't do that is to take away that part of my ability, that's what I do."
Fowler is listed as a "moderate risk," or "assessed as posing a probable risk of recidivism and threat to public safety," on the Nevada Sex Offender Registry.
Lagle took care of Fowler's cats while he was in federal custody and made sure he had a place to live after he was released, her father said.
"She loved him. She always stood by his side. They just had a really passionate relationship," David Lagle said. "I don't know what went wrong that night. Obviously it was something that was not him."
The teen's family set up a crowd-funding site to help raise money for her funeral costs.
"Our complete focus right now is to have her buried in peace," her father said. The family hopes to find "a final resting spot for her, close to us."
Contact reporter David Ferrara at dferrara@reviewjournal.com or 702-380-1039. Find him on Twitter: @randompoker