Las Vegas man wants probation in extortion case involving sex tapes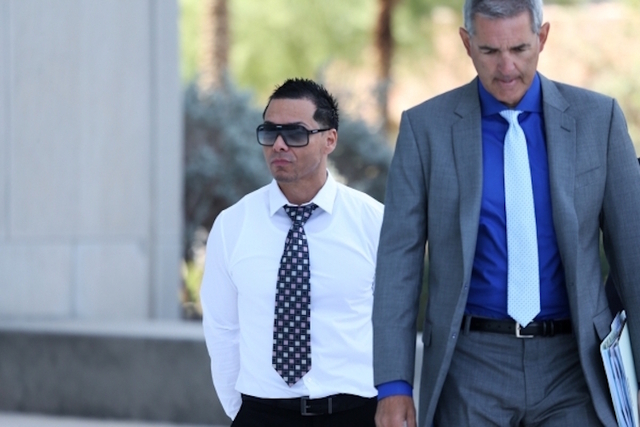 A Las Vegas man who admitted using sex tapes to extort a prominent, married businessman wants to avoid prison time.
The defense lawyer for Ernesto Joshua Ramos, 38, said in court papers late Monday his client deserves a departure from a recommended 21-month prison sentence and should receive probation.
"Suffice it to say that this is a unique case based upon the effort expended by all parties to keep the identity of the victim from becoming public record," attorney Gabriel Grasso wrote. "This effort was chiefly a result of the sordid nature of the facts which, if tied to the victim, would result in further victimization."
Grasso said Ramos, who is free on his own recognizance, has assisted authorities in "every way" to prevent the victim's identity from becoming public.
Ramos, a real estate agent and personal fitness trainer, is to be sentenced June 30 before Chief U.S. District Judge Gloria Navarro. He pleaded guilty in November to a felony extortion charge.
An FBI complaint identifies the businessman only as a married local resident who has two minor children and who is "part-owner of a well-known business" with access to a company jet.
Over a two-year period, the businessman tipped the stripper, who was Ramos' girlfriend, roughly $200,000 to dance and have sex with him in a private room at an adult nightclub, the criminal complaint said.
In the defense documents, Grasso revealed that the stripper, whom he identified only as "Sandra," worked at Spearmint Rhino, a popular adult nightclub in Las Vegas.
Spearmint Rhino operator Kevin Kelly said Tuesday he does not know whether the woman worked at the club.
"I have not heard anything that she was employed at Rhino," Kelly said. "I don't know who this person is."
The dancer secretly used her cellphone to videotape herself having sex with the businessman in a hotel room during an October 2014 tryst outside the country, according to the FBI complaint.
Ramos acknowledged in his plea agreement that he later tried to extort $200,000 from the businessman with threats that included posting embarrassing sex photos from the tapes on social media.
After the businessman paid Ramos the $200,000 during a Jan. 8, 2015, meeting secretly recorded by the FBI, Ramos was arrested by agents, the plea agreement stated.
Grasso said in his court papers that Ramos was living a double life when the scheme was hatched.
On one hand, he was a stay-at-home, divorced father of two children, including a 13-year-old daughter with cerebral palsy and other serious illnesses.
And on the other hand, he was the dancer's boyfriend.
"All the baggage that surrounds such a relationship was unavoidable for Ramos," Grasso wrote. "The suspicions, the late nights, the jealousies. Ramos wrestled with all of it. This case was born out of that lifestyle."
Grasso said Ramos has accepted responsibility for his actions and has "only himself to blame."
Federal prosecutors have yet to take a position on the defendant's upcoming sentence.
Since his plea agreement, Ramos has been barred from coming within 100 yards of the businessman's home and workplace. He also has been ordered to turn over to the government any remaining sex tapes or confirm that no others exist, and to surrender two Apple iPhones and a laptop used in the extortion scheme.
The stripper has not been charged, and prosecutors have gone to great lengths to keep the businessman's name secret.
Early in the case, they persuaded U.S. Magistrate Judge Bill Hoffman to sign an unusual protective order prohibiting disclosure of the businessman's name — even his initials — and company in any public filings.
Then, in November, prosecutors also persuaded Navarro to withhold the businessman's name from the public.
Navarro said at the time that keeping the name secret encouraged victims to go to law enforcement.
Rumors about the businessman's identity raced through the community after an October 2015 Las Vegas Review-Journal story on the case.
There was speculation on social media about several high-powered Las Vegas executives who fit the FBI's description, but no one was able to publicly confirm the identity.
Contact Jeff German at jgerman@reviewjournal.com or 702-380-8135. Find @JGermanRJ on Twitter.