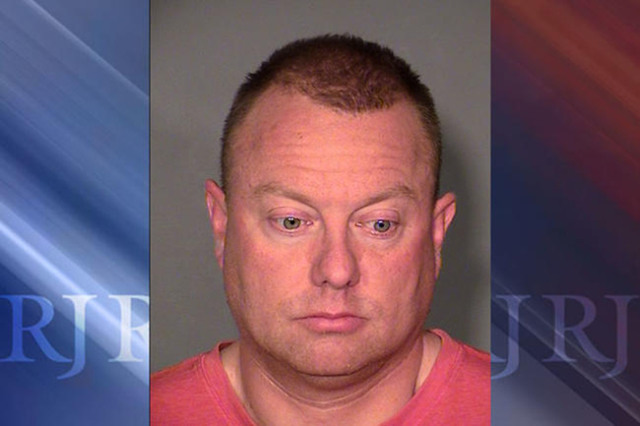 A Metropolitan Police Department officer was acquitted Thursday of felony kidnapping and domestic battery charges.
A Clark County jury of six men and six women took less than two hours to find James "Jimmy" Burt, a 10-year veteran of the force, not guilty of four felony charges: one count of first-degree kidnapping, two counts of domestic battery by strangulation and one count of coercion with force or threat of force.
Burt has been on unpaid administrative leave since his arrest in January, according to his lawyers Warren Geller and Frank Cofer.
"We're glad James finally got his day in court," Geller said after the verdict was handed down. "He has been frustrated throughout the entire process. He was always hearing his accuser testify. He was hearing the investigating officers testify."
Cofer pointed to the allegations as a case of "actual innocence."
Prosecutors declined to comment after the acquittal. If he had been convicted, Burt faced a minimum of five years in prison.
Burt, who still faces an administrative hearing with the department in connection with the allegations, took the witness stand for part of the three days of testimony and told "his side of the events," Geller said.
Burt said that he quarreled with his former live-in girlfriend Kelly Ryan, a Henderson corrections officer, and she left their home angrily after he broke up with her.
Ryan testified that she arrived home on Jan. 11 in the midst of a text message quarrel with Burt, who confronted her the moment she stepped through the door.
He held a pad of paper that contained two pages of "topics" he wanted to discuss about their relationship.
She walked into the kitchen, where she started to clean dishes and tried to stay quiet.
"You're shutting me out," she said he told her. "We need to talk about this."
Prosecutors pointed to a bruise on Ryan's right breast as a sign of an attack, but defense lawyers suggested the bruise did not happen that night.
Burt also faced domestic violence charges in 2011, when he was arrested on two counts of domestic battery, coercion with force and kidnapping involving his then-wife.
That case was dismissed less than six weeks after he was arrested, and the couple divorced about a year later.
In 2009, Burt was one of three officers who shot and killed 35-year-old Edmundo Del Valle Jr. during a downtown Las Vegas confrontation. An inquest found the shooting was justifiable.
Contact David Ferrara at dferrara@reviewjournal.com or 702-380-1039. Follow @randompoker on Twitter.
RELATED
Woman testifies Metro officer boyfriend told her, 'You're going to die'