Las Vegas police detective, union official indicted on felony charges
Updated March 19, 2020 - 7:24 pm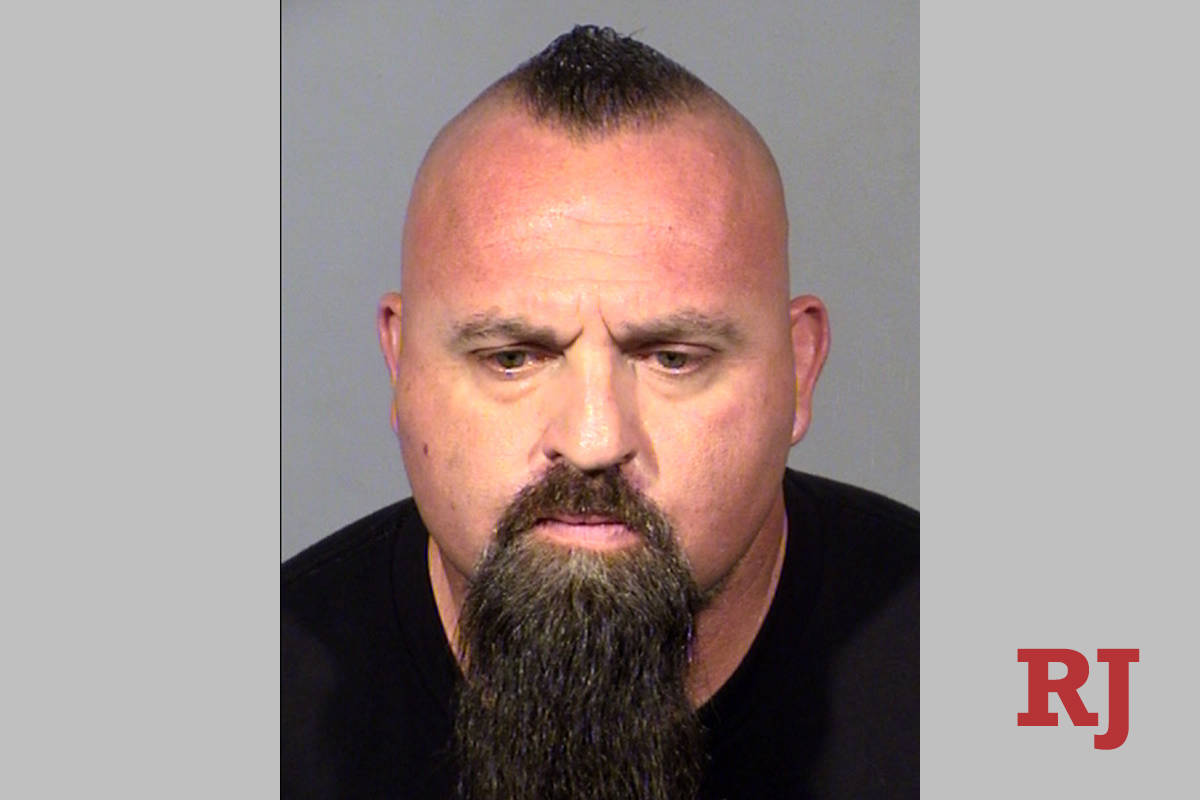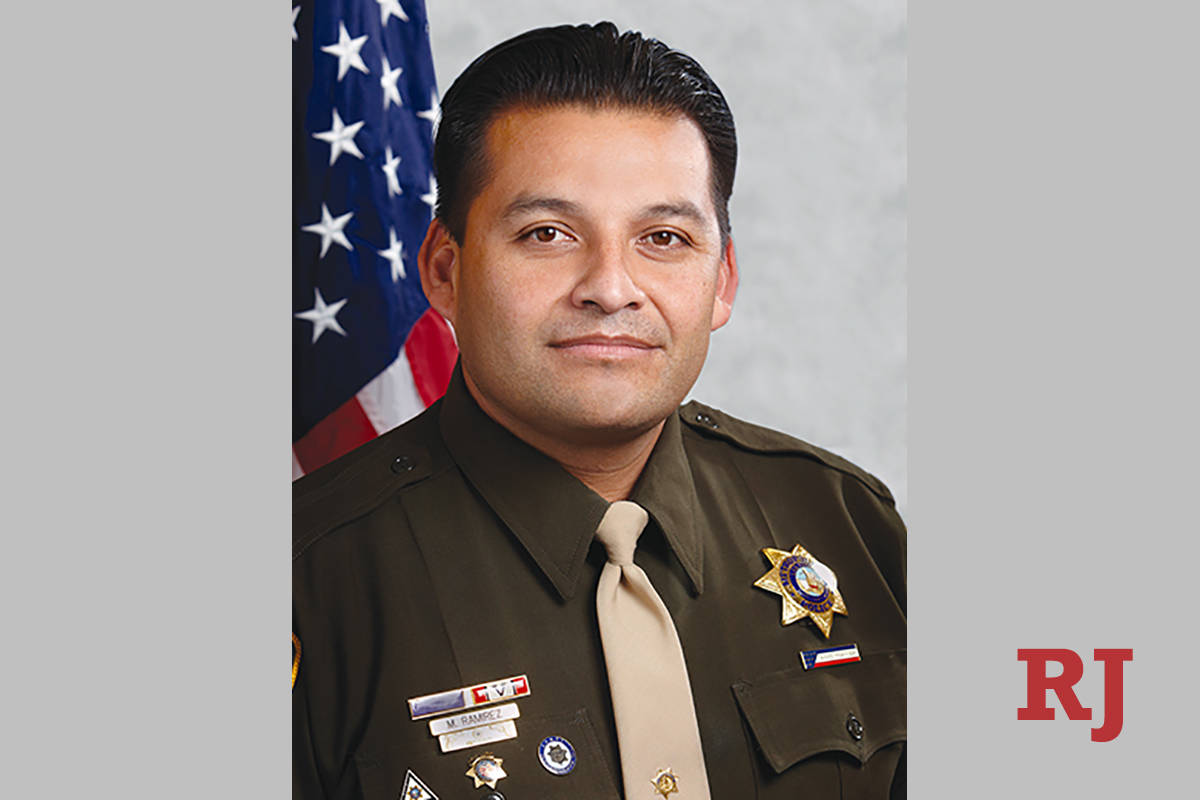 A high-ranking director with the Las Vegas police union and a veteran detective were indicted Thursday on felony charges, including that the two provided urine samples to help keep a woman out of jail.
Weeks of grand jury testimony revealed that Detective Lawrence Rinetti Jr., 46, stole meth and jewels while on duty for a confidential informant with whom he was having an affair. He and Michael Ramirez, the head of governmental affairs for the Las Vegas Police Protective Association, used their urine to ensure that the woman would not fail a court-ordered drug test, Chief Deputy District Attorney Christopher Hamner said.
"This is probably the worst public corruption case involving police officers since I've been in the office," the prosecutor said. Rinetti had the woman sign up as a confidential police informant under a different name, "so he can continue an affair."
Thursday's indictment charges Rinetti with more than three dozen felonies and gross misdemeanors, including trafficking in a controlled substance, misconduct of a public officer, conspiracy, offering a false instrument for filing or record, and fraudulent use of a credit card. Ramirez faces one count each of conspiracy to commit a crime and offering a false instrument for filing or record.
Chief Judge Linda Marie Bell issued a $100,000 arrest warrant for Rinetti and a $10,000 warrant for Ramirez, who has been with the department since 2005.
Prosecutor lays out allegations
For weeks, Rinetti had used his and his sons' urine to help the woman pass drug and alcohol tests in a DUI case, Hamner said, describing details of the allegations to the judge.
The woman took about a dozen urine tests and passed.
"All but one," the prosecutor said. "And that's where Michael Ramirez comes into play."
In September 2018, Rinetti had crashed his police vehicle while speeding, with lights and sirens blaring, to a four-day firearms training course in Pahrump from the woman's Las Vegas house. He took Xanax for injuries he suffered in the crash.
A month later, when the woman was called to take a drug test, Rinetti reached out to one of his good friends, Ramirez, who provided his urine to the woman.
"The problem is that she tests positive, because Mr. Ramirez had a drink recently," Hamner said.
The woman was arrested and called the detective from jail to tell him what happened. On the call, Rinetti said, "Mike will help us through this."
Investigators tracked Ramirez leaving the union's office on West Lake Mead Boulevard to pick up the woman's car at an impound lot.
"There are seductive photos of this woman on Michael Ramirez's phone, even though he deleted and tried to wipe all his conversations," Hamner said.
At the scene of the crash, Rinetti told fellow Metro officers that he had been chasing a reckless driver, which was not part of his duties on the force.
He submitted a workers' compensation claim and was approved for $127,000, of which he was paid a lump sum of $102,000.
In order to help the woman pay her rent, Rinetti stole more than an ounce of methamphetamine during a drug bust "for her to ultimately flip and sell," the prosecutor said.
Detectives later searched Rinetti's phone and found pictures of the meth. In another drug bust, he stole heroin, according to the prosecutor. Late last year, after the woman's car, which held more than $18,000 in stolen minerals and gems, was impounded, Rinetti used his badge to enter the lot and remove the valuables.
At one point, the woman asked Rinetti to find her mother's Social Security number through a police database so she could use her mother's debit card.
"That was all due to the fact that a public official had access to this private database, and he provided it to his girlfriend just so she could steal from her mother," Hamner said.
Legislative lobbyist
Defense attorney Tony Sgro, who represents Rinetti, could not be reached for comment. It was unclear whether Ramirez had obtained an attorney.
Part of Ramirez's duties with the police union include lobbying in Carson City during legislative sessions. The union's president, Steve Grammas, told the Review-Journal on Thursday that he could not comment on the allegations. Through a public information email, Metro responded to a reporter's inquiry about Ramirez's status with the department by stating: "Employment status is confirmed to LVMPD's Office of Labor Relations and they are closed for the evening."
Rinetti, who has since been relieved of duty without pay, joined the Metropolitan Police Department in January 2006. At the time of his arrest, he was assigned to the department's Major Violators and Narcotics Crimes Bureau.
Rinetti had also been a board member of the police union, and his duties included "covert ops," according to a biography page that has since been removed from the union's website.
Contact David Ferrara at dferrara@reviewjournal.com or 702-380-1039. Follow @randompoker on Twitter.