Las Vegas police revise use-of-force policies
September 21, 2017 - 10:46 am
Updated September 21, 2017 - 7:32 pm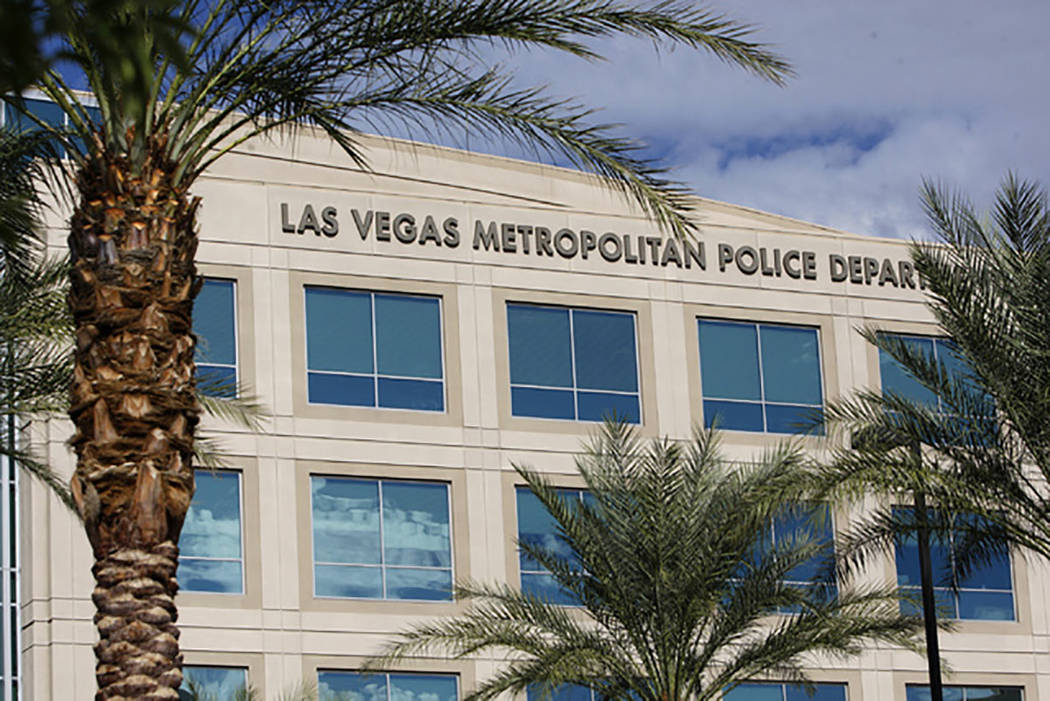 Las Vegas police announced changes to the department's use-of-force policy on Thursday, including classifying the neck restraint highlighted in the May police custody death of Tashii Brown as a technique to be used only in serious or life-threatening situations.
The Metropolitan Police Department said the lateral vascular neck restraint will now be considered an intermediate or deadly use of force. The neck hold was previously classified as a low-level use of force tactic.
The policy changes went into effect Sept. 15.
Metro insisted the policy changes weren't spurred by any one incident. In a briefing Thursday, Sgt. Esmeralda Boveda of the Office of Internal Oversight said the department constantly weighs changes to its use-of-force policy based on incident reviews, national policing trends and internal policy evaluations. That's also the case regarding changes to the lateral vascular neck restraint's categorization, Boveda said.
"The LVNR has been an ongoing discussion for a very, very long time," she said.
She said the department considered multiple use-of-force incidents in changing its neck restraint categorization, but "the larger scale incident" was when Metro officer Kenneth Lopera shocked Brown, 40, with a stun gun seven times and placed him in an unauthorized neck hold similar to the authorized hold for more than a minute. Police said Brown wouldn't have faced criminal charges had he survived.
The officer used an unauthorized hold rather than the lateral vascular neck restraint, but Boveda said Brown's death became part of the review process because police initially said Lopera used the lateral vascular restraint.
"That's where it came up," she said.
Lopera was charged with involuntary manslaughter and oppression under the color of office. He sued the department in August.
To use the lateral vascular neck restraint, officers are trained to compress the carotid arteries on the sides of the neck, which restricts blood flow to the brain and causes the subject to pass out, according to the policy.
To use the hold now, officers must be able to say the person placed in the restraint intended to hurt officers or other people.
Organizational criticisms
The NAACP's Las Vegas chapter reiterated its belief the neck restraint should be banned, president Roxann McCoy said. She said the civil rights group wasn't included in the conversation before the final decision was made, and she wishes it was.
"I'm just curious what community they're partnering with because we certainly weren't called," McCoy said.
She criticized the department's decision to classify the neck hold as an intermediate use of force, citing medical conditions or drug consumption as factors that increase the risk of death.
She said she was thankful the department categorized it as a deadly use-of-force technique, but would've rather seen it scrapped.
The ACLU of Nevada echoed McCoy in a statement saying it has continuously called on the department to ban the neck hold entirely, but appreciated seeing the restraint classified "appropriately" on the use-of-force spectrum. Executive Director Tod Story said it's good Metro recognizes the restraint can be deadly and hopes the change limits the neck hold's usage.
"It's not right to have this there as an option," Story said.
Story said Metro has spoken with the civil rights organization to discuss the neck restraint. He was skeptical of Metro's insistence the restraint policy wasn't changed because of any one specific incident, adding the ACLU wasn't calling for the change prior to Brown's death.
"I'm not sure how they got there," he said of the change. "But the fact that they're there is the important thing."
Boveda said the Office of Internal Oversight was aware of public criticisms of the department's use of the restraint.
"I don't know that that played any part or what part it did," she said.
Metro decided to keep the restraint within its authorized use-of-force policy after internal discussions and evaluations, Boveda said.
"That is what we felt that was best for this time being," she said.
Other policy revisions
Metro also will use a new weapon in an effort to de-escalate certain violent situations, it announced in a news release.
The weapon looks like a short-barreled rifle, said Lt. Dan Bledsoe with Metro's critical incident review team, and it shoots foam rounds. Police said it's an intermediate use of force at distances greater than 5 yards and a deadly use of force when closer than 5 yards.
The department intends to have one weapon per squad of eight to 10 officers, Metro spokeswoman Laura Meltzer said. Special training is required to use the weapon, she said.
Metro also announced that officers can now shoot at or from moving vehicles only if it is "absolutely necessary to preserve human life." Metro said the change in policy for shooting at moving vehicles comes "in light of recent ramming attacks" overseas and in the U.S., according to the release.
"We were limiting our officers on what options they had," Boveda said.
On Aug. 12, one woman was killed when a car plowed into a group of people peacefully protesting a white nationalist rally in Charlottesville, Virginia. Five days later, 13 people in Barcelona, Spain, were killed after a van rammed into pedestrians.
Contact Mike Shoro at mshoro@reviewjournal.com or 702-387-5290. Follow @mike_shoro on Twitter. Contact Blake Apgar at bapgar@reviewjournal.com or 702-387-5298. Follow @blakeapgar on Twitter.