Las Vegas police sergeant demoted for failing to stop chokehold death
Updated April 29, 2018 - 6:49 pm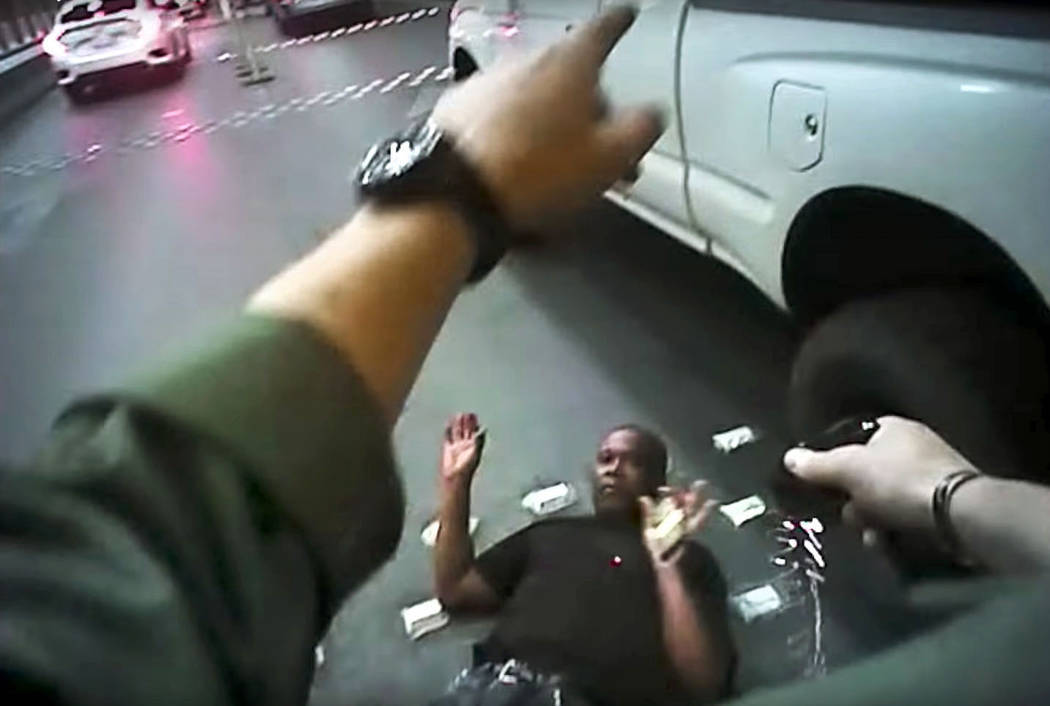 A Metropolitan Police Department sergeant was demoted last year after the controversial death of an unarmed black man on the Strip, records show.
The death led to criminal charges against another officer.
Now the former sergeant, Travis Crumrine, wants his position back with full back pay, according to a complaint filed with the Local Government Employee-Management Relations Board in February. Crumrine is alleging that the department violated its contract with his union by demoting him.
"The actions of LVMPD were further motivated by the negative publicity received as a result of the incident of May 14, 2017 and therefore constitute discrimination for personal and/or political reasons," the complaint alleges.
Metro never publicized the demotion or released Crumrine's name.
Crumrine was in charge of officer Kenneth Lopera when Tashii Brown approached Lopera and his partner last year at The Venetian before running through an employee exit. Lopera caught up with Brown near the valet and said he believed the man was trying to steal a truck.
Lopera shocked Brown with a Taser seven times, punched him in the face and placed him in an unapproved chokehold, police said.
Crumrine's complaint alleges that Lopera used a department-approved hold on Brown.
Lopera was fired and charged with involuntary manslaughter and oppression under color of office in the death of the 40-year-old Las Vegas man. The criminal case is pending.
Crumrine told Lopera to let Brown go, according to the complaint, which states that Crumrine handcuffed Brown after Lopera released him.
"Let him go, Ken," a man can be heard saying in body camera footage.
The choke continued another 46 seconds after the order was given. The Clark County coroner's office ruled Brown's cause of death as asphyxia due to police restraint procedures.
Had Brown lived, he would not have faced any criminal charges, police said. His death sparked widespread media attention, criticism and local protests.
Three months after Brown's death, Crumrine was told his probation would be extended another six months, according to his labor complaint. The Police Managers and Supervisors Association's contract with Metro does not require any probationary period, according to the complaint.
According to the document, department officials accused Crumrine of failing to intervene by not ensuring that Lopera let go of Brown after he gave the officer an order to do so. That accusation was dropped in favor of a more serious accusation, neglect of duty.
Ultimately, Crumrine was demoted to police officer on Nov. 1 for neglect of duty and for failing to turn on his body camera during the interaction, according to his complaint.
Metro spokesman Aden OcampoGomez said the department does not comment on pending litigation.
Contact Blake Apgar at bapgar@reviewjournal.com or 702-387-5298. Follow @blakeapgar on Twitter.
Use-of-force reclassification
Metro changed its use-of-force policy in September to reclassify the department-approved neck restraint from a "low-level" tactic to a deadly one. The department insists the reclassification was not spurred by a single incident but acknowledged that Tashii Brown's death factored into the decision to make the change. Officers now must be able to say that the safety of police or others was in jeopardy before they applied the hold.