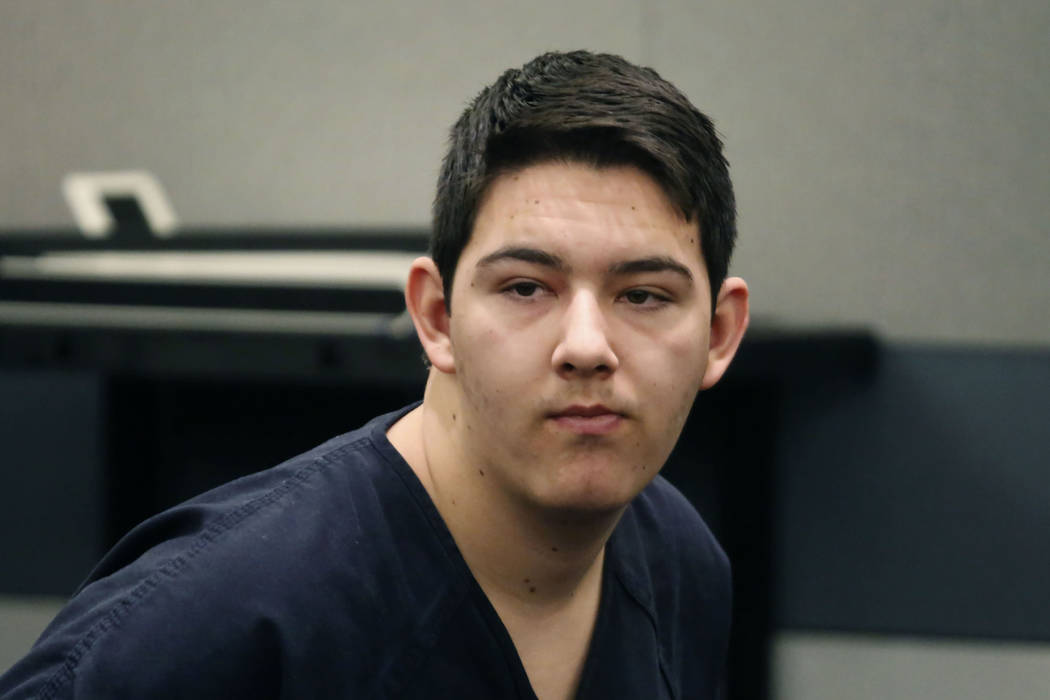 A 16-year-old accused of sexually assaulting four classmates and blackmailing others with lewd images and threats pleaded not guilty Thursday to charges that could send him to prison for life.
Speaking softly into a microphone, Maysen Melton told District Judge Jennifer Togliatti that he understood the 23 counts he faces. Prosecutors have said that allegations of Melton's sexual deviancy started when he was 9, and he faces charges as an adult for alleged attacks that occurred between 2016 and 2017, while he was a student at Shadow Ridge High School.
Chief Deputy District Attorney Kristina Rhoades has indicated that Melton, held on $500,000 bail for felony charges including sexual assault, first-degree kidnapping and battery with intent to commit sexual assault, could face further charges for an October incident with a fellow student at a behavioral school.
Lawyers for Melton have said that he suffered sexual abuse at the hands of an older woman before he was disciplined in 2011 at Bracken Elementary School for sexually harassing another student. He was later disciplined for sexual deviancy at three separate middle schools, court documents state.
Last month, six teens testified before a grand jury that Melton had either forced sex on them or blackmailed them for nude images, according to transcripts made public this week. Four of the girls said they were raped, and at least two attacks occurred on school grounds.
A now 17-year-old who said she sent Melton nude photographs testified that he threatened to post the images on social media unless she had sex with him. She told a male friend, a football teammate of Melton's, with the hope that the coach would be informed. She did not indicate whether the coach learned of the allegations.
Another, now 18, testified that Melton forced sex on her at his father's house after "I told him, like, I don't want to. Like please get off, like, I don't want to do this."
She said he smacked her in the face, and she recalled "cowering in the corner" before he tied her to his bed frame with an orange rope and said, "You're not leaving until I'm finished."
Another 18-year-old said Melton tackled her to the floor and forced her to perform oral sex on him at school.
Prosecutors said that in another incident, which occurred in the Shadow Ridge theater room in September 2016, Melton is accused of pushing a classmate, who is now 19, to the floor before sexually assaulting her.
In the winter of 2016, he raped another girl, with whom he had a relationship, in a secluded area of Craig Ranch Regional Park after kicking her to the ground, the prosecutors said.
A sixth teen, now 17, testified that Melton blackmailed her for nude photographs.
Contact David Ferrara at dferrara@reviewjournal.com or 702-380-1039. Follow @randompoker on Twitter.
Related
Teen accused of rape was disciplined for sexual deviancy at age 9
Las Vegas high school student indicted in rapes of classmates
Las Vegas high school student arrested at home in rape case