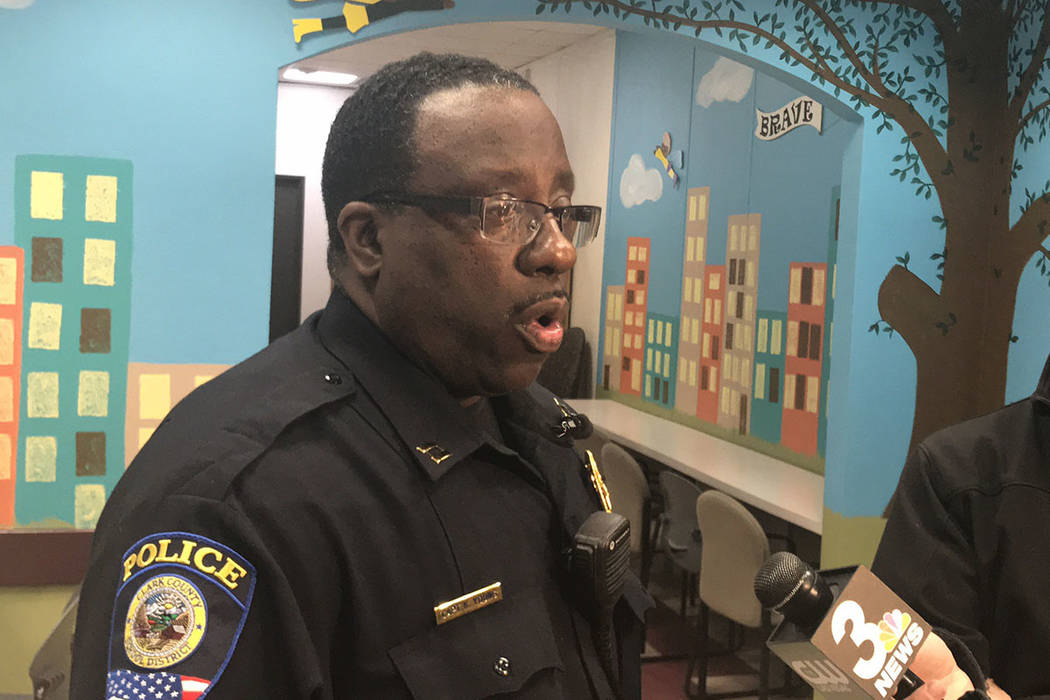 A 16-year-old male student was arrested on Wednesday for allegedly threatening to shoot up Rancho High School in Las Vegas.
Police said the student, who was charged with making a terroristic threat, called one of the district offices and made the threat, after which police were able to track him down and arrest him without incident Wednesday evening in a public place.
"We take this very seriously," school police Capt. Ken Young said Thursday. "This is not the time nor the place."
Police have heard of multiple rumors about violence following the school shooting in Parkland, Florida, last week, Young said. They will make every effort to determine who starts such rumors.
Many rumors of school shootings are about schools from other states with similar Clark County school names, Young said.
"It's the rebound effect. We're looking into every one that we're hearing about," he said.
"We want to let kids know that this is not an opportunity to get out of school, so please do not — do not — put these types of rumors out," Young said. "Do not make these types of statements."
At first, police declined to name the school that the student attended or threatened, but ultimately confirmed the student both attended and issued the threat against Rancho High School at 1900 E Searles Ave.
The initial secrecy stemmed from the fact the investigation is ongoing, district spokeswoman Kirsten Searer said, adding police do not believe the student's threat was credible.
"Parents have a right to know if there's a credible threat to the school, at this point we are confident there was no credible threat," she said.
A message was to be sent to Rancho parents on Thursday evening, she said.
Concerns arise
But Barry Smith, the executive director of the Nevada Press Association, said withholding information from parents and students — even temporarily — was a bad call because it fuels concerns.
"It's obviously a matter of public record, but more important it's absolutely a case where the public has a right to know what's going on and what the circumstances were," said Smith, whose nonprofit organization helps newspapers further the public right to access public information.
Parent Stacie Armentrout, who lives in Spring Valley, agreed, saying news of the arrest sent already-high anxiety levels in her family through the roof.
Armentrout, her husband, David, and two daughters survived the mass shooting at the Route 91 Harvest festival in Las Vegas on Oct. 1.
Armentrout and her husband were injured, but their daughters were not hurt. However, the two girls, one in middle school and one in high school, are in counseling, she said.
The shooting last week in Parkland, Florida, where a former student killed 17 students and staff members at Marjory Stoneman Douglas High School, brought up a lot of anxieties, she said. Not knowing if the elder daughter's school was targeted only makes matters worse.
"My oldest wasn't sure about going back to school this week," Stacie Armentrout told the Review-Journal Thursday before police identified the threatened school. "We had that long conversation about what to do, the back and forth do we go back to school. We have the understanding in our house, one phone call, one text, I'll come pick them up right now."
Previous threats
In previous incidents involving students making threats this year, school police quickly identified the schools that were targeted. The district also usually sends a message to parents right away.
School districts across the nation are dealing with copycat threats in the wake of the Parkland shooting.
It's not uncommon for an increase in threats after such attacks, Young said. But he wanted to remind students that they take all threats seriously.
Three Clark County students have been arrested in two similar incidents so far this school year.
Two West Career and Technical Academy students were arrested in late January. The 14-year-olds, one male and one female, threatened to carry out a shooting, according to police.
In October, a Centennial High School student was arrested on charges of making bomb threats by school police. Police do not believe 18-year-old Toni Strickland intended to carry out the threat.
Contact Meghin Delaney at 702-383-0281 or mdelaney@reviewjournal.com. Follow @MeghinDelaney. Review-Journal staff writer Amelia Pak-Harvey contributed to this story.
'SHS' threat causes concern
A shooting threat circulating on social media in which a student threatened a shooting at "SHS" was unrelated to Clark County's Silverado High School and did not disrupt classes there, school district officials said Thursday.
Published reports indicate the threat caused concerns at schools around the country with those initials but authorities believe it was directed at Springfield High School in Springfield, Ohio, and deemed it not credible.