Legacy High teacher arrested on charges of kidnapping, sex acts with student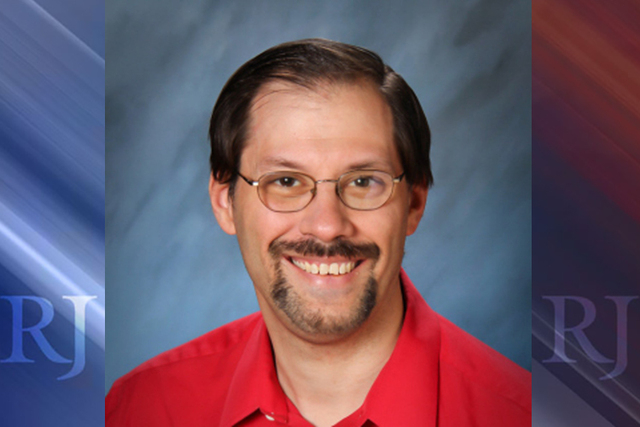 Clark County School District police continue to pursue felony charges that carry harsher penalties against high school teachers suspected of having sexual contact with their students.
Less than two weeks after a jury found a former Rancho High School teacher guilty of kidnapping a student to have sex with her, a Legacy High School teacher appeared in North Las Vegas Justice Court on Monday facing similar charges.
School district police arrested Frank Bayer, a 45-year-old English teacher, on Friday after he told investigators that he had sex with a student on multiple occasions last month in his van, according to a police report.
Bayer claimed the student had been pursuing him "for a couple of weeks" and also told investigators that they had physical contact in his classroom at Legacy High, on Deer Springs Way just west of Fifth Street in North Las Vegas.
"I want to get the whole story out," Bayer said in a voluntary statement after his arrest, according to the report. "I want the (district attorney) to see that I am honest. I want probation. I do not want jail time.
"I made mistakes. I know that," the report reads.
Bayer faces three felony counts of first-degree kidnapping and five additional but lesser felony counts of sexual conduct between a school employee and 16- or 17-year-old pupil.
In Nevada, the age of consent is 16, but state law forbids sexual contact between students younger than 18 and certain school employees and volunteers older than 21.
State law also forbids an adult, without the permission of a parent or guardian, from enticing a minor with the intent to commit an unlawful act against him or her.
Last month, a jury convicted former Rancho teacher Jason Lofthouse on similar charges.
Jurors unanimously found Lofthouse, 33, guilty on 10 felony counts of sexual conduct with a student, which his attorneys did not dispute. However, Lofthouse also was found guilty on two charges of kidnapping after the jury concluded that he "enticed" the student to area hotels to have sex with her.
A first-degree kidnapping charge carries a sentence of five years to life in prison, compared to a one- to five-year prison sentence for the charge of sexual conduct between a school employee and student.
"At the end of the day, when a person in the position of responsibility takes a student out of the place they should be to have these types of interactions, I don't think the law is too stringent," school district police Capt. Ken Young said Monday.
"At this point, there's no indication there were other students," Young said of Bayer, who started his employment with the district in 2003.
Not long after the student joined Bayer's class in January, they started exchanging "hundreds" of private messages on a Facebook app, according to his and her statement in the police report. Their communication later escalated to sharing nude pictures of each other, and the teacher-student contact became physical just before spring break.
The contact continued on and off campus through March 30, one day before the student's foster parent alerted Legacy High administration to her suspicion about the teacher's relationship with the girl.
During Bayer's initial court appearance Monday, North Las Vegas Justice of the Peace Chris Lee set his bail at $200,000.
In 2014, Bayer received an annual pay of $43,914.54, with total pay and benefits of $69,914.74, according to salary records on TransparentNevada.com.
Review-Journal staff writer Christian Bertolaccini contributed to this report.
Contact Neal Morton at nmorton@reviewjournal.com or 702-383-0279. Find him on Twitter: @nealtmorton