Lombardo says legal observers were 'antagonizing' officers at protest
Updated June 16, 2020 - 8:19 pm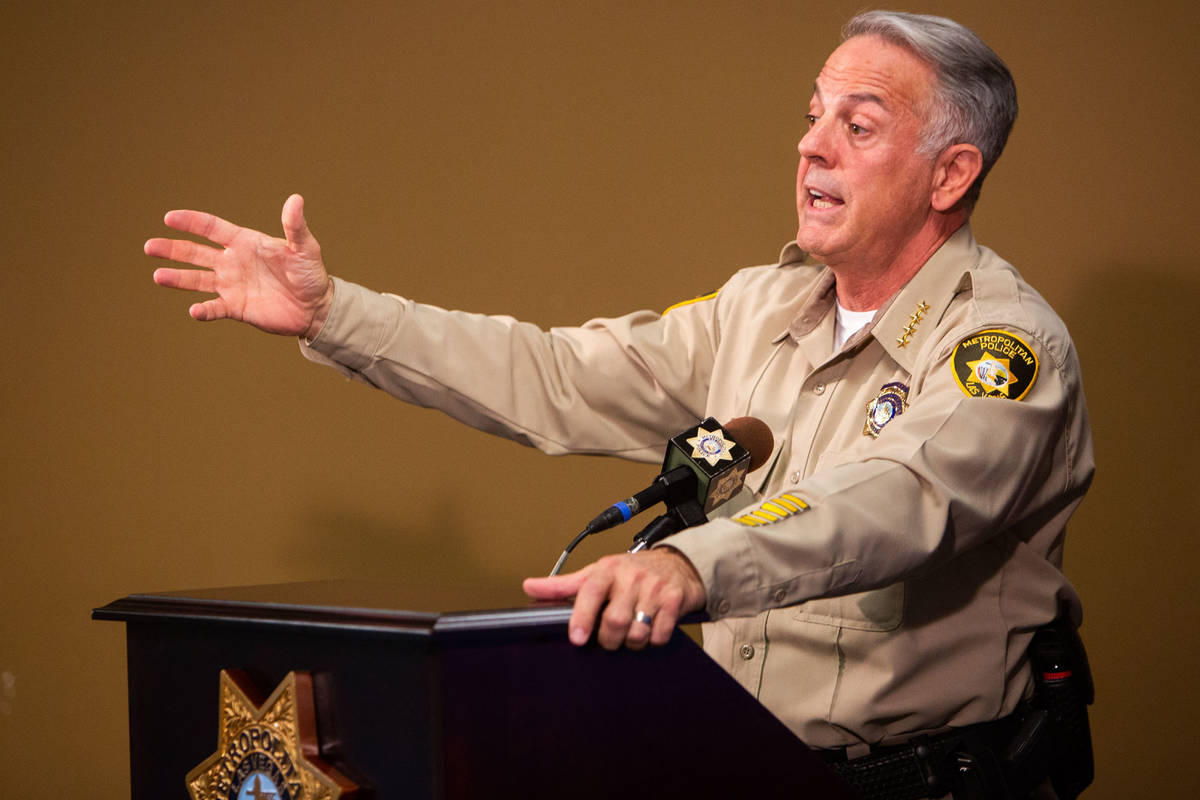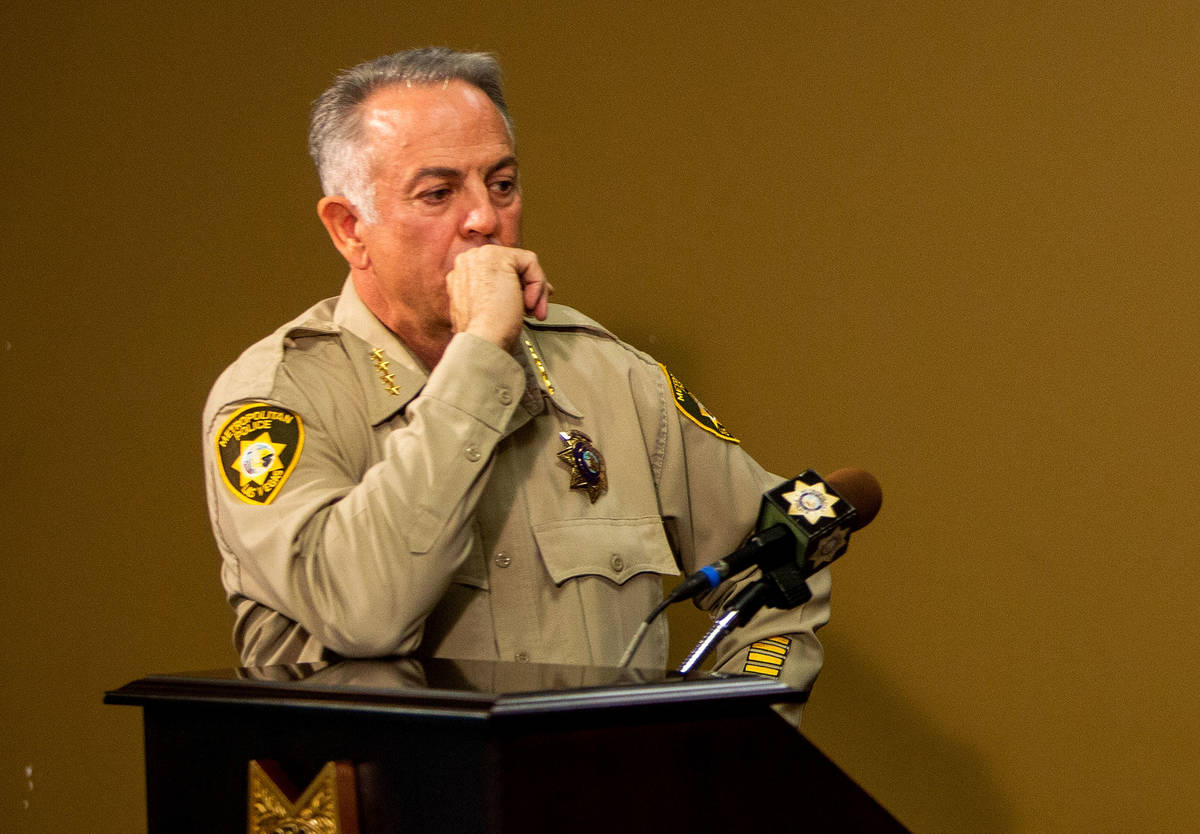 Sheriff Joe Lombardo said his officers made "several" dispersal orders over the weekend as protesters moved toward Interstate 15 before a group of legal observers were arrested on the Strip.
At least seven attorneys and law students who documented interactions with police and demonstrators were detained during a protest against police brutality. Some of them were taken to jail, while others were cited for stepping into a roadway.
Speaking to reporters Tuesday at Metropolitan Police Department headquarters, Lombardo said some of those detained were "antagonizing and obstructing" officers.
He played videos that showed protesters and legal observers marching south on Las Vegas Boulevard, along with arrests of those who wore red shirts with the words "legal observer."
Lombardo was critical of the lawyers and law students who aimed phones at officers and police vehicles, apparently capturing video of protesters being arrested. He said at least one of the observers was "seemingly leading a crowd of aggressive protesters."
He cited an American Civil Liberties Union guide that refers to legal observers as "neutral, impartial" witnesses.
"This did not happen on Saturday," Lombardo said. "They were in front of the protesters, actively participating, not observing."
'No expectation' of arrest
Before the news conference, deputy public defender John Piro, who was acting as a legal observer on Saturday, offered a different account of his own arrest.
Piro said he was "100 percent" standing on a sidewalk when an officer approached him and wrapped zip ties around his wrists.
"We had no expectation that we were going to get snatched up like that, because we weren't even part of the protest," Piro said. He recalled thinking, "What is going on here? What were we doing wrong? How can this be happening?"
Another legal observer, deputy public defender Christopher Peterson, said Monday that he was documenting the activities of protesters and police before a group of officers ran up behind him and grabbed him.
"I honestly did not expect for them to detain me," he said.
Both men were detained with their wrists bound for at least an hour on a median before they were given a citation and released.
Clark County District Attorney Steve Wolfson has not responded to requests for comment on the charges since Sunday, when he said he had not received reports "or other relevant information."
Lombardo said officers issued several orders to disperse in an attempt to clear roadways and sidewalks for safety reasons.
"There's real danger here, particularly on Saturday night when it appeared protesters were trying to access I-15 to occupy the freeway," the sheriff said.
Lombardo said 42 officers have been hurt during 87 events since the protests began late last month. He said 14 percent of the people arrested during the protests had come from outside Clark County.
Clark County Commissioner Larry Brown said Tuesday, prior to Lombardo's news conference, that legal observers should be held accountable and publicly apologize if their accounts of their arrests are proven untrue. He also questioned why 15 observers were needed at a peaceful protest.
"I do hope that we investigate the alleged activities, and that's a two-way street," Brown said. "I hope that Metro, with videotape, if they can demonstrate that some of these statements are flat-out lies, I want these people held accountable, especially the ones that are, quote, leaders in the community."
'They didn't leave'
Gov. Steve Sisolak has called for an investigation into the arrests at Las Vegas Boulevard near Russell Road. Nevada Attorney General Aaron Ford echoed the governor's sentiment, while other public officials and attorneys condemned the arrests.
Another of the attorneys cited, Belinda Harris, also works for the Clark County public defender's office. Harris, Peterson and Piro were among 15 legal observers, most in red shirts to distinguish themselves from the crowd, who walked with protesters on Saturday.
In a Facebook post on Sunday, Harris described being thrown to the ground by Metro and North Las Vegas police.
In a statement Tuesday night, North Las Vegas Police Department Chief Pamela Ojeda called the claim "unfounded."
"The body worn camera footage contradicts all false claims of rough or rude treatment; in fact, it shows our officers treating the woman gently and respectfully," Ojeda said.
Lombardo played a video of Harris being zip tied on what appeared to be a sidewalk and escorted to a median. While the reason for her arrest was unclear in the video, it did not show her being thrown by officers.
"If you look at it at face value, you're like, 'They weren't doing anything,' but the officers gave them a verbal warning: 'You need to leave, you need to leave,' " Lombardo said. "They didn't leave. They had been given that warning earlier. They still were in the proximity. Granted they were on the sidwalk, right, but the decision to take them into custody was made prior to that."
Contact David Ferrara at dferrara@reviewjournal.com or 702-380-1039. Follow @randompoker on Twitter. Staff writer Shea Johnson contributed to this report.