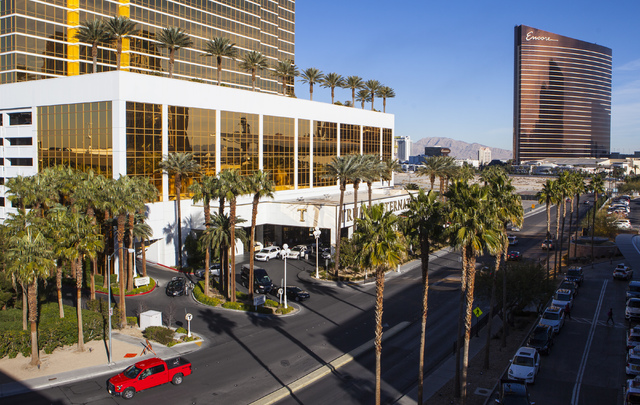 Las Vegas police arrested a 28-year-old man on an arson charge this week after he admitted to starting a small trash can fire in a Trump International restroom Thursday, an arrest report obtained Tuesday by the Las Vegas Review-Journal shows.
The man, Jacob Dezsi, told Metropolitan Police Department officers he made a "stupid mistake" and "had no intention of expressing any extremist ideology or making any sort of political statement with his actions," the report reads.
Dezsi's arrest came about three weeks after another man, Roger Fraley, also 28, was charged with arson in connection with two separate restroom fires at the same hotel, at 2000 Fashion Show Drive, just west of the Strip.
The arrests do not appear related, and police said at the time of Fraley's arrest that his actions were also not politically motivated.
The fire in connection with Dezsi's arrest was set about 11 a.m. Thursday inside a men's restroom in the hotel's lobby, according to the report. A guest alerted hotel staff to the small fire, which was quickly extinguished.
Because the fire appeared to be intentionally set, both police and Clark County Fire Department investigators responded to the scene.
A review of surveillance footage the day of the fire showed a man who matched Dezsi's physical description standing outside the hotel about 10:50 a.m. talking on a cellphone and smoking a cigarette, according to the report.
Three minutes later, the man walks inside and heads into the men's restroom. About a minute later, the man exits the restroom, walks out of the hotel and heads toward the Strip "at a brisk pace, as if attempting to flee the scene," the report reads.
On Sunday, a patrol officer in the area of Harmon Avenue and the Strip stopped Dezsi on foot after noticing he matched the arsonist's description. After being read his Miranda rights, Dezsi admitted to igniting a small piece of paper towel with a butane lighter, dropping it in the trash can and walking away.
"Dezsi repeated (to police) that he had just made a stupid decision and had not intended to hurt any of the hotel patrons or make any political statement," the report reads.
Dezsi is being held at the Clark County Detention Center. A hearing on his case is scheduled for Wednesday morning.
Contact Rachel Crosby at rcrosby@reviewjournal.com or 702-387-5290. Follow @rachelacrosby on Twitter.
2000 Fashion Show Dr, Las Vegas, NV 89109