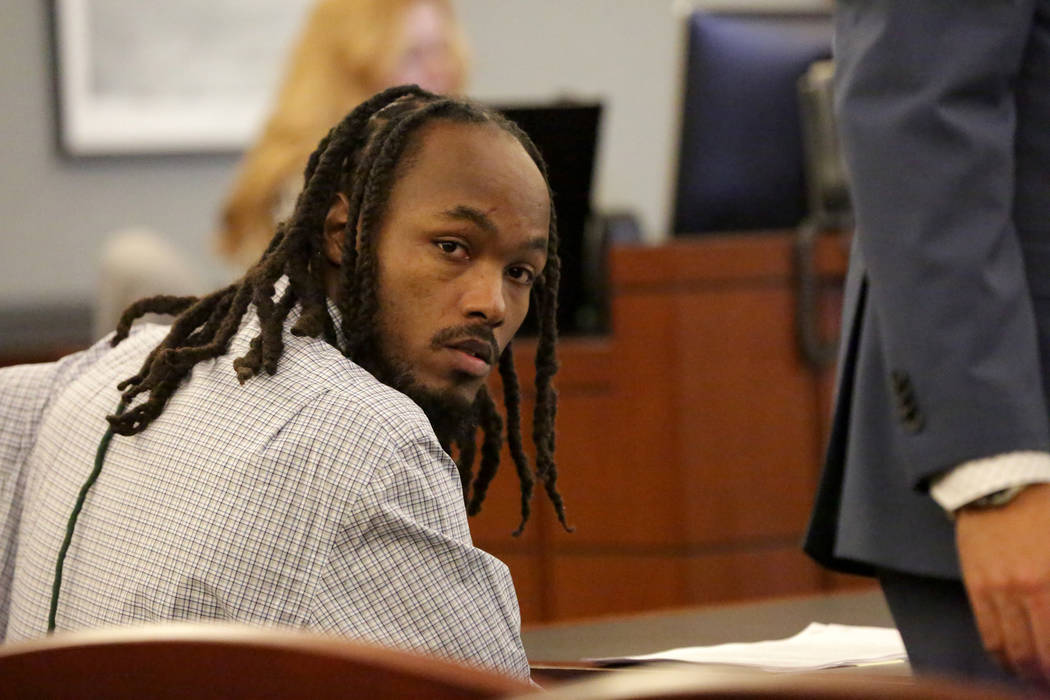 A man whose life sentence was overturned because of a prosecutor's comments more than a decade ago was found guilty Wednesday in a slaying that left a 22-year-old woman dead.
Outside a Las Vegas courtroom, family and friends of Mercy Williams cried and hugged, saying "happy birthday," the same day the verdict against Jemar Matthews was announced.
Last year, a federal judge decided that Matthews deserved a new trial because of prosecutorial errors in speaking to jurors in 2007. Then-prosecutor Linda Lewis told 12 white jurors to look at him and his co-defendant. She then asked jurors if they looked innocent.
Matthews was sentenced to life in prison, along with his co-defendant, Pierre Joshlin, who remains in prison. After Wednesday's conviction, a judge set a new sentencing for Matthews in December. Prosecutors agreed that he would not face the possibility of life without parole.
After about two hours of deliberation between Tuesday afternoon and Wednesday morning, a jury of five women and seven men also found Matthews guilty of 10 other counts, including attempted murder, conspiracy, robbery, assault and possession of a short-barreled rifle. The 31-year-old slouched into his chair at the defense table and hung his head.
Prosecutors at his second trial said Matthews was found shortly after the killing with a short-barrel rifle that had been used in the slaying. Tests also showed that gunshot residue was on Matthews' hands.
Williams was caught in a hail of gunfire, upwards of 39 shots unleashed by armed men on Sept. 30, 2006, near Balzar Avenue and Lexington Street. She was an innocent victim of bullets meant for someone else, prosecutors said.
Matthews was arrested in connection with the killing after he ran from authorities in the same neighborhood northwest of downtown Las Vegas.
Metro officers testified that they identified Matthews as running from the scene of the shooting.
"This is pretty straightforward," Chief Deputy District Attorney John Giordani told jurors during closing arguments. "This is a big deal to them. They don't want the wrong guy going away."
Defense attorneys had argued that a lack of forensic evidence linked Matthews to the killing, and he had feared reprimand for violating a temporary restraining order that prevented him from being within a certain distance of the mother of his son. When he noticed the heavy police presence in the neighborhood, he said, he ran because he was at a house two doors down from the woman.
Attorney Todd Leventhal said the credibility of the officers' testimony was "zero."
"This case drowns in doubt to me," he said. "It just does."
Williams, 22, had been celebrating her upcoming birthday with three other people, including two cousins, one of whom suffered a gunshot wound to the left wrist.
Joshlin also was convicted in 2007, and that verdict stands.
The new jury, which includes a black man, heard testimony from two of Williams' cousins who were with her when she was killed. Jurors also heard from a man and woman who said they were the victims of a carjacking the same day. None of the witnesses identified Matthews directly, but they described a black man who was dressed in a dark shirt and dark pants or shorts.
After Wednesday's verdict, Giordani said, "Mr. Matthews received a fair trial. The jury followed their oath and Mercy's family finally got the justice they deserved."
Contact David Ferrara at dferrara@reviewjournal.com or 702-380-1039. Follow @randompoker on Twitter.