Man drove 90 mph on wet residential streets while drunk, police say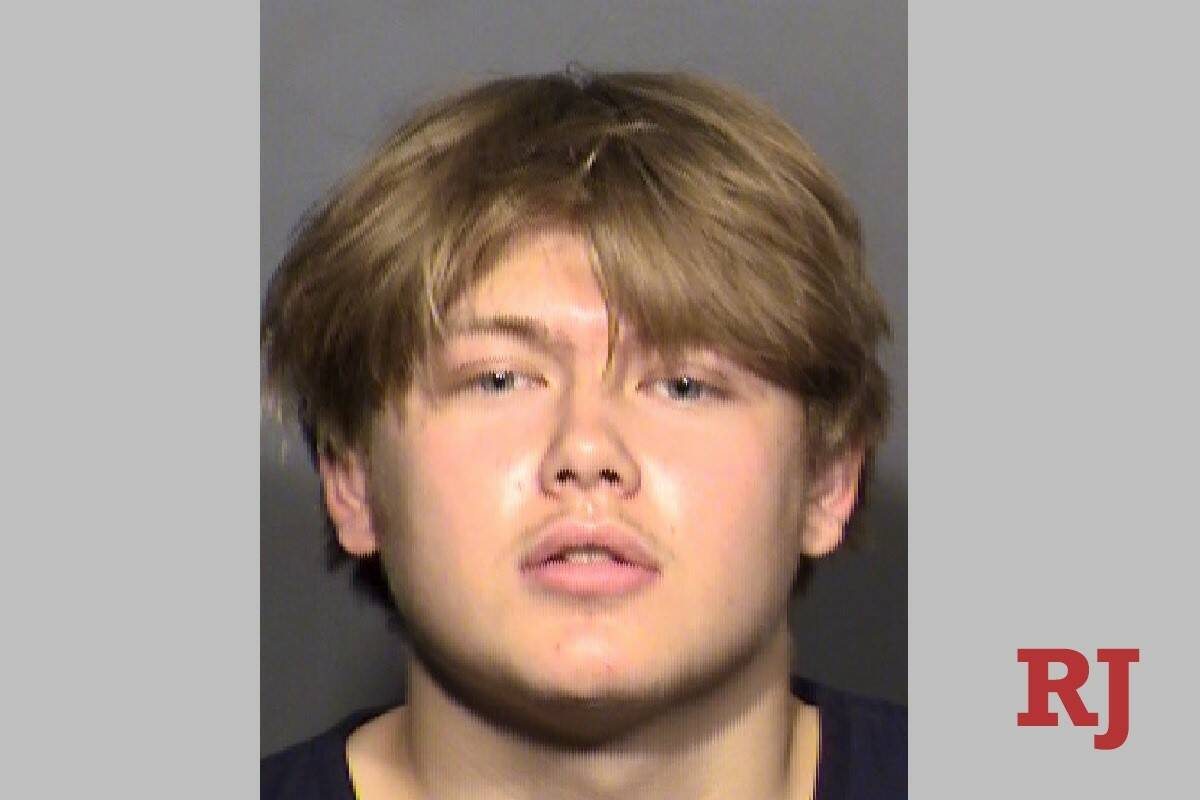 A 20-year-old driver has been accused of driving drunk and evading police three different times Friday night on slick northwest Las Vegas roads.
Noah Kennedy faces 17 counts including DUI, disobeying a peace officer, disregard for public safety, reckless driving and speeding 31 miles per hour over the speed limit, court documents show.
On Friday around 8:40 p.m. officers in an unmarked police vehicle found an unregistered purple 2016 Dodge Charger Hellcat near Durango Drive and Moccasin Road. Police recognized the Charger as the same one that fled from officers two weeks prior, according to a Metropolitan Police Department arrest report.
RAID officers attempted to stop this vehicle trick and reckless driving in the area of Durango/ Moccasin in NWAC. The vehicle took off at a high rate of speed.#NotSmart We continued to ATL the area. The Purple People Eater was again seen driving recklessly on two more occasions. pic.twitter.com/g75QkzeQbH

— LVMPD Traffic Bureau (@LVMPD_Traffic) August 21, 2023
Officers watched the Charger do a 100-foot burnout and drive south on Durango. A marked police vehicle pulled behind the Charger and turned on its lights and sirens. The Charger continued driving at up to 90 mph and ran a stop sign. The report noted the Charger was driving recklessly in wet weather and in a poorly lit area.
Police found the Charger stopped in front of a home near Cimarron and Farm roads. The Charger took off again going 60 mph in a 25 mph residential zone. In another 25 mph residential zone near Rocket Street and Preppy Fox Avenue, the Charger was seen going 90 mph.
Officers went to the home believed to be associated with the Charger and talked with members of Kennedy's family who called Kennedy and told him to come home. Kennedy was taken into custody, and police described him as being lethargic, slow moving and speaking slowly. He failed field sobriety tests and was arrested on suspicion of DUI, according to the report.
Police determined that the Charger had been issued a Nevada DMV license plate that had been removed.
"This is common in the street racing community to conceal their vehicles identity and to flee from cops," the report read.
Kennedy is due in court in December.
Contact David Wilson at dwilson@reviewjournal.com. Follow @davidwilson_RJ on X.